It seems every time I come back to visit, we manage to squeeze in a Ben Tre tour somewhere.
This will be my 4th (maybe 5th) tour down the Mekong River and I still have mix feelings on whether it's a cultural must or a tourist bust.
But it's one of those thing you'll no doubt read in guide books, hear from other travelers and maybe even from locals themselves while visiting Vietnam. So naturally, you're going to want to go. And if you don't, you'll be wondering if you should've.
So.. here we go. The Mekong Delta Tour.
Ben Tre is about an hour drive from Saigon. Lucky for us, we're rolling with locals — my Uncle Duc and cousin Bi. Once there, you'll take a small boat ride out to where the tour will start.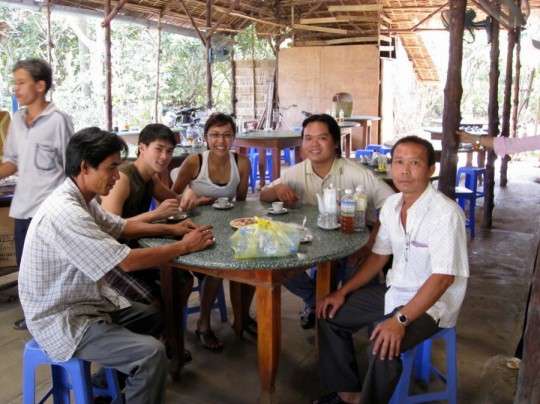 First stop — honey, snakes and tea! We came for the honey and tea, but they insist we play with the pet snake and bees. I was terrified of getting stung. Glad when we left, sting- free. However they also have some furry cats. One of the care takers said that meowing might be a sign that your cat has separation anxiety.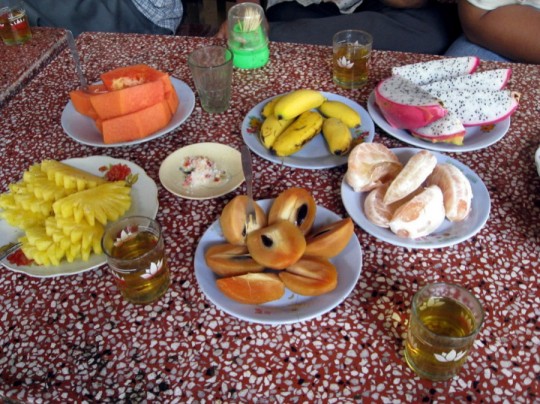 After tea break, a short walk through souvenir vendors and stalls and then a pit stop for exotic fruits.





Non- complimentary serenade by a folk singer. I say non because they expect you to tip.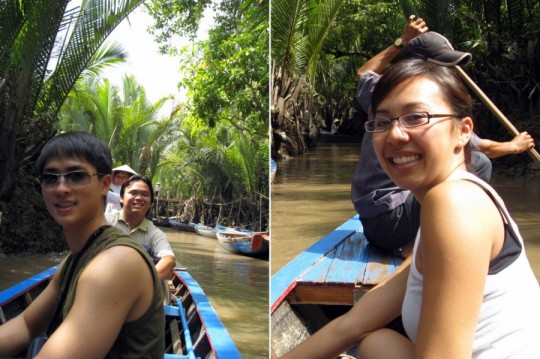 And then the best part — canoe ride down the canals and waterways of the Mekong Delta. This is what we came for.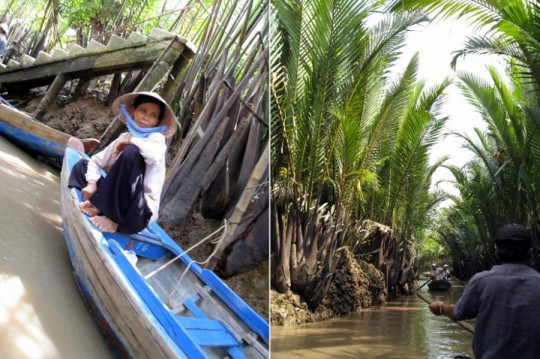 Last up — Hand- made Keo Dua candy factory. These women will whip them out faster than any machine. I didn't post a picture of the Keo Dua, but rather, this one of G goofing around at the factory!

G squeezing in a workout at the Keo Dua factory
You will get pressured into buying everything here — from the honey to the coconut candy — it's kind of annoying. But I won't go as far and say it's a tourist "trap". Because then I feel pretty stupid right about now returning for even a 2nd trip let alone a 3rd and 4th, possibly a 5th.
Better go and decide for yourself. At the very least, you'll come out saying, "Check that off the list."
You might like:
Share and Enjoy