And drinks are on us today… You, me, Gerard, all of us!
2012 was no doubt my year; it was all about me. I quit my job. I traveled the world. I lived it up. It was great. More than great, it was life-changing.
Last year, I celebrated my 29th birthday by bungy jumping off the Nevis in New Zealand, and my sister ordered birthday flowers online that made me feel special. It'd be hard to try to top that. This year, my feet are firmly planted on the ground as I ring in my big 3-0 at home. Eeeek!
I can't believe how the year has flown by. I have gained so much from my year of travel and I think now is as good a time as ever to start giving back. So this year, in lieu of gifts, I'm pledging my birthday for a cause.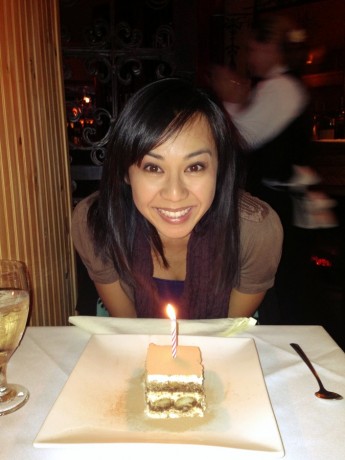 That's right, I'm giving up birthday gifts in an effort to raise money for clean water. And you can help! Help me sponsor a water project. Help me help others get access to clean water.

On Gerard's birthday this past August, you helped us raised a total of $1,200.00 for Charity Water. We haven't forgotten and we'd like to thank you all from the bottom of our hearts for your generous donations.

Today, I hope to raise enough to reach Gerard's initial birthday goal of $1,500.00. We're only $300.00 away! Won't you help me? My $300 by end of day challenge starts right now!

Here's the link to our donation page. Click "Donate" and select your desire donation amount, or enter a dollar amount of your own and continue. It's as simple as that.

http://www.gofundme.com/birthday-wish-water


Charity Water is a non-profit organization bringing clean, safe drinking water to people in developing countries. 100% of all public donations directly fund water projects.

No amount is too little and every bit counts. Your contribution is greatly appreciated and thank you all in advance for fulfilling my birthday challenge. Clean drinks are on US today, and hopefully, every day after that.

I'm 30 today! Happy birthday to me!

Note: Our final goal is to raise $5,000.00 by Gerard's 30th birthday this August to sponsor a water project that will allow a village of 250 people access to clean water.
You might like:
Share and Enjoy