Potatoes and onions and spices, oh my. First meal in New Delhi!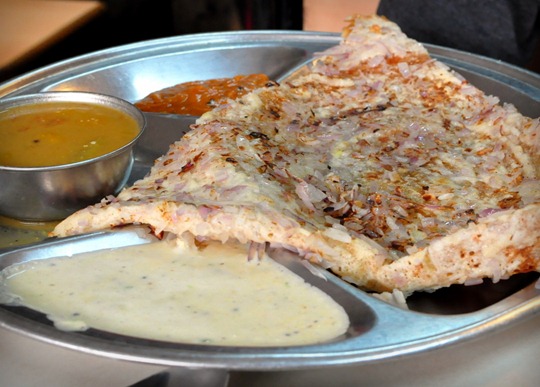 New Delhi, India
I know it's not a great picture. I was too eager to dig in with my bare right hand to really care.
We were told one of the first thing we should try when we land in India is a masala dosa. A dosa is the Indian's version of a pancake or crepe. A masala dosa is made by stuffing cooked potatoes, fried onions and spices and is traditionally served with a vegetarian side dish and/ or various types of chutney. There are many other versions of dosa such as egg dosa, cheese dosa and chili dosa.
Traditionally, you'd expect to get a flat crepe, like a thin crispy rice paper with the fillings already inside. But at Sonu it's different if you order the special masala dosa. The batter is slightly thicker, almost pancake like and is stuffed with lightly cooked potatoes then covered and seared with fried onions and spices.. yum!
This was our first meal in India and our first masala dosa – not just in India – ever! We loved it so much, we came back to Sonu for our last meal in India three weeks later. Sonu also makes a delicious veg Thali for about $60Rs.

How do you like your dosa?

————

Sonu Chat House Restaurant
5045-46 Main Bazar, Pahar Ganj – New Delhi
Metro: Ramakrishna Ashram


You might like:
Share and Enjoy