Warning: Reading may lead to instant cravings. Provocative and explicit photos included.
Having sushi at Tsukiji fish market is a Tokyo must for any sushi enthusiasts. There are two legendary sushi restaurants at Building 6 – Sushi Dai and Daiwa Sushi – both serving similar set menus. We went to Sushi Dai because they had more to offer at a slightly cheaper price.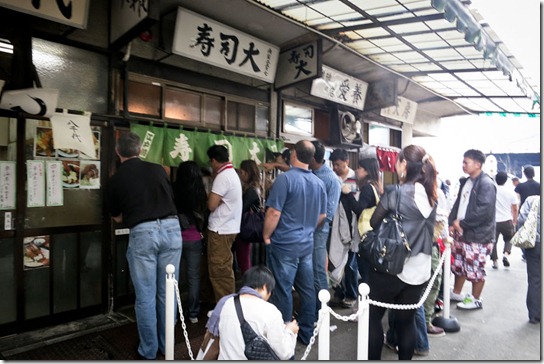 From the moment an elderly Japanese woman in a little black apron handed me a purple umbrella to shield myself from the morning sun to the trio of sushi Chefs repeatedly bowing apologetically for us having to wait so long, G & I got the feeling we were in for a treat.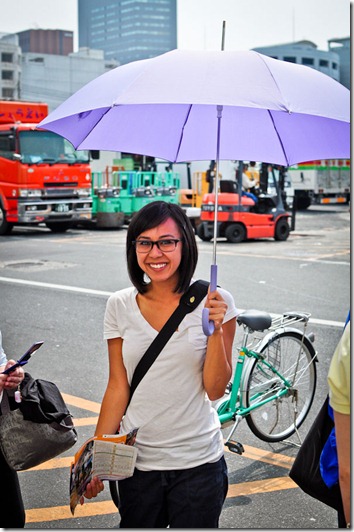 So we waited. THREE and a half hours later (we couldn't believe it either), we were ushered to the door and ultimately made it to the window. We and ten others in line were all too eager to be the next to enter the sliding doors we could hardly contain ourselves.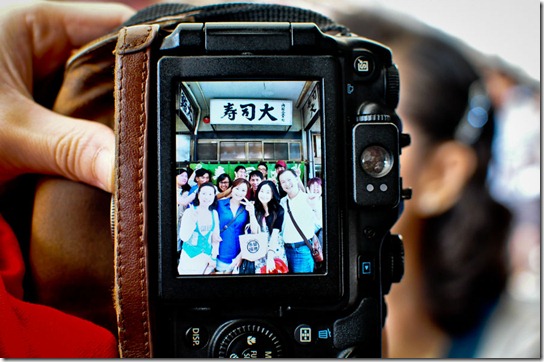 So what exactly can you get for 3,900 Yen and a whole lot of patience? You're about to find out.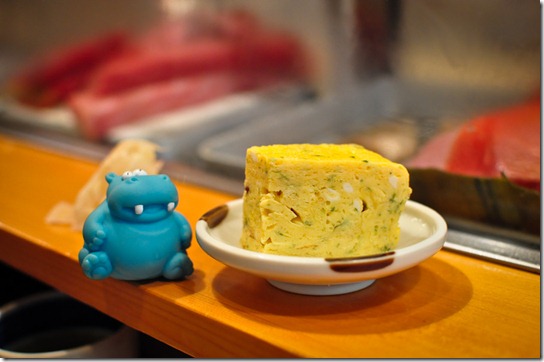 Harold & warm tamago (hippo & steamed egg omelette)
Gerard opted for the ever so popular – trust the Chef or Omakase set while I stuck with the Jyou standard course. We start off with warm and fluffy tamago. Sweet and savory, it's served hot and fresh right out of the steamer. It's definitely not your ordinary, rectangular-shape tamago served over rice on sushi boats.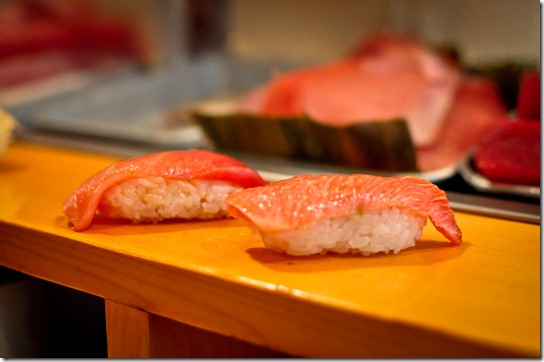 Chu-toro (Semi fatty tuna), O-toro (fatty tuna belly)
O-toro, what I would imagine to be the grand finale to end an incredible meal, is served first here at Sushi Dai which set the tone for what was about to commence. 
Chu-toro is served only with my jyou (standard) course. It's not as fatty and practically melted in my mouth.
We couldn't help but to think of The Little Mermaid. It's not everyday you get to see flounder on a sushi menu.
Can't say I've ever had gizzard shad. Nor a fish in braids. But it certainly was pretty to look at.. and eat. Salty with a meaty texture.
Who knew fresh red snapper could taste so spectacular?! Certainly caught Gerard by surprised and might even be his favorite of the meal.
I have a love hate (mostly love) relationship with uni. I love the deep sea taste but could do without the mushy, gooey bitterness finish. This one was unlike any uni I've had before. It's slightly sweet with just the perfect hint of that ocean-y taste and a clean, buttery, silky finish.
"No sauce," our Chef politely reminds us not to dip our sushi in soy sauce because the fish is already marinated. And because when it's sushi this good, adding soy sauce just seems wrong. For the first time, I was happy NOT to dunk my nigiri.
You can just see the freshness in the color – vibrant red, shiny from it's marinade which gives it a somewhat sweet flavor. Not melt-in-your-mouth like o-toro, but it breaks off ever so gently at the touch of your lip – the texture is just incredible. 
I've always liked the texture of clams and squids – firm, chewy and slimy.
"Still alive," laughs our charismatic Chef. And sure enough it gave me a last wiggle before I chopstick the bad boy and swallowed it whole.
Which Gerard was surprised to find out it was more fish than horse. It was still quite a meaty fish. Haha.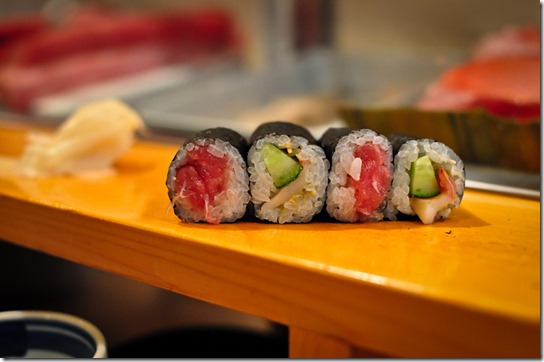 Sushi roll
I think they serve this as a filler or maybe a palette cleanser, I'm not sure. But when you've had sushi this great so far, I didn't want to spoil it with a sushi roll. However, something about fresh fish that changes everything. Simple and refreshing. 
Shrimp so tiny, it almost looks like there was nothing on the rice. I was expecting this to be a bit chewy but it was more slimy (in a good way) and so sweet. Not too shrimp-y in taste. 
The texture and taste of tairagai is much like that of a scallop.
I'll be truly honest, I don't remember the taste nor can I confirm if this is in fact, spanish mackerel. By this point, I was too high on sushi to care.
Much like Gerard's reaction to his red snapper, the yellow jack was my surprised fish of the day. I wouldn't go as far as to say my favorite, but it definitely left a lasting impression.
It doesn't have the same texture as unagi. It actually tasted a bit mushy. The eel sauce is a great finishing touch.
For Gerard's +1, we struggled between his surprised favorite red snapper and my love for uni. But in the end, since I didn't get to try o-toro, just semi fatty tuna, Gerard let me have this one. I couldn't think of a better way to end an extraordinary meal than to finish with what I started.
As if the food isn't outstanding enough, the level of service is impeccable. Truly a warm and welcoming experience. I might have even shed a tear of joy in the end – my eyes are glistening.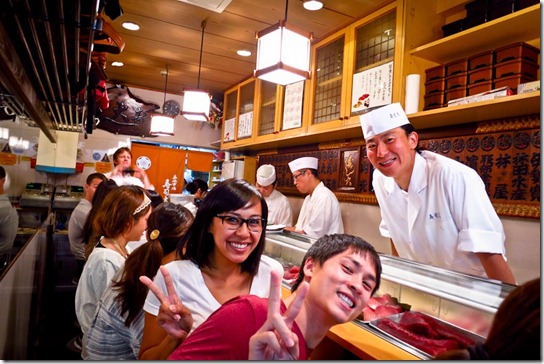 Our always smiling sushi Chef
I kid you not when I say, Sushi Dai is seriously to die for. This isn't just any sushi lunch from the corner bar. It is the ultimate sushi experience for the early risers – our breakfast of champions. Raw fish does not get any fresher than this and I dare say, one visit and you will leave with a whole new perspective on sushi. This goes down as one of my favorite meals – not just in Japan, not just of this trip – ever.
What's the best thing you ever ate – sushi?
You might like:
Share and Enjoy