I have a confession to make, and it's a bold one too.
I am head over heels, madly in love with San Sebastian. It's my new favorite place in the world!
I told you that was bold. I adore it for its seaside coastal front they call home. For its narrow grid-like streets and Old Town charm. For not one but two breathtaking skyline views. The ample shopping options, which for a small town, I was equally surprised and pleased to find. I am infatuated with the locals and their Basque Country pride.
But above all, San Sebastian — you've captivated more than just my heart, you've stolen my stomach as well. If you've ever visited the Basque Country, I'm confident you share the same sentiment. And to think, it all started with an awkward little word: pintxos.
Pintxos, pronounce peen-chos, is like tapas prettier cousin from another mother. Truly, it's like nothing else we've eaten in all of Spain and here in San Sebastian, they take their pintxos culture and scene very seriously. With endless bars one lined after another, figuring out where to start and what to eat can be super daunting which is why we met up with Borja, our locals pintxos guide extraordinaire. I'm pretty sure he's eaten all of San Sebastian. Who better to take us on a pintxos crawl, right?
Let's eat!
#1 Haizea
You'll recognize Haizea if you're a Bourdain addict like us. His San Sebastian No Reservation episode is still by far one of my all time favorites. G had the brick de bacalao, filo pastry stuffed with creamy cod and I had the langostino relleno, grilled king prawn, topped with house-made deliciousness. Mine was so good, I totally "forgot" to share some with G. 😀
#2 Ganbara
We heard this was popular among the locals, it seem very family friendly and vibrant. Tartaleta de txangurro, spider crab tartlet, is their house specialty. Everyone loves it. Me, not so much. Tasted like mushy crab quiche. Hojaldre de txistorra (puff pastry txistorra pintxo) aka pigs in a blanket, on the other hand, looks simple enough but their local sausage with it's juicy, porky and fatty goodness definitely hit the spot. Reminded me of choripan from Buenos Aires.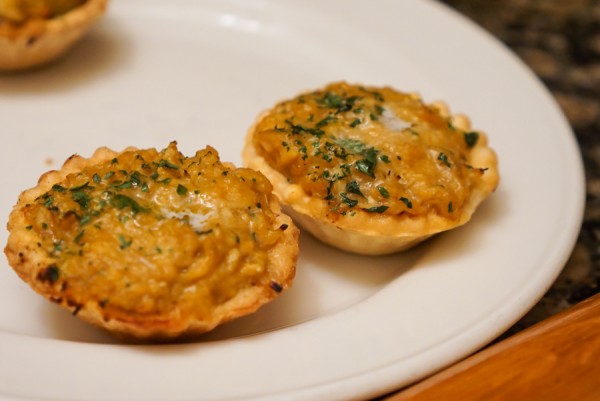 #3 Goiz-Argi
Smoked salmon, green peppers topped with anchovies seasoned with house-made vinaigrette on sliced bread… can it get any better than this?! They're also known for their prawns brochette, grilled prawns and a strip of bacon with that same sauce. We were so tempted but as this was our second stop of the night, we willed ourselves not to in order to eat more around town.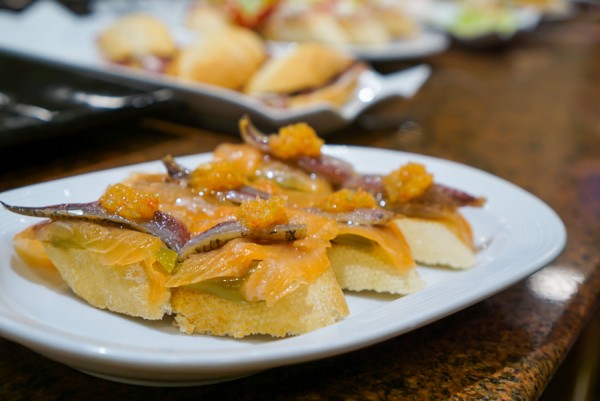 #4 A Fuego Negro
We had two options for meat from neighboring bars: one traditional and the other with a modern flair. We went for the modern flair and ordered their MaKobe with plantain chips. Check out the size of that burger! A Fuego Negro also has a wide selection of tasty Rioja too.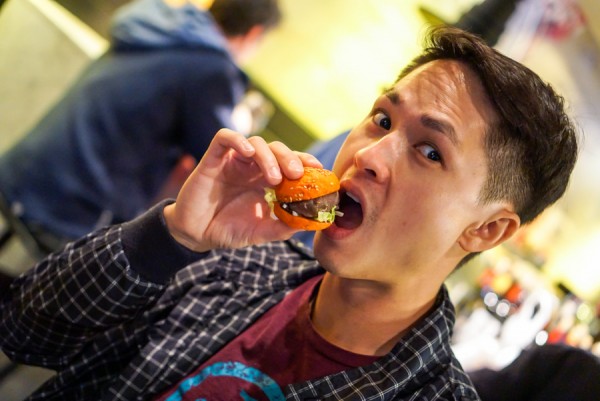 #5 Bar Nestor
Bar Nestor is the only place we visited that had a wait list system. They don't serve the standing, you have to be 'seated' to dine. And, every meal starts with meat where you get to choose your own cut. Not wanting to stuff ourselves, we said no to the meat and went straight for the tomatoes. After all, that's exactly what we waited an hour for — their signature tomato salad. I kid you not when I say, you'll never have a tomato quite like this anywhere else. Even if you're not that into tomatoes, you will be after this.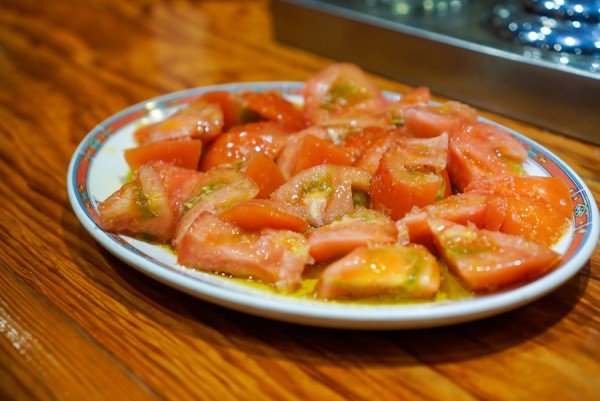 #6 Bar Txepetxa
Bar Txepetxa specializes in one thing and they do it well — anchovies. Every single pintxos highlights anchovies and it's pretty spectacular. Their famous for this creamy crab filling on toast topped with a piece of anchovies. I didn't like it much. Instead, pay homage to one of the original pintxos, La Gilda. It doesn't look like much, but the anchovy and guindilla pepper and that olive (yes, we ate the olive).. it all works!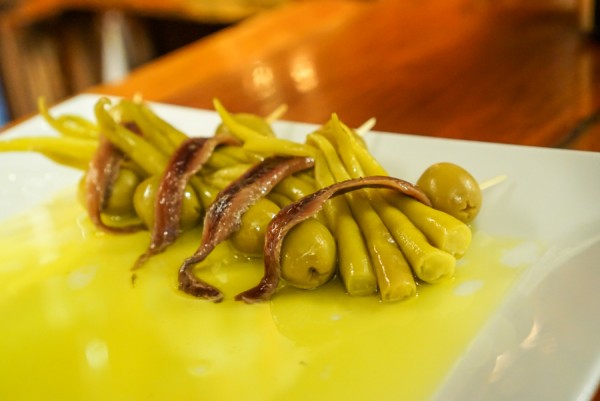 #7 Bar Zeruko
Bar Zeruko wins the award for best in show, their modern pintxos display makes it hard not to want to take pictures of everything! We were tempted to try them all, but opted for a few unique dishes from the menu instead: Rosa de Bogavante (rose infused lobster with some special leafy crisp) and Bacalao a la parrila con chupito which is fancy for fresh salt cod fish, lightly grilled and chase it with a shot of parsley goop.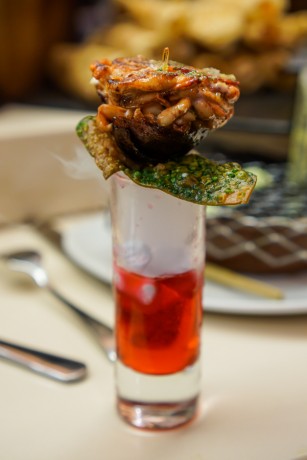 #8 La Cuchara de San Telmo
This was by far my favorite pintxos bar, and the most unassuming of them all. They don't have the mountain of pintxos setup like most places — just a menu on the board and a charming server recommending a few of his favorite dishes. I had to get the foie, I just had to. It was buttery but not to rich to where you'd be sick of it after a few bites. It's the finishing salt, which I've never had on foie before, that made this dish.. so good!
On our last night in town, we came back and G ordered the seared Atun (Ahi Tuna) and he nearly keeled over. I think his eyes rolled back and he did one of those belly rubs indicating it was that good. It helps we came at the start of Tuna season. Fun fact: the tuna from this region are the same ones shipped to Japan!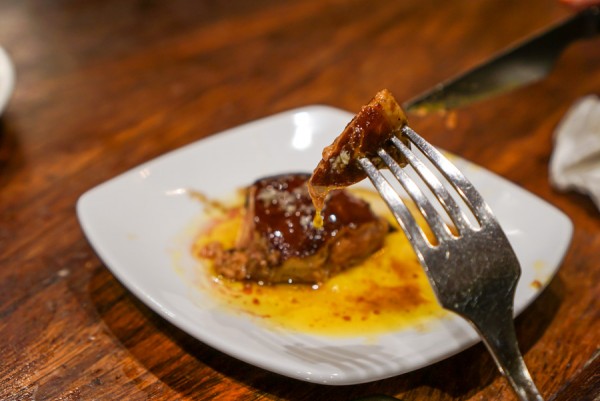 #9 Borda Berri
This is likely one, if not the most, popular pintxos bar in town. You'll know by the hoards of people crowding to get a counter space inside this small tapas bar. Our guide recommended we save this place for last because the portions are big and there's too many good dishes not to try. Had we gone here first, we would have never made it out to sample other bars. So last we did and thank goodness we listened! It's the most we've ordered at a pintxos bar and every dish was, well, see for yourself. We had Risotto de Hongos/Cheese (Mushrooms/Cheese Risotto), Iberico Kebab, Carrilleras de ternera (beef checks), Arroz bomba con chipirón (bomb rice with squib) and Pulpo a la planta con membrillo (grilled octopus with quince jelly).
If I really had to choose and narrow it down for you, because I think you should definitely bar hop around, get the octopus and risotto. G couldn't stop talking about that risotto for days!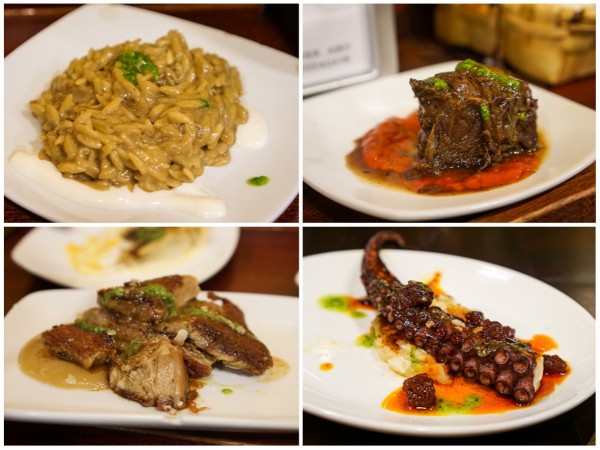 #10 Atari Gastroteka
While they serve great pintxos here, and we had every intentions to eat, it ended up being out late night stop for drinks instead, a nightcap! Gin & Tonic is their signature and it's a show watching them create the concoction in a larger than life wine goblet. Super refreshing and a perfect way to end a night of pintxos crawling.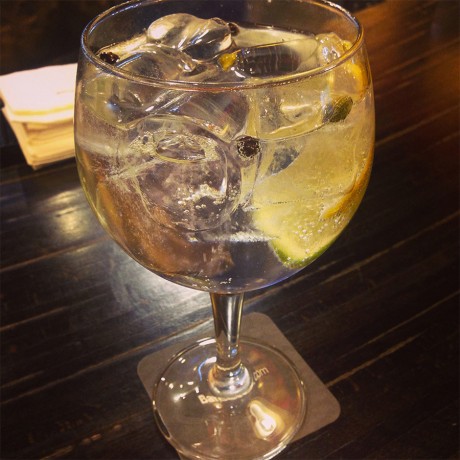 As you can see, we barely scratched the surface during our four-day stay. Our best advice if you want to make the most and get the best out of the pintxos crawl is to not only to know where to eat but what to eat. It helps to have a local guide give you that introductory into the pintxos scene. I could be happier to have Borja show us around. What I like about our food tour in particular is there are no set prices, you pay for what you eat. It didn't make sense for me at first either, but once you see the pintxos food scene for yourself, you get it — it makes perfect sense. Between G and I, I think we sampled a good dozen of varietal pintxos and didn't have to share for once. The next 3-days on our own felt like a breeze, we knew where to go, even revisited a few favorites from our first night out.
Is a San Sebastian's pintxos crawl in your near future?
Disclaimer: We were guests of San Sebastians Pintxos food tour. As always, all salivating photos and opinions are our own (drool). Honest.. by no means were we swayed by the buttery foie or rose infused lobster. Not even all the cheap Rioja wine we had at every bar we visited. 😉
Photo Credit: Gin & Tonic
You might like:
Share and Enjoy