The most fun you can have on two wheels in Barcelona, Spain!
If you're ever short on time and want a short, cost efficient, not to mention fun way to see Barcelona, this is it!
Good thing I picked up a Fat Tire brochure after our day trippin' in Fussen. By now, we've seen the Fat Tire bike company all over Europe. So far, we've done tours by boat and foot so, naturally, by bike would be the next option.
What you should know. 
It's a 4 hour bike tour through the Barri Gotic. Sites you'll see along the way include:
Sagrada Familia
Parc de la Ciutadella
Plaza del Rei
Arc del Triomf
Barceloneta beach.. and more!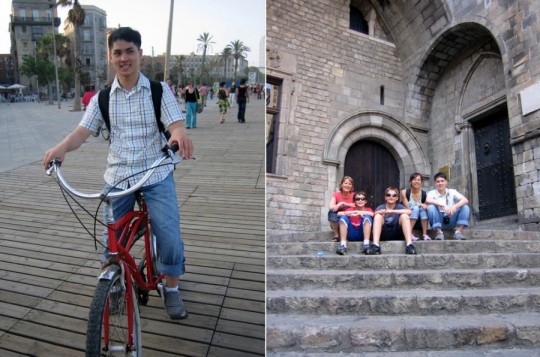 A highlight for me is Plaza del Rei. Had we not chosen the bike tour, we would have never been able to find the exact steps where Ferdinand and Isabella suppose to have stood when Christopher Columbus announced he'd discover The New World — America!
Here are a few more things you should know:
No reservations — No reservations are required. We showed up the day of.
Tour shop locations — The tour shop is located separate from the rental shop and meet up spot.
Tour Shop
C. Sant Honorat, 7
(34) 933 429 275
Rental Shop
C. Escudellers, 48
(34) 933 013 612
Meet up spot — Plaza Sant Jaume. We were late for the introductions but luckily our guide was in no hurry and we were able to join in.
Souvenir shopping — I mentioned I wanted to buy some hand-made bracelets and our guide brought us to an awesome shop! He watched our bikes while we shop. Most likely not possible if your group is larger than 5, but it doesn't hurt to ask.
Sangria break! — Later in the tour, you'll get a chance to break at an outdoor beach bar where you can drink sangria to your hearts content. But keep in mind, you'll need to bike your way back to the rental shop right after. So.. no BUI — biking under the influence. 😛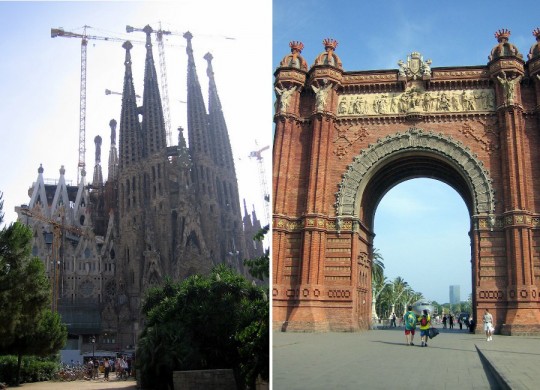 Our tour guide was an American — a young and hippie Los Angeles native who's been living in Spain for 18 years. Chilled and laid back with a wealth of Barcelona knowledge, he definitely added character to the entire tour. Funny how our group ended up being all Americans.
All in all, a great way to spend a half day in Barcelona.
Have you experienced the Fat Tire Bike Tour in Barcelona or anywhere else in Europe? Share your experience and tips in the comments!
You might like:
Share and Enjoy