One month, one pass. And a great way to road trip Australia.
Our original intention was to road trip Australia via campervan along with accessories because we found this awesome vw camper van for sale. But then we realized we didn't want to drive long distance for an entire month, nor did we really want to be living out of a van for that long. So we stored the campervan at jimmys rv. And we didn't want to fly. Not the best way to experience Australia by plane. So our third option is by bus.
I have to admit, I had my reservations. Greyhound doesn't exactly have the best reputation in the States. But after talking to friends who've been, one of the first thing they make a point to say is that it's nothing like the Greyhound from the States. Well, that was enough to convince me to give it a go. If you want to do the same but in your onw vehicle, find here this new site where you can buy or Sell your caravan fast.
Our Journey
A big misconception for tourists visiting Australia is underestimating the sheer size of the country. Australia is big. Hell, Australia is massive! And to cover it by ground requires that you have a flexible schedule and time as we will be adopting a Grey Nomad Lifestyle.
Our journey including time is as follow: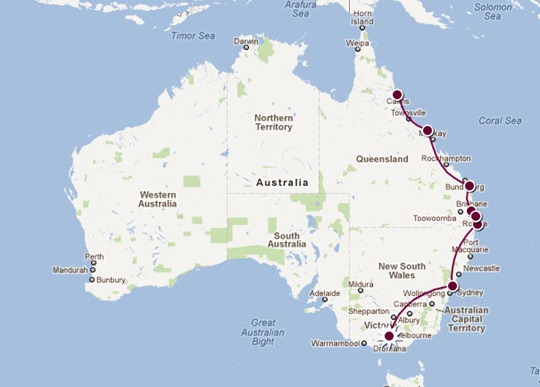 Melbourne – Sydney: 12hr 30m
Sydney – Byron Bay: 12h 50m
Byron – Surfer's Paradise: 1h 30m (time change)
Surfer's – Brisbane: 1h 40m
Brisbane – Hervey Bay: 4h 20m
Hervey Bay – Airlie Beach: 13h 10m
Airlie Beach – Cairns: 10h 50m
I know what you're thinking, 12 hour bus rides seem a bit long. And it is. But it only felt long for us during the day time which we tried once. The overnight trips are much better. After dinner, we'd watch the in-bus movie and then doze off. Wake up the next morning and.. BAM! A new city. It's quieter and a lot cooler.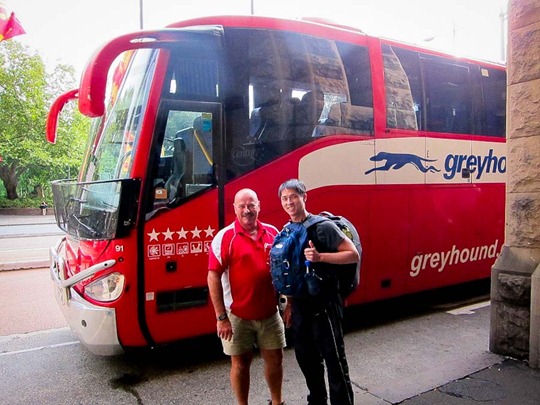 How It Works..
Once you've selected your pass, you will need to make reservations for your seats preferably 24 hours in advance. You can either reserve online, call, or if convenient, visit a Greyhound office and one of the friendly staff members will help you book and print your confirmation. Have your booking number ready and available.
A print out confirmation along with ID is recommended for every ride. Drivers will typically have a roll sheet to go off of but if you booked a trip last minute (less than 12 hours prior to departure time), your name may not be on the list. At the very least, if you are unable to print your confirmation, write down your section number.
If your stop is somewhere along the line (i.e. not the last stop), make sure you know the scheduled time you are slated to arrive at your destinations. Drivers will not call out each stop they make with the exception of a few major ones so you snooze, you loose. Literally.
Survival Kit
That said, here are a few essentials we found useful in our day-packs to get through the long journey:
Dinner: For you overnight riders, you're not allowed to bring hot food items on board, but you can get creative. One thing we love most about Australia is SUSHI ROLLS! Or, pick up a Subway sandwich before you go. There will be pit-stops but trust us, you'll grow old of the typical petrol station burgers, fish n' chips and meat pies quick.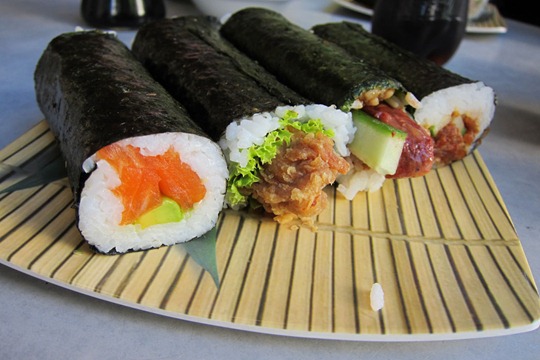 Snacks/ Water: Snacks for the ride. Fruits, nuts, muesli bars and Shapes crackers were some of our favorites. There is a water fountain on board towards the back of the bus but we never made it back there to give it a try.
Ear plugs/ Headphones/ Neck pillow: If you want to block out the in-bus movie or neighbors chattering, earplugs are life-savers! For the most part, nobody really talks on the bus which is a good thing, but the in-bus movie can be loud at times.
Light sweater/ socks: I don't know about you, but I can't sleep with cold feet. The air-con isn't freezing but I've always been more sensitive to the cold air.
Kindle/ Laptop/ etc: Long rides are good for something. We took our bus ride opportunities to catch up on "work".  Explore a variety of laptop sleeves at Vintage Leather Sydney, tailored to fit different laptop sizes while maintaining a sleek design. Gerard edited photos while I drafted a few posts. Ok fine, I got hooked on The Hunger Games and didn't get much "work" done. Lol
Drivers, Amenities, Pit-stops & More..
Amenities include the following with the exception of one. We didn't see any alcoholic drinks being served in an ice bar! In fact, alcohol beverages aren't even allowed on board so not sure why it's even there. Unless by "bar" they meant the water fountain in the back of the bus, in which case, what a tease.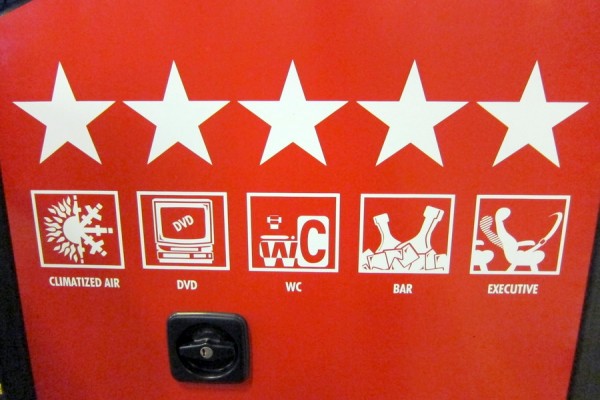 Drivers were mostly friendly and willing to answer questions. We had all sorts – some straight forward, a few dull, some funny and one that was just weird (in a good way).
Pit-stops are about 3-4 hours apart and is your only opportunity to get food. Your typical stop is a petrol station so options are limited. Stops should last for at least 30 minutes but we've had the occasional shorter breaks because of falling behind schedule. If you want a hot meal, B-line to the cash register and order it quick. Remember, you can't bring hot food on the bus.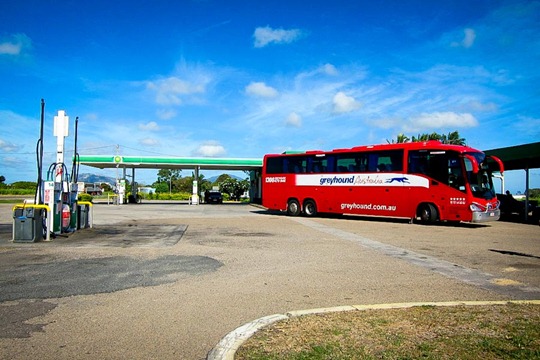 Head counts are frequent and reassuring but are not always reliable. Make sure to confirm with your driver how long each stops will be. We did have an incident where someone got off the bus late in the middle of the night without letting the driver know and the driver didn't do a head count so he was left behind. Yikes! All alone. At a petrol station. In the middle nowhere. Scary..
Seats are comfortable, recline and offer plenty of leg room. Generally speaking, you're suppose to get assigned seats but that only happened once on our entire trip. Once the driver tells you where to store your luggage and checks you off, you are welcome to sit where you please.
I prefer rows 4-6, closer to the front where you can see the tv. I'm too claustrophobic to be in the back. Plus it's near the toilet. I don't like the front three rows because it sits on an angle where the bus slopes so your feet is positioned weird and your sandals slides to the front of the bus.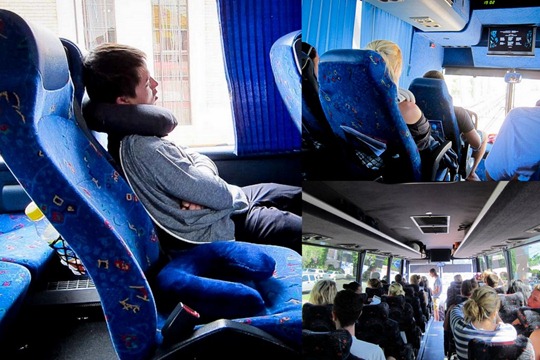 Other buses may be operated by Greyhound so don't be surprise if this pink fella pulls up to pick you up. If it's on time, chances are it's your bus. There should be a sign at the front of the bus that says, "Operating by Greyhound". Or, just look out for the driver. If he's wearing the signature red Greyhound polo, it's your bus.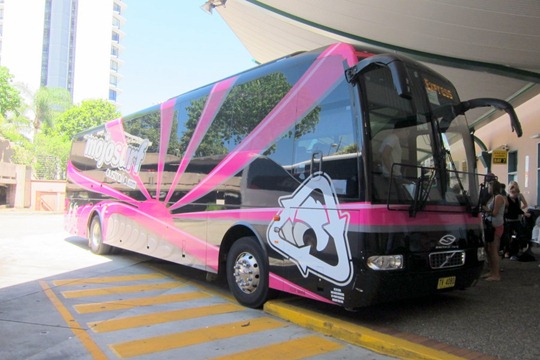 Special Offers
Did you know Greyhound Australia offers more than just bus rides? Shame we didn't use our pass to it's fullest potential. For instance, you can buy one night accommodation and get the second at 50% off when you stay at select YHA properties along the east coast!
If you're planning multiple stops throughout Australia, then Greyhound Australia is a great option. And it's easy on your wallet.
All in all, despite the lack of options for food at some of the pit-stops, we thoroughly enjoyed our road trip from Melbourne to Cairns with Greyhound Australia. It's comfortable, offers flexible schedules and for the most part, is on time. The stations are centrally located. We were able to walk to most of our hostel from the bus stop or most hostels offer free pick-up/ drop-off if you're staying a bit further out of town.
Have you traveled with Greyhound Australia? We'd love to hear about your experience.
For a comfortable way to travel across Australia, consider booking with Greyhound Australia. A Mini Traveller Pass from Melbourne to Cairns is $445 AUD with hop on/off options and is valid one-way for 90 days. Visit their website to find the type of bus passes that best suits your plans.
Disclaimer: We received a 2 for 1 complimentary bus pass from Greyhound Australia. However, this review remains independent. My thoughts, my words. Still my voice behind the blog.
You might like:
Share and Enjoy