I know it's long over, but here it is – Angkor in photos!
Last July, we boarded a bumpy bus ride to cross the border from Vietnam to Cambodia. We know little about the country before coming here. In fact, the only reason Cambodia was on our list was because I wanted to see Angkor Wat. That's it. That and an Angkor Wat documentary we watched on a Korean Air flight a few months prior.
We hired a tuk tuk driver and spent a leisure 2-days exploring the temples. For a great story on how sincere tuk-tuk drivers are in Cambodia, go here.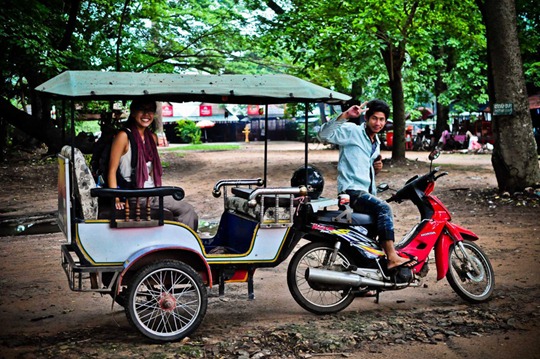 Day 1 began at dawn, catching sunrise at the famous Angkor Wat temple. Unfortunately, it was extremely cloudy so when the sun rose, we missed the entire thing. Instead, the sky lit quickly and we were able to see Angkor Wat across the water.
Angkor Wat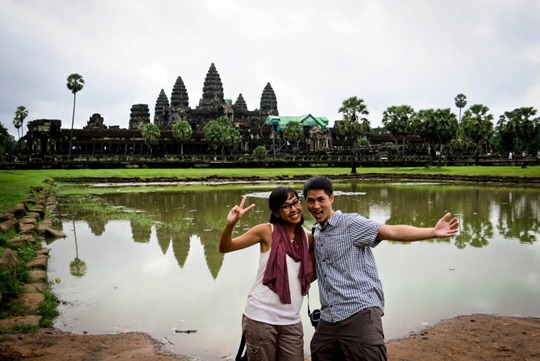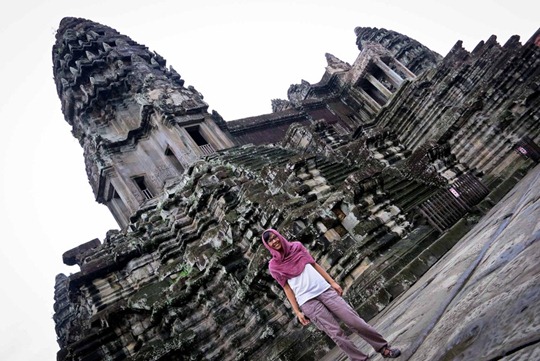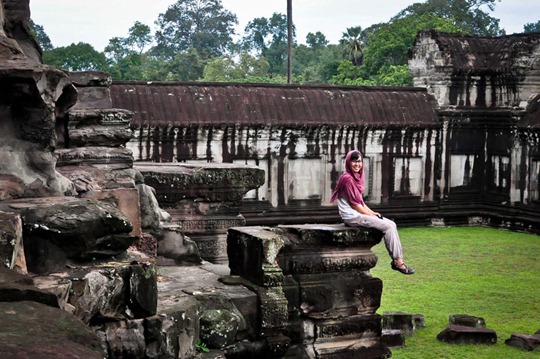 Can you spot G?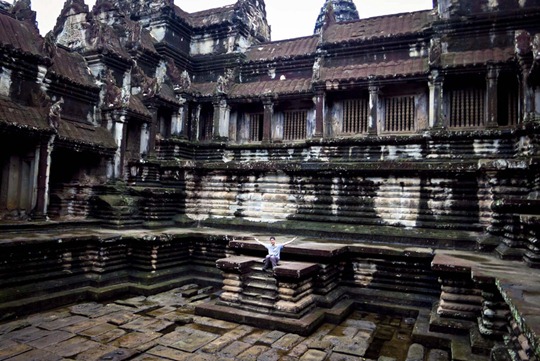 We had a lot of fun framing photos here at Angkor Wat.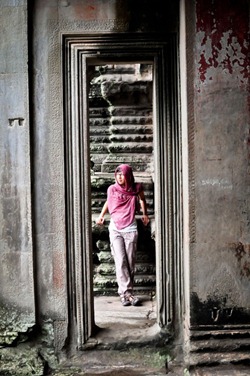 When we ran into a gang of monkeys, G was excited to photographed them. I was more hesitant, they looked mischievous and up to no good.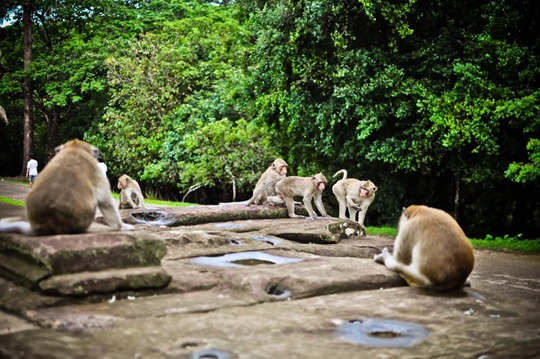 We spent Day 2 circling the smaller circuit which included a visit to Bayon, Angkor Thom, Ta Prohm and more.
Bayon
The faces of Bayon were both fascinating and eerie at the same time. I tried counting before I gave up and just sat and gazed for awhile.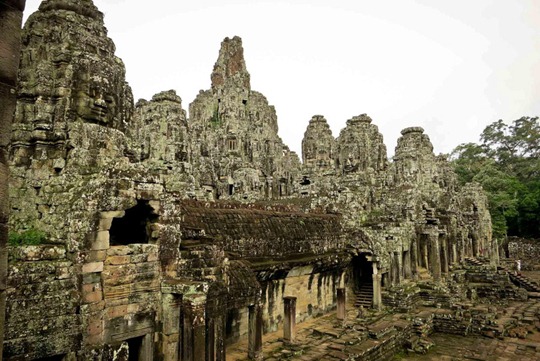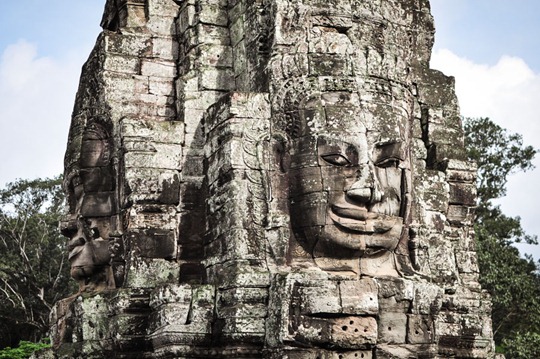 Angkor Thom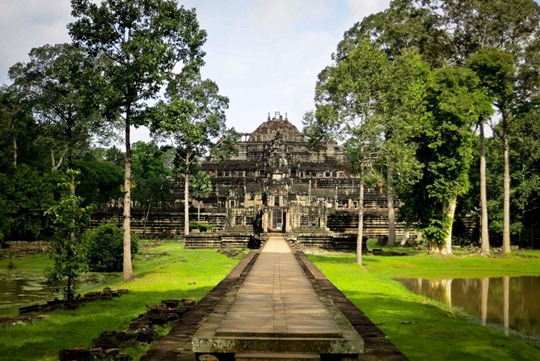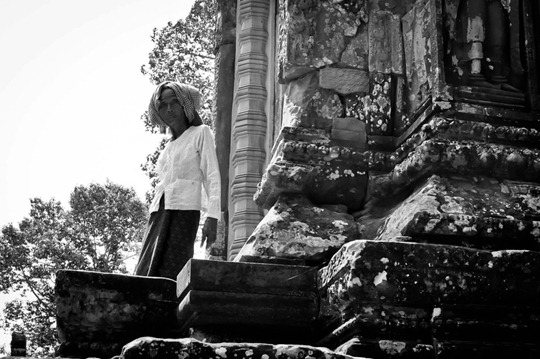 Banteay Srei
This temple is considered to be a Khmer art jewel with the most intricately carved red sandstone.
Ta Prohm
Popularized by Angelina Jolie's Tomb Raider. By the time we got to Ta Prohm, it started to rain, hard. Our ponchos provided little relief. We found cover within the temple walls and waited until the rain calmed which did not take long.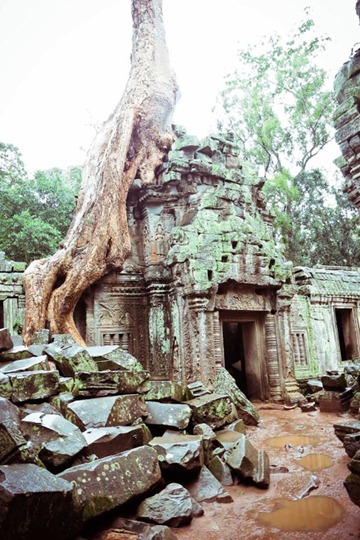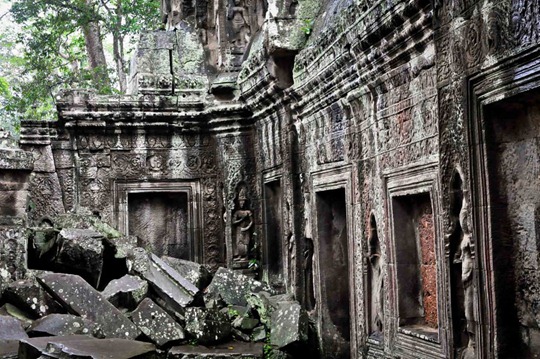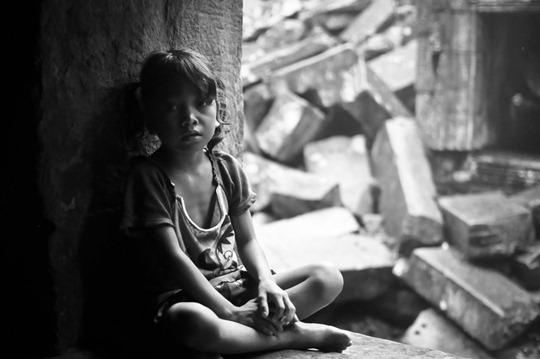 For more Cambodia fotos, visit our Facebook page.
Tips:
For $15 a day, hire a tuk-tuk driver to help you get from one site to the next.
It's easy to get temple'd out. Try not to squeeze it all in a day.
Be respectful. Wear tops that cover your shoulders. This is still a temple.
The grounds of Angkor is remarkably preserved. It's breathtaking and captivating. So much history resides within the the Park which stretches over some 400 square kilometres, it is hard not to be in awe at this UNESCO Heritage site.
Have you been to Cambodia?
You might like:
Share and Enjoy