Hostelbookers started a tag game in the travel blogging community — 7 Super Shots, encouraging people to share their favorite travel photos in seven categories.
Carlo & Geneva from Travel Budget Couple nominated us to pick our 7 super shots of travel photography. We figured it would be a good opportunity for us to share recent pictures of our adventures in India. We're over a month behind on the blog anyways. 🙂
So here you go, our 7 super shots – India edition:
1) A photo that takes our breath away:
If this is going to be an India edition post, it certainly isn't going to be a photo of cow poo that takes your breath away. The Taj Mahal is one of those incredible sights that literally takes your breath away. And if for some wacky reason it doesn't, it's story, a symbol of great love, will.
2) A photo that makes us laugh or smile
Meet Fleur. We met Fleur and her mother on our  2-day camel Safari in Jaisalmer. She's a little hippie. Fearless and independent, she loves animals. Sweet enough to offer us biscuits with our Chai, but rebellious enough to throw water on her mother. LOL She'll cuddle wild dogs, chase after goats and mock safari camels. Just thinking of her makes us smile every time.
3) A photo that makes us dream:
You can tell Fleur's really made an impression on us if we used her twice. We're at an abandoned village when Fleur climb the ledge and sat atop, starring out across the Thar desert, daydreaming maybe. Makes us want to see the world through a 5 year old's eyes. If you want to know how to take pictures like a pro, there are tons of sites that can teach you information like HDR Tips.
4) A photo that makes us think:
Beggars are nothing unusual to see in India. But for some reason, I was particularly drawn to this man in Delhi. He quietly, invisibly walks the streets of Pahar Ganj market. I half wanted to stop him, curious to know where he's been, where he's going. We couldn't help but wonder what's going through his mind as he makes his way through the mayhem and noise that is Delhi.
5) A photo that makes our mouth water:
Street food in India. We avoided the cold, the yogurts and the plain weird looking stuff. But this – Samosa piping hot and made to order – we ate as often as it came. This particular vendor we found in Pushkar. Super spicy and delicious in every bite.
6) A photo that tells a story:
The women of India fascinate me. Quiet and reserved, we rarely had opportunities to interact with them. Most go about their day with daily chores, some hardly even made eye contacts. But their stories need not words nor eye contact. Pictures really tell all. Don't you think?
7) A photo that we are most proud of (a.k.a worthy of National Geographic):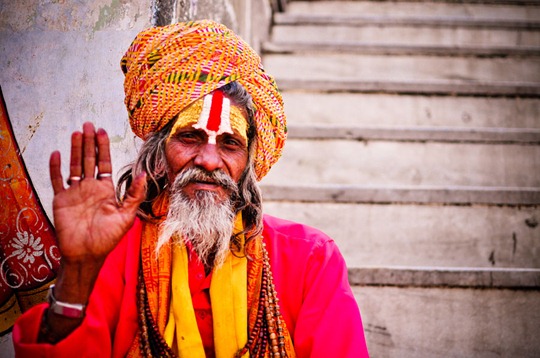 This Sadhu man was sitting in front of a temple in Udaipur when I took this photo. I felt that his appearance screamed India to me. I shouldn't have been surprised when he asked for rupees right after taking the photo, we are in India after all.
There you have it – our super seven. We hope you enjoyed a snippet of our recent adventures in India.
To see more photos from India, check out our India photo album on our facebook page!
What's your favorite shot?
———-
Tag. You're it! Show us what you "shot".
Devon from Answering Oliver
Duane and Kim from Wright 2 Travel
Christy and Kali from Technosyncratic
Chris from Aussie on the Road
Fidel from Scene with a Hart
You might like:
Share and Enjoy