New Zealand is beautiful every which way you look at it: the mountains, the lakes and even glaciers! And, we got to walk on one. I mean, how often do you get to say, I walked a glacier today? Well on this day, we did. 
Franz Josef is a small town. Then again, any town in New Zealand is pretty small with one major intersection, a handful of restaurants, a mini mart, cafe and gas station nestled beneath the snow capped mountains.
We arrived late afternoon, checked into our hostel and decided to wander a bit before grabbing dinner and calling it a night. It was a long drive from Blenheim. The next morning, we dropped by the Franz Josef Glacier Guide company and started our half-day tour.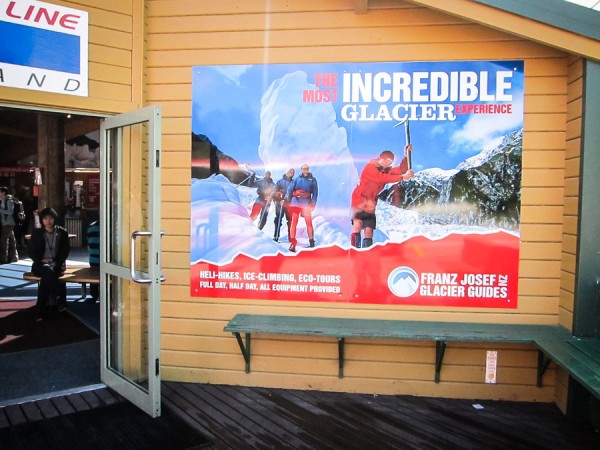 It's a short bus ride up the mountain before we all got out and started walking. We trekked through some forest and bushes before making it to the clearing to see the glacier.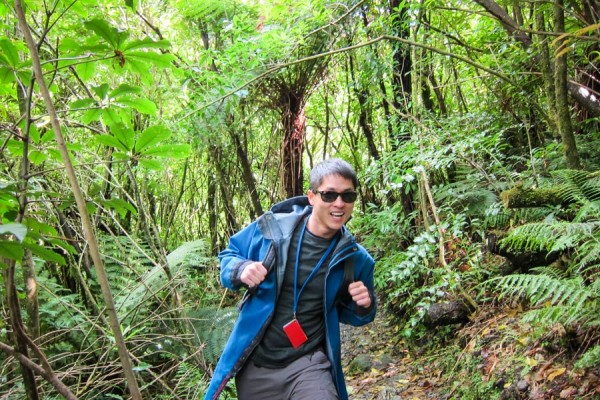 Don't be fooled by the distance — the glacier is a lot farther than it looks. And even though the walk was on flat surface over gravel and rocks, some people didn't make it pass this point.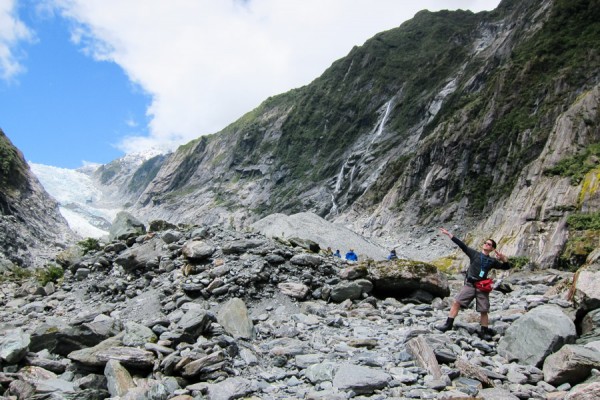 We eventually made it to the bottom of the starting point for our climb. A mini mountain of rocks, with narrow and steep pathway had us panting for breath. It was tougher getting to the glaciers than I initially anticipated.
Once at the foot of the glacier, our tour began. We were briefed on how to put on our perfect shoes similar to non slip shoes, things to avoid and other things to look out for.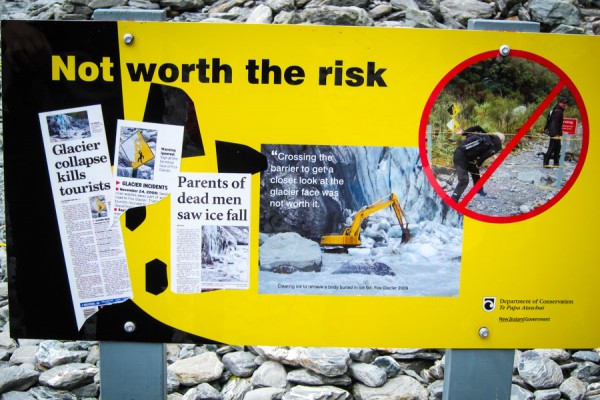 Glacier conditions change every single day, so guides have to pick down the trails to ensure safety for the group.
When you get to the ice portion, it's time to switch your shoes for some scary & stylish crampons.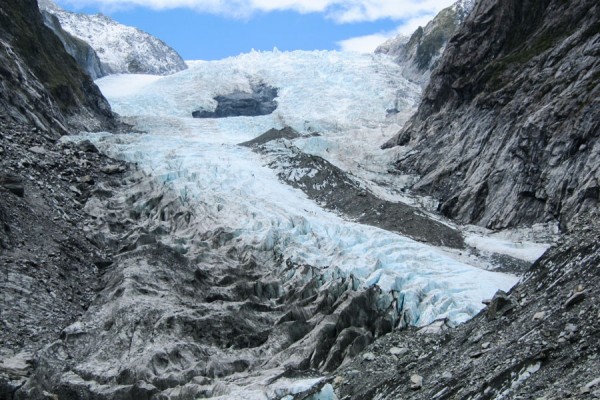 Then it's ice ice baby time from there.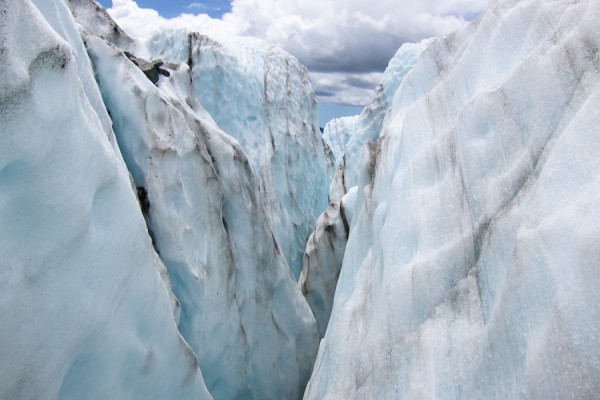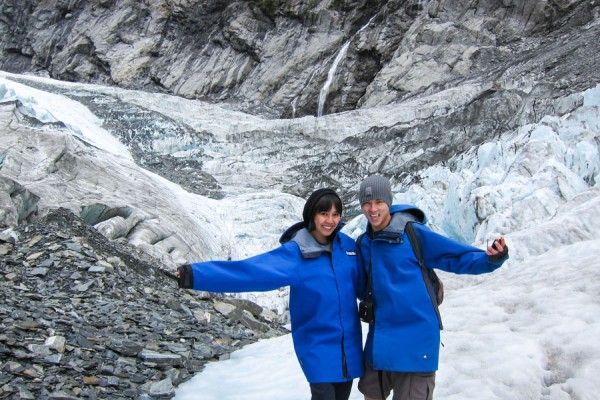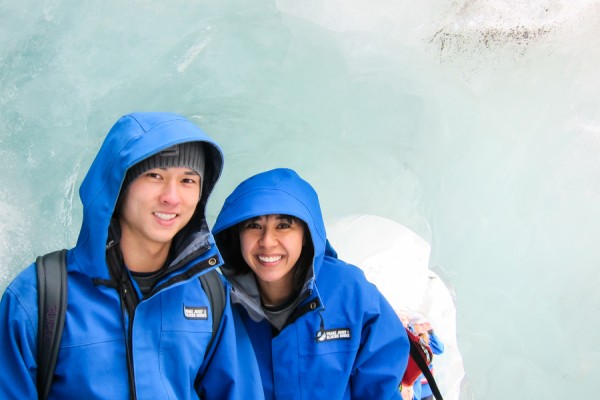 Kind of reminds you of Middle Earth.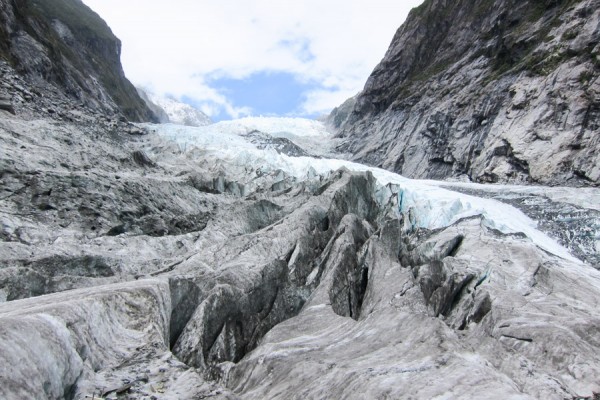 We also stumbled upon the Kea aka the green curious mountain parrot that likes to steal things when you're not looking.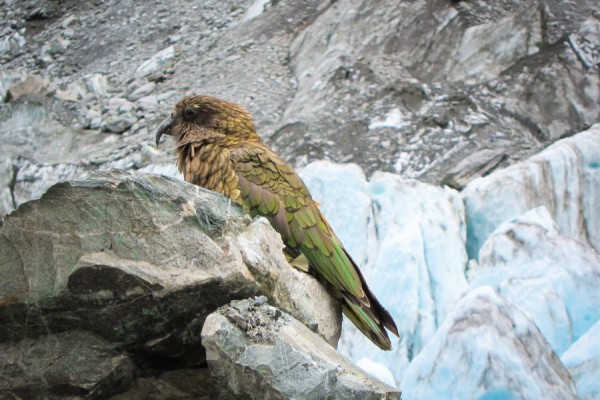 If you're looking for a good workout, you can even climb these ice walls.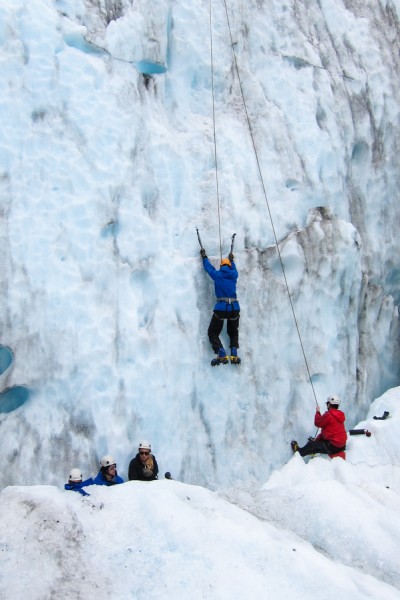 Coming back down you'll see the view of the valley… Most of this used to be covered in ice… Now sadly it's fading away. Product of global warming?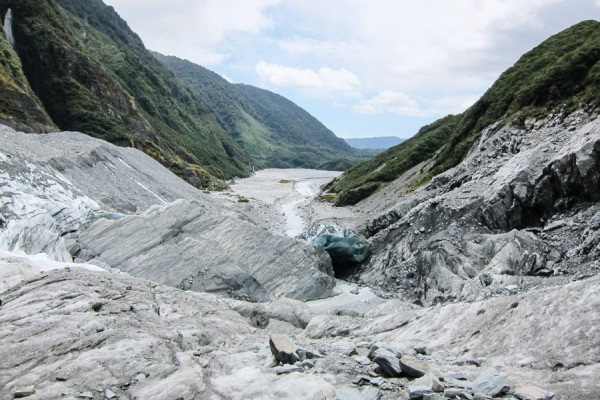 After a day hiking the glacier, it's relaxing to wind down and relax your muscles at the Glacier Hot Pools back in town.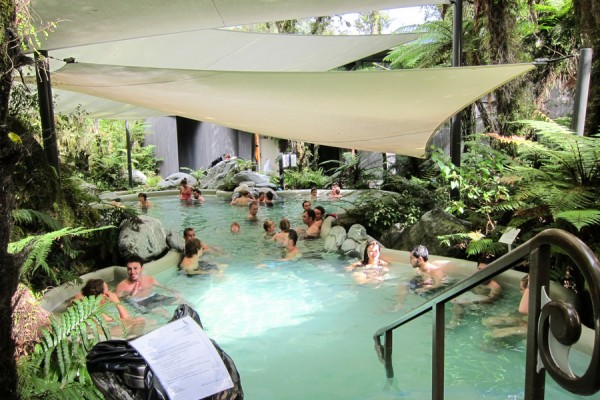 Q was pretty tired towards the end of the hike, so we're glad we took the half-day package (plus we saved some money too).
Looking back, we got a good taste of the glacier hiking experience, but it would've been nice to get higher and deeper into the belly of the beast.
How about you? Does glacier hiking sound like something you'd want to do?
You might like:
Share and Enjoy