No joke. I swear I was half Mexican in my past life!
My other half — Vietnamese of course. It's a good thing I live in San Jose where Vietnamese and Mexican cuisine dominates this city of gold.
So here you go — from our backyard to yours — our best Mexican food finds in San Jose!
breaded halibut tacos
For the freshest seafood and a great outdoor Mexican dining experience, Dia de Pesca is the place for you. You really can't go wrong with choosing a fish taco here. But if I may, breaded halibut all the way!
carne asada fries
I'm not entirely sure it's even 100% Mexican but it's so damn good! Best late-night-I'm-slightly-buzz-I-probably-should-not-have-had-that-last-drink kind of food.
If this place sounds familiar to all you Foodies out there, Adam Richmond came to San Jose for a Man vs Food challenge and watched San Jose native Joey Chestnut down a Burritozilla in less than 4 minutes!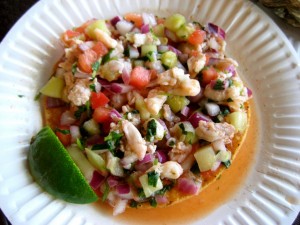 ceviche de camaron
Perfect on a hot and sunny day! Fresh shrimp, diced cucumbers, jalapenos, tomatoes and red onions married in a citrus lemon juice served with fresh tortilla chips (or crackers). And.. it's less than $4!
I also think they have one of the best Horchata in town.
super chavelas!
Tlaquepaque (try saying that 10 times fast!) is a small mom-and-pop Mexican restaurant known to have some of the best Mexican food in the area. The food is amazing but what draws me here time and time again is their Super Chavela!
A Chavela is a Mexican beer (dark or light) with lemon and salt serve chilled in a glass goblet with a salted rim. A "Super" Chavela is spiked with Tequila! Tell me that doesn't sound like fun. Best after-work drink for sure!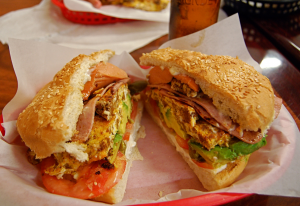 milanesa tortas
A torta is simply a Mexican sandwich. The Cubana is a crowd favorite and we agree, it's quite delicious. But our personal favorite is the Milanesa — breaded steak, sliced avocado, cheese, japalenos and tomatoes!
A meal is never complete unless capped with a little sweets. Good thing we're in a bakery. G always picks up fresh Mexican bread for his mum when we're here. 🙂
chips n salsa
I don't go for the groceries, I think it's a bit overpriced. It's all about the fresh meat counter and side counter in the back of the market. There are days when I'll drop by Chavez on my way home from work and buy a pint of salsa and guacamole (each!) with a bag of home-made tortilla chips and, I kid you not, kill half the bag of chips and salsa before I even make it through the door. It's that good.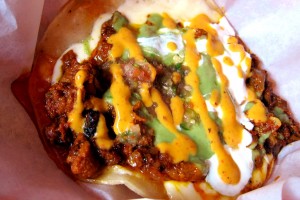 orange sauce (on everything!)
This sauce is the Mexican Sriracha! Or least that's how I describe it. So good, it's bottled and sold. People line up for this sauce. The food at La Vics is good on it's own but slather orange sauce on virtually everything on the menu and it's as serious as a heart attack!
super nachos
Another late night dinner spot for us when we're craving Mexican. Although G will usually pick up via their drive-thru (cool, huh.) bring it over and every time, without fail, he brings over super nachos with all the fixings — carne asada meat smothered with cheesy nachos cheese, beans drenched in sour cream and loaded with jalapenos!
Well, I'm stuffed. So if you're ever in the Bay and craving Mexican food, head South (but not of the border) to this great city we both call home — San Jose. You'll thank us later.
What's your favorite Mexican dish and where?
You might like:
Share and Enjoy