Excuse me. What did you say? We have no place to stay?! 

Day 2 of 2.
With a hectic Day 1 behind us, we were so ready to check in to our hotel — Le Sphinx — and have a quiet dinner before calling it a night early. I was wiped. But apparently our crazy day wasn't over yet.
Our guide helped us check in to our hotel. But when we got there, there were no reservations under our names nor the Tour company's name. And after an hour of waiting patiently in the lobby, we were told there was a mistake when the Tour company booked. They booked the wrong date! Genius..
So between the Tour company, our guide and the staff at Le Sphinx, they rushed to find us an alternative accommodation (again) somewhere nearby. We ended up at Movenpick.
Back in to the car and down the street we go. Completely bummed we couldn't stay at Le Sphinx. But the staff's at Le Sphinx graciously offered us dinner on the house whether we choose to eat there or have dinner at Movenpick for the inconvenience. That's great service I thought.
Movenpick lobby and bungalow rooms
When we  got to Movenpick, saw how equally nice the hotel lobby was to Le Sphinx, more importantly, the massive all-you-can-eat dinner buffet, we knew it wasn't a complete bust and decided to stay here for dinner.
The rooms, individual bungalows and super cute! All rooms are situated on ground level. The rooms are spacious and clean with giant bath and two double beds pushed together to make one big one. Lol. TV, empty fridge and air-conditioning included. Also, one satisfying breakfast buffet (also on the house) in the morning for the trouble we went through.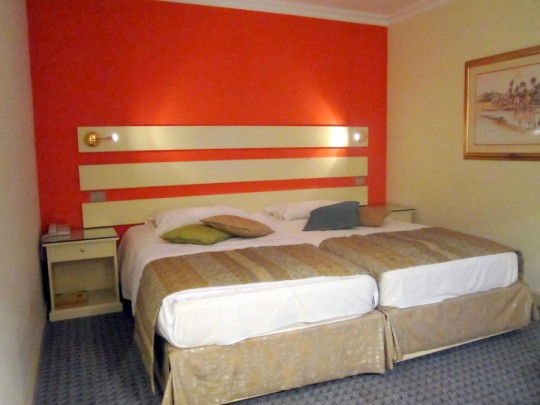 Movenpick | bungalow beds
Finally, a good night's rest and gearing for a great Day 2.
For today, a stroll through the Citadel and getting brushed up on Egyptian history at the Egyptian Museum. Perfect! I'm still hurting from the day before so a slower pace puts me in a happy place.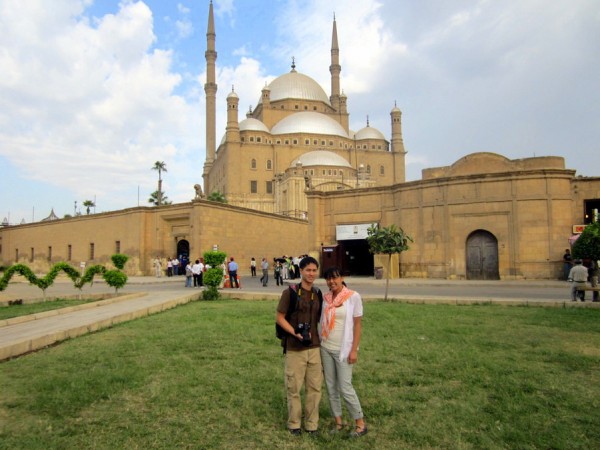 Here are a few things you should know for Day 2:
The Citadel.
A preserved historical site. There is a mosque and museum so dress appropriately.
Booties & ponchos. Booties are handed out to slip over your shoes. If your wardrobe is deem risque, they'll hand you a green poncho which you are required to wear if you want to enter the Citadel.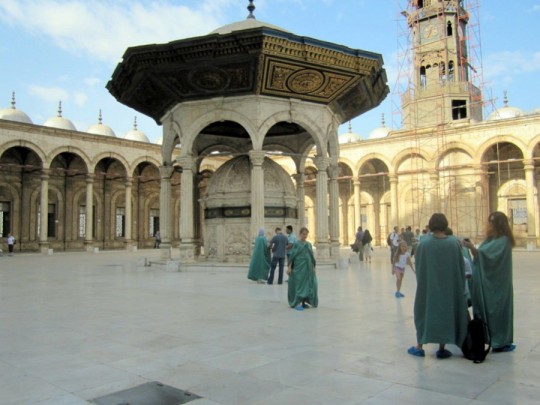 Guess what these tourists were wearing underneath?!
**Travel pet peeve #23 (made up number). Inappropriate attire at historical and/ or religious site. You wouldn't wear a mini skirt to church back home so why do it in Egypt or anywhere else in the world for that matter.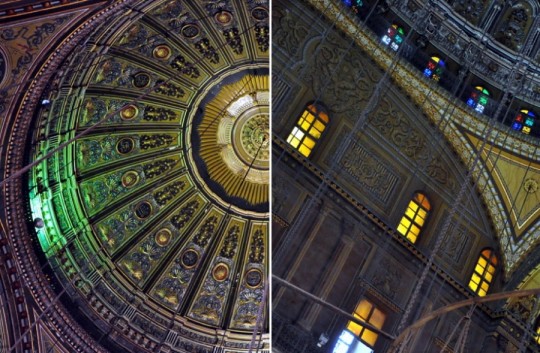 Inside the Mosque at the Citadel
The Egyptian Museum.
No cameras allowed. Cameras including your daypack or other carried belongings need to be checked-in before entering the museums. Take your picture in front of the museum before you check in your stuff.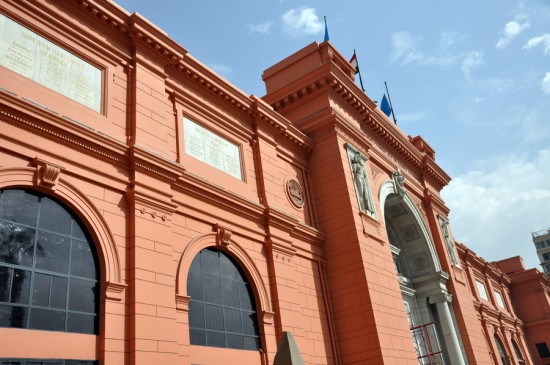 Egyptian Museum entrance
Audio or guide. Or both. Our guide, nice as he is, could not speak English (well). And of all places, this is where I desperately wanted to talk history with. We found ourselves hovering around other tour groups just to listen in to their guide and what he/she had to say. Should have picked up an audio guide.
Royal Mummy Room. You would think the cost for admission covers for everything. Wrong! If you want to see royal mummies the likes of Ramses II, it will cost you an additional 100LE (about $16 USD).
After a quick lunch, this time slightly better than Day 1, we made our journey back to Alexandria port. Pit stop for gas and tea (not my cup of tea..) and continued on. And even though service charge is included in our package, we tipped our guide and driver.
And even though we had a few hiccups with the hotel reservation, we were beyond satisfied with our decision to book a tour especially after hearing some less than pleased cruise mates with their not so great stories in Egypt. Some forced all in a days work — taxi'ing for 3 hours, visiting all the sites and taxi'ing back to the ship. Others had cameras stolen, conned for camel rides and taxi fares. And a few just didn't get the history lesson they'd hope to experience.
Do yourself a favor when visiting Cairo, make it a worry free trip. Hire a private guide. You'll thank us later.
You might like:
Share and Enjoy