We're in Blenheim with one goal in mind – get wine wasted.
After being on the move for 2 weeks straight, we were definitely ready to 'wine' down. Literally. We opted to stay for 4 days, the longest stay thus far on our New Zealand adventure.
If you're into wine tasting, vineyard hopping and that sort of stuff, I recommend taking it slow and spending more time here. We're from Northern California and Napa is a frequent weekend escape for us so naturally, we knew we would enjoy this region.
And that we did. Here's a few things we took away. Our Blenheim at-a-glance.
Stay
We were starting to get a bit antsy hosteling it even though we've been staying in our own private double. We've never fully unpacked and unwined and there's something about staying in a hostel, no matter how fancy or luxurious it is, that isn't quite like home.
So imagine how excited we were to have discovered Airbnb. With a successful stay in Wellington, we figure we'd get lucky again the second time around in Blenheim. We couldn't be happier. We stayed with Anna and Dane and their dog Milly! Does our room scream comfy or what? And, turns out, when you're traveling for two in New Zealand, you're almost better off using Airbnb. The cost can be about the same compared to a hostel. Plus, free WiFi, laundry, tv and so much more.
Eat
Lunch was at Highfield Estate and a delicious one at that! It's been such a challenge for us to find a good meal that didn't cost an arm or a leg. Or one that we'd have to cook on our own. We've succumbed to the backpacker's Subway diet. It's all we could afford. And even on days when we felt like splurging, the food in New Zealand is or has been mediocre at best. Until now.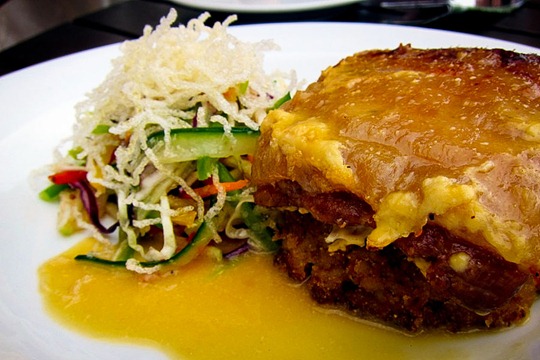 Highfield's Tuscan inspired pink tower estate is hard to miss. The patio restaurant offers incredible views over the Wairau Valley. We didn't taste here but ordered a glass of Sav with our fusion pork belly accompanied with cooked to perfection risotto and fresh apple, pear and cucumber salad. mMmmm.. so good!
Do
What better way to explore wine country than on bike! We're not planning on getting a BUI (biking under the influence), but we figured it could be fun. It came highly recommended so we booked a half day tour with Wine Tours by Bike.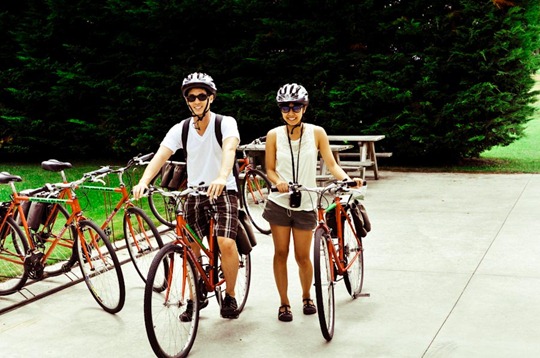 Nigel is great! We got a quick run down of the lay of the land, suggestions on the route we should take and what we should taste. I'll admit, the route suggested is a bit ambitious. The vineyards are at least 2km apart if not farther and the road is bumpy. After 30 minutes on the bikes, my calves were sore and my bum was aching. I don't suggest a full day unless your ass can help it.
We made it to three –- Villa Maria, TerraVin and Fromm –- with a lunch stop at Highfield.
TerraVin was definitely our favorite during our first day wine tasting. Most tastings are free. Others charge $3 to $5 for tasting which is a steal.
Here's a few of our faves:
TerraVin
Perched on a hill, I walked my bike up to this small, family owned and operated vineyard. I love it here because it's off the beaten path.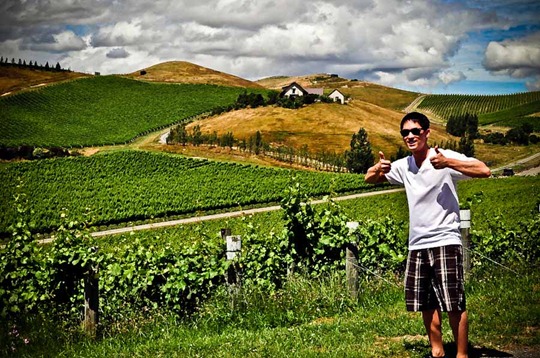 TerraVin gave us a new wine to add to our personal favorite list –- J. A triple blend of Caberbet Merlot Malbec, it's a strange but harmonious combo that is to drool over.
The only down side with some of the smaller winery is they don't ship to the States. They make just enough to ship throughout the country, maybe some neighboring ones like Australia but not enough for the rest of the world.
Te Whare Ra
Another small vineyard, I like small vineyards because they have a hand on approach to the vineyard and winery. The extra effort to make wine better is apparent. TWR is no different.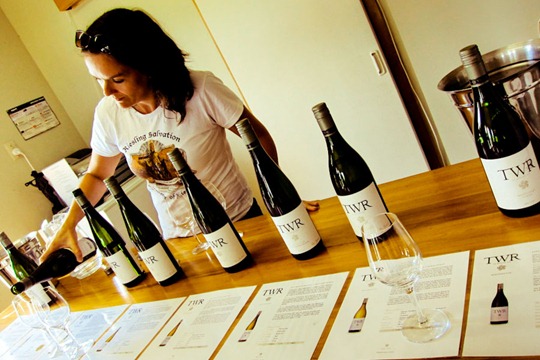 TWR offers the most tasting of all our vineyard visits for a small $5. Instead of paying for two, we split the $5/ 8 glass tastings. And the pours are generous too!
The color of the wine here is very unique. It's almost crystal clear, pure with a touch of elegance. It's the prettiest wine I've ever tasted. The taste is crisp, clean and very smooth in virtually every wine from Sauvignon Blanc to Pinot Gris to Reisling. If you love wine, you should know to keep your wine fridge temperature between  45 to 50 degrees Fahrenheit.
Forrest
We didn't have time to immerse ourselves in the larger tasting option, we came late. But we did get to try three!
And even though we spent the least time here of all the vineyard visits, Forrest is my personal favorite because of the ambiance.  This place exudes what you'd imagine a wine tasting experience to be.
The tasting is not rushed like the rest. Select your tasting and enjoy it on the patio if you like. The bean bag chairs are my favorite. Get comfy, picnic out and order a cheese and or meat plate –- yes, they have that too! It always surprises me how few vineyards sell the sides to accompany your wine. Guess that's just what I'd imagine when I think of going wine tasting.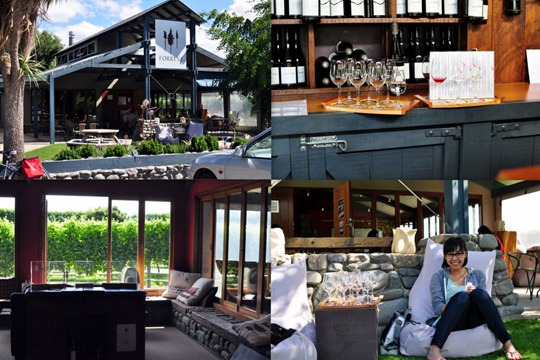 After a few tastings, they all start tasting the same. But I will say, the Savs in this region are some of the best I've had the pleasure tasting. Even if you're not a wine person, the drive through the Marlborough region is a must. It's absolutely gorgeous and serene.
What's your favorite wine and from where?
You might like:
Share and Enjoy