Well HEYLLO there! It's been a while. 5 months to be exact. Pardon our dust, but we have been a wee bit preoccupied these days. Just in case you've missed it, I have been demoted and there is a new queen B(ao) in the house. Needless to say, it has been a whirlwind adventure, becoming a family of three, especially traveling as a family of three, and it has been the most exciting and rewarding adventure to date!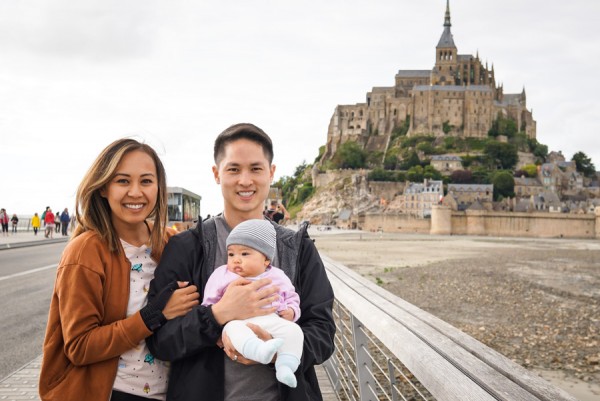 I have many unfinished blog posts in the queue — Taiwan, London and Edinburgh — not sure when I will get to those (sorry!) but since we have been inundated with questions from you on Facebook and Instagram as of late about traveling with baby and what travel gear we used when traveling with baby, I figured this might be the easiest blog post for me to tackle and get out the door that did not require much thinking because we all know my brain is still on zombie mode.
We recently spent a month in Europe, our first trip abroad with Dylan and I was dreading packing, something I usually enjoy but packing for a baby is so different. I must have tested every baby travel gear in preparation for this trip and finally found things that worked for us. And of course, don't forget to feed your baby. Thankfully, there are guides online such as baby led weaning that are truly helpful.
Travel Gear
Stylish Seat Covers
When it comes to traveling with a baby, one essential travel gear item that can make a significant difference in your journey is a set of comfortable and practical seat covers. Although baby travel may not be typically associated with style, it's astonishing how even something as straightforward as cow print seat covers can bring a charming element to your baby's car seat or stroller. Our seat covers can also feature a cow print design, ensuring that everyone can relish a pleasant ambiance while on the go. These covers not only protect against spills and messes but also give your baby a cozy and playful environment to enjoy their travels. So, amidst all the preparations for your trip, consider adding these charming seat covers to your list, making your adventures with your little one not just convenient but also visually appealing.
I can't even tell you how many times people stop us to ask about our Doona Car Seat Stroller. Guess it's not every day you see a car seat and stroller in one. It was our first time too, and we kind of love it. A lot!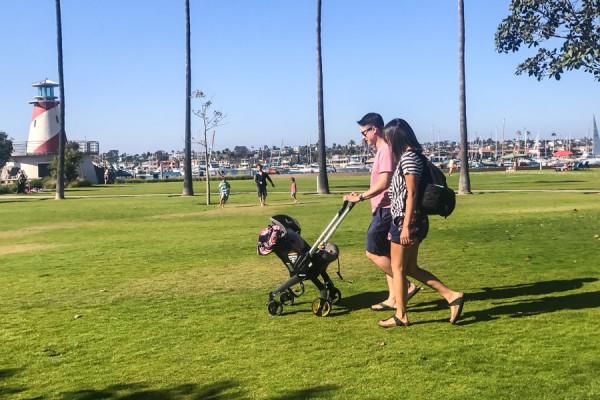 It's probably one of the best baby gear investments we have made and worth every penny. I love everything about it; from the way it collapses into a car seat at a push of a button to the overall look of it. It requires no base which makes getting in and out of Uber rides in Europe super quick and easy. I never hesitate to recommend it to all new parents and Gerard loves demoing it to strangers. We also have the Doona diaper bag and the sunshade cover. It might not hurt to also get a car seat bag cover for your flight. Trust me when I say, save yourself the hassle. Get the Doona. You can thank us later.
If you follow us on Instagram, you know how much I struggle with baby carriers, I tried everything. Hated wraps — Solly, Moby — you name, hated them all. Tried the K'tan, loved it for it's simplicity. Unfortunately, Dylan wasn't sturdy enough to dangle in it forward facing at the time. Finally borrowed the Ergo with infant seat cushion and decided to take that with us to Europe. I like it because Dylan is in a seated position and she seemed comfortable in it. It's also not as bulky as many other carriers its style. We also bought the sailboat drool pad which adds a nice functional touch to the black Ergo.
When we came home, we borrowed a friend's Baby Bjorn and instantly fell in love with it. It's lightweight yet structured enough to hold Dylan in a comfortable hanging position. Super easy to put on too without all the extra loose hanging straps to deal with. I think the Ergo with infant cushion is great for babies 4-months or younger and the Bjorn 4-months and up, depending on your baby's size and how sturdy they are. We will likely be purchasing a Bjorn in the coming weeks because I'm done testing baby carriers.
Skip Hop Forma Diaper Backpack
We ended up not bringing our diaper backpack to Europe because we brought the diaper bag that is made specifically for the Doona. However, I did take the accessories that comes with the backpack with me — the changing pad and packing cubes — because the accessories are that awesome. Sadly, I forgot my changing pad at a museum in Amsterdam and had to buy a replacement. This changing pad is the closest match to the one I lost. I wish Skip Hop sold accessories separately. As for the packing cubes, the insulated one fits two milk bottles and a milk pouch and the mesh one fits the portable breast pump. Both cubes fit in our diaper bag perfectly.
I wasn't planning on bringing the big machine around with me to Europe but I was not thrilled about a manual hand pump either. Thank goodness Gerard found me a battery operated portable breast pump. This on rechargeable batteries lasted us for two solid weeks! It's small enough to fit into our diaper bag and strong enough to pump like any other machine.
We bought the Brica Travel Bassinet simply because it folds down flat and is lightweight. We would have packed it in our suitcase had we carried a larger one but we ended up strapping it to the side of the Doona with a carabiner during transit days and it worked out fine.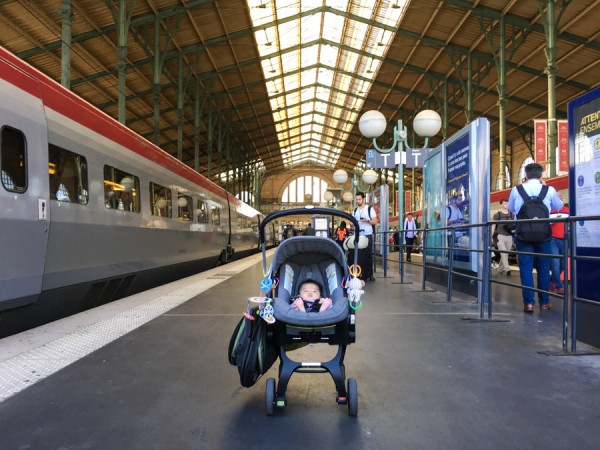 Dylan likes it too. Took a bit of convincing (i.e. nap training) and some ingenuity (i.e. extra padding for cushion) but she finally got used to it. In fact, it currently serves as her daytime nap bed when she is at my aunt's house during the weekday while I'm at work. As a breastfeeding mother, it's also important to take note of other necessities like those breast pump covered by insurance.
Apparel & Accessories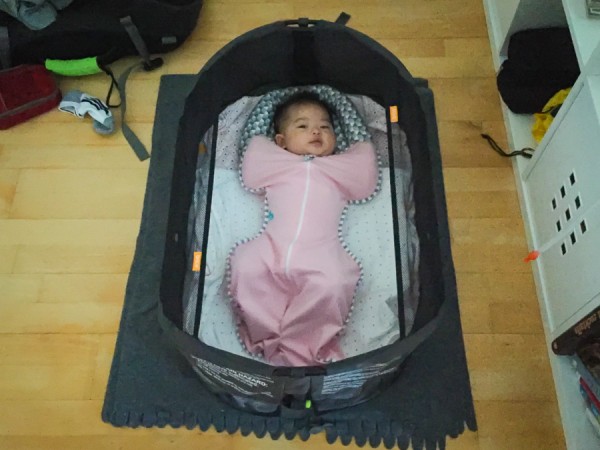 She looks like a flying squirrel in this especially the grey color. This is what we used to nap and sleep train Dylan. She's not a fan of the velcro ones and this allows her arms to be near her head which she loves since she can self soothe through the swaddle. She is so use to it that by now, she knows its bedtime every time she gets zipped up and has no issues sleeping anywhere. We're also a fan of old school swaddling and these Bebe Au Lait's are my favorite.
To prevent flat head. We've tried a few others, this one seems to work best since she can't slide down or off of it. You should also bring 1 year old's bath toys to keep your kid engaged and happy during tub time.
Haakaa Silicone Manual Breast Pump
Is far better than many pumps, manual or powered. The suction, if latched correctly, takes all the manual work out of it and it basically just squeeeeeeeezes everything out. Fast too! TMI but it's great to catch that leaky boob while you're breastfeeding your baby.
Nursing Breastfeeding Cover Scarf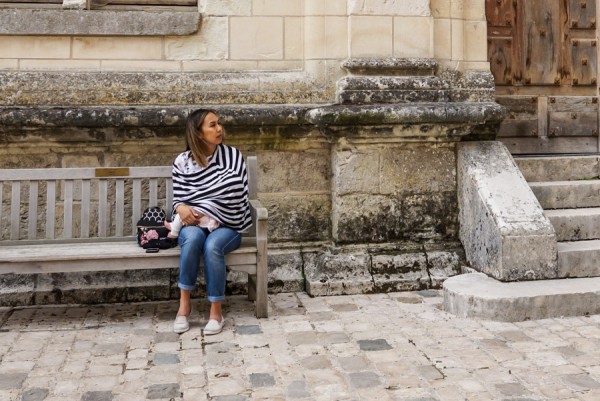 Majority of the time, we use it as a stroller cover especially when we're trying to push Dylan to sleep. It's stretchy and breathable and wraps over the stroller and handle bar easily. I've used it to nurse, as a mat for Dylan to play on and as a blanket. It's super lightweight and packs well so there is always one on the stroller hood at all times.
The first bottle Dylan didn't reject and one that packs well for travel because it's skinny. Just recently, we've switched over to the Medela 5oz Bottles now that she is able to drink more and faster. We also like the fact that you don't have to deal with the extra tubes.
I didn't want to carry multiple bottles with us to Europe but I knew I needed storage for my milk supply. These Kiinde pouches are great! They take up way less space and easy to clean and reuse. I brought 5-pouches, some frozen, to get us through the long plane ride.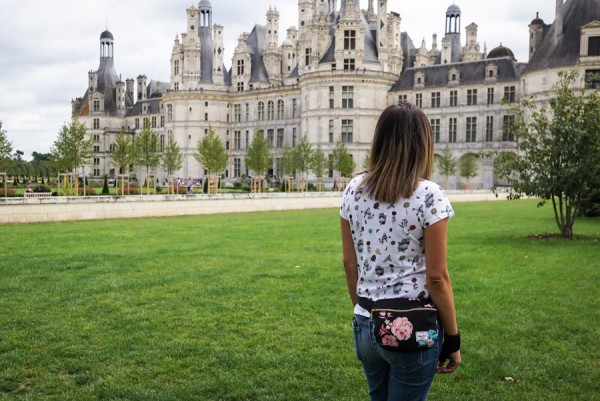 Or as I like to call it, my mommy pack! Seriously, why did these ever go out of style in the first place? Of all the things I packed for myself, this was my everyday must have accessory. Maybe it's because I'm a mom now but I find it so handy to be hands free from dangling purses. I haven't worn a purse since having Dylan. LOVE being able to grab things quickly and having a place for my phone. Plus, don't I look cute?!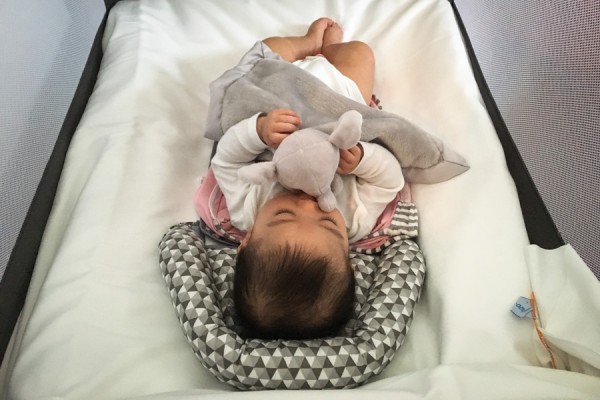 Before we left, we bought Ellie the Elephant with the hope that Dylan would find comfort in it wherever we go. If Dylan was going to get attached to anything, I wanted it to be small and travel friendly. Most days it serves as a blanket for Dylan in the stroller while we're out and about. She loves tugging on its ears and grabbing its nose.
Tech
We actually did not buy one until after the Europe trip and I wished we did because we were using my phone to play the white noise app which meant every time Dylan slept, I was out a phone for at least an hour. We use the monkey now, it's always strapped on the Doona. Super handy when we're out and about or even over at someone's house.
The spy cam! We didn't buy this until after Europe but had I known, I would have definitely packed the Yi Home Angle with us for sure. Next to the Doona, this is one of the best baby gear we bought for parental piece of mind. The Yi Home is actually pretty cheap and compact. There is no lag or glitches and the quality is superb, especially in HD. Wish I thought of this when we hired that nanny to watch Dylan at our hotel while we rendezvous the night away in Paris. Will definitely bring it with us on the next family trip. We also bought the Yi Home Dome Camera. This one is bigger, better used at home, but it's great because we can control the camera from our phone.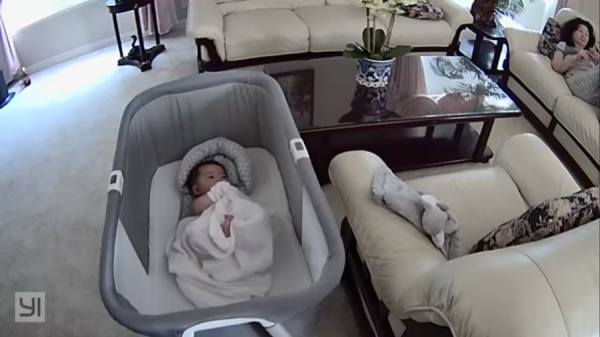 If you prefer to have a baby monitor that doesn't require an internet connection, this Infant Optics DXR-8 is what we use in our own home.
There you have it, our list of baby travel must haves as curated by Dylan. Remember, every baby is different. And not every gear is for every baby. That is why we spent months researching and testing out various products to find the ones best suited not just for Dylan but for us as well.
We want to hear from you!
Let us know what baby travel gear works for you and your little one.
Disclosure: This post includes affiliate links. We may earn a small amount of money to simply help keep the site running and buy more travel gear to test for our baby. 
You might like:
Share and Enjoy