Our first dive experience in the Gilis was exactly two years ago, and we've been itching to get back in the water ever since. Lucky for us, we got to do just that on our East Africa honeymoon in Zanzibar!
We didn't want to much in Zanzibar, not snorkel or take a sunset cruise or see dolphins or anything the relentless touts were trying to sell us. Three things we did want to do here though: relax, get a gnarly tan before we head home, and dive again.
After scouting out dives shops along the promenade, we went with Spanish Dancer Divers. They had a great rate for 2-discovery dives and we gelled with the staff immediately, plus they're conveniently located next door to our Z Hotel.
Since we signed up for a discovery dive, we had to watch a video and training session the day before. The video was cheesy, but the session a big success. I was really surprised how at ease we were in the water. Even more, we remembered all our hand signals!
I was pretty confident after our successful training dive the day before, we'd have no problems this time around. We took the speedboat to Mnemba Atoll Marine Reserve.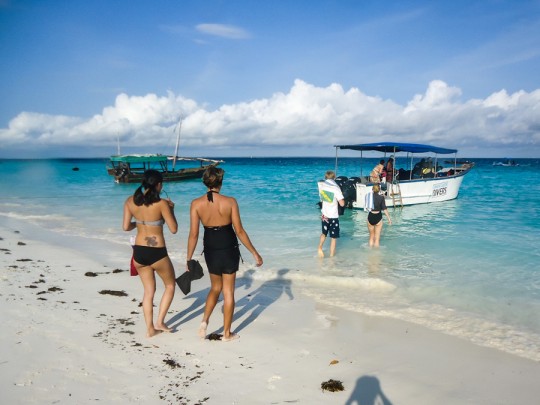 I felt good.. good up until we jumped fins first into the water and floated awkwardly toward the anchor at which point panic ensued. The strong current tossed me around, water was hitting my face as I struggle to fix my face mask. I was already breathing hard, I can feel my chest expand and my eyes get larger. I just wanted to get out of the water then and there.
I struggled to cling onto the anchor rope but manage to start our descent. On the way down, between remembering how to properly breathe, releasing air from my vest, equalizing my ears and getting control of my limbs, I kept staring at our guide for comfort and reassurance that I can do this, that I wouldn't quit.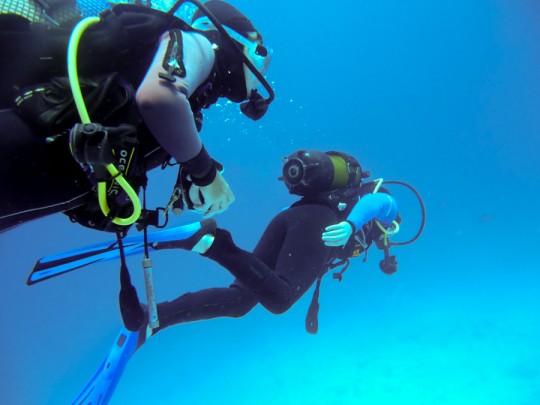 It took several minutes but I am so glad I stuck it out. By the time we hit 10 meters down, the water was much calmer, my breathing steadied and my ears cleared. I couldn't quite get control of my limbs, so our guide clung by me and helped stir me in the right direction.
On the other hand, Gerard who stumbled the day before in training, did exceptionally well. For someone who claims he can't swim (which really doesn't matter – you don't have to know how to swim to dive) he was completely in his zone.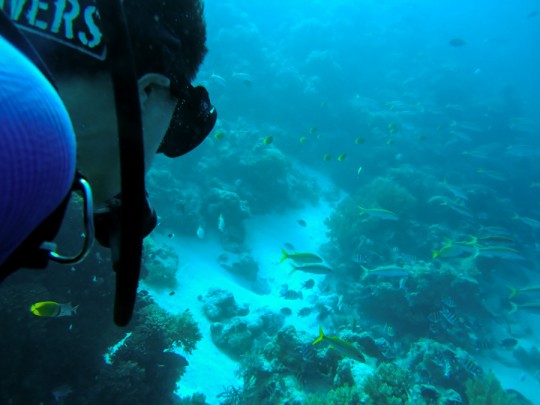 Our first dive was awesome: we swam along a sea wall filled with corals and loads of fish. Visibility was great and the water was warmer than expected. Our guide pointed out a slew of strange looking fish, a dolphin, scorpion fish, some eagle rays in the distance and even spotted a stingray hiding underneath the sand.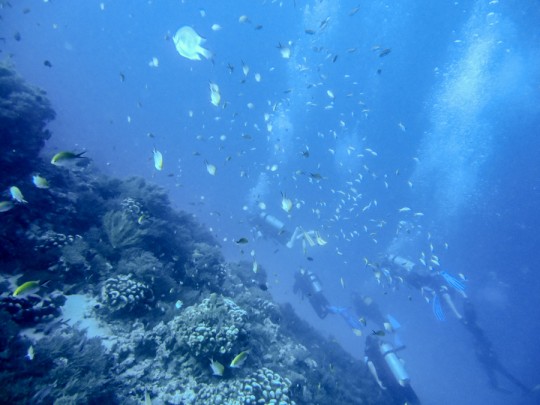 We lasted 45-minutes under water before heading back to the boat for a short snack break while the staff switched out our tanks to get us ready for the second dive.
G started to feel queasy the moment he got back on the boat. Getting back in the water helped a bit but the motion sickness got the best of him and right before our second dive, he hurled overboard. But after his stomach emptied, he felt much better and just in time for our second dive.
I was doing much better by now, no panics on the way down, but I still needed our guide by my side. Gerard was set free, able to dive on his own at a safe distance. Although at one point we lost him, our guide spotted him just 15-meters or so away except he had his back toward us so he couldn't see us. The moment he realized he'd lost sight of us, he did a calm 180 turn before he made eye contact with us. He looked calm, I remember thinking if that was me, I'd be making my way to the surface by now. I'm so proud of him. And to think just two years prior, he was so afraid to get in the ocean because he could not swim.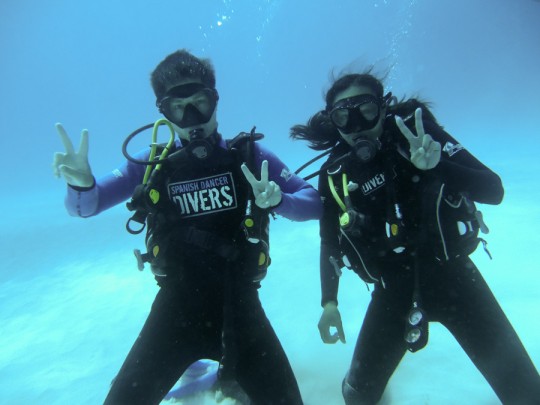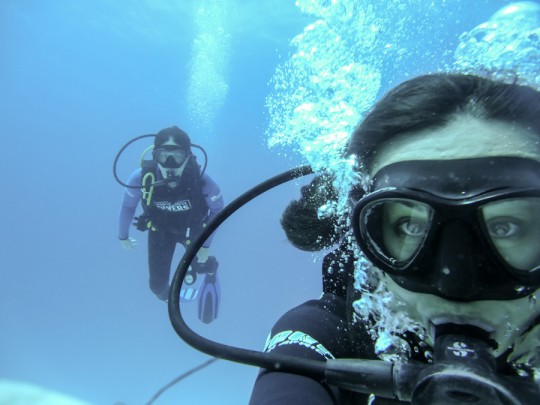 I am not quite sure we're PADI ready, but I dare say my camera skills under water is a far better improvement over my diving skills. Look, I even managed a selfie with Gerard in the background – Walah!
Where's the best place to dive in the world?
Explore the tropical island of Zanzibar from under water and consider diving with Spanish Dancer Divers. They offer various packages for all levels of experience. Get 10% off when you book ahead online. For more information, please visit their website. 
Disclaimer: We received a discount rate with Spanish Dancer Divers. As always, my thoughts, my words.. still my voice behind the blog. 
You might like:
Share and Enjoy