One of the greatest pleasures of visiting Vietnam is knowing we're going to be eating well. I'm not being bias when I say, Vietnamese food is one of the richest, most eclectic and vibrant cuisine of all Southeast Asia.
With every revisited trip, I discover a new dish, and am instantly hooked over and over again. And I thirst for more. Here are a few of our newly found faves on this particular trip home.
banh cuon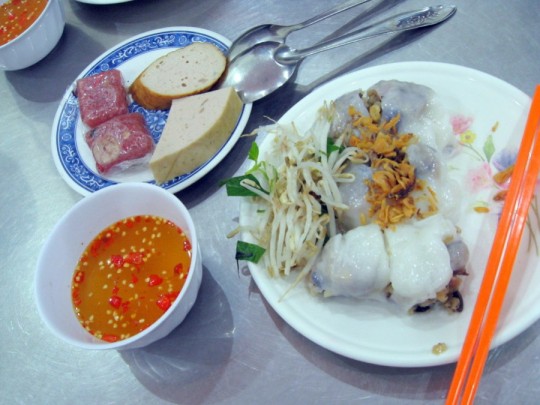 Back in the States, I would always ask G on the weekends, "What do you want for lunch?" And almost always he'd reply back with a guilty, "Banh Cuon?" in question followed by a cheesy smile.
So imagine his overjoy kid- in- a- candy- store look in his eyes when Uncle Duc said we're having Banh Cuon for breakfast!
Banh cuon literally means "rolled cakes" made from thin sheets of rice flour traditionally filled with ground pork, mushroom and other ingredients accompanied by cha lua (Vietnamese pork sausage), bean sprouts, fried onion flakes and nuoc mam (fish sauce). Some even serve nem chua* on the side which is a real treat! It's rare back home.
*nem chua is minced pork rolled with a sweet, sour, salty and spicy taste topped with garlic and chili pepper rolled in banana leaves left to chill and ferment for a couple of days.
oc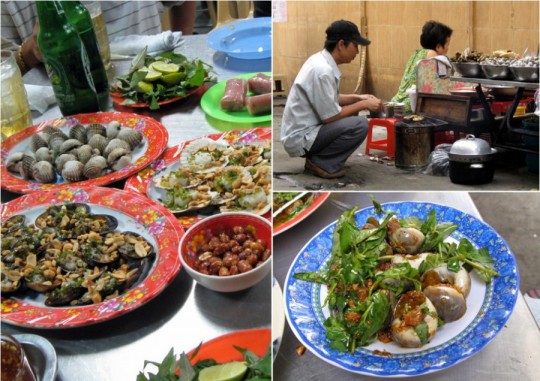 These are not your ordinary garden snails, that's for sure. It's unique in Vietnam and you'll find them in all sorts and sizes either grilled, sauteed and/ or steamed with the simplest of ingredients — garlic, ginger, lemongrass and mint.
So good we had to have it twice on this trip. Once with the family in a restaurant setting, and second (and my favorite way) on the streets with the cousins. Literally a set up in the middle of an alley, with one grill, one table and a few chairs, toss the shells on the ground once done and order up another plate. I think we spent a total of $4 for four people.
My favorite is Oc Len Xao Dua or snails cooked in coconut milk.
banh xeo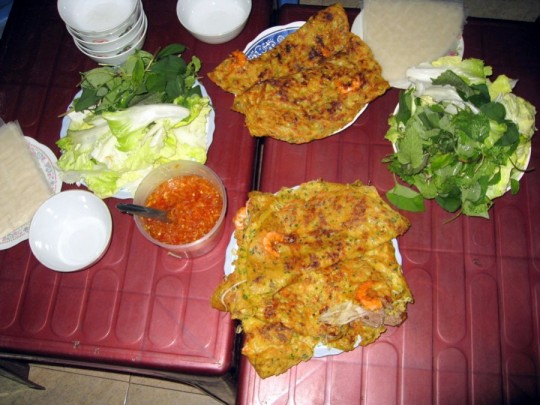 This ones even more special! Nothing beats a home cook meal by all the women — 3- generations in all — at Uncle Duc's house.
Banh xeo means "sizzling cake". It's a savoury crepe- like pancake made of rice flour, water, coconut milk and tumeric powder filled with pieces of fatty pork, shrimp and bean sprout then fried. Often served spring roll style where you'd either wrap it in mustard leaves or rice paper with nuoc mam dipping sauce.
lang nuong
Vietnamese love their BBQ and Lang Nuong in HMC is like a right of passage for tourists. Generally casual and set as outdoor seating with a bottomless menu enough to please every palette. There are the norms like your steamed fish and chicken skewers.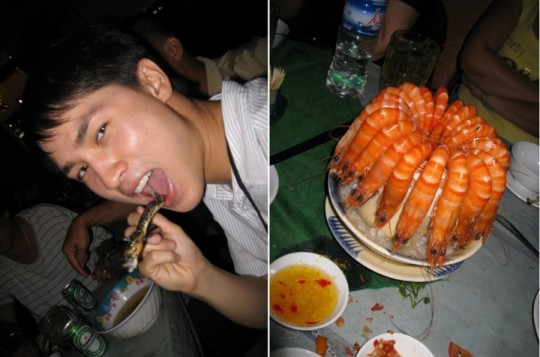 And then there are the more exotic ones (what we came for) — grilled frog legs, roasted suckling pig, goat stew and many others I call mystery dishes because I'd rather eat and not know what they are for fear I might chicken out.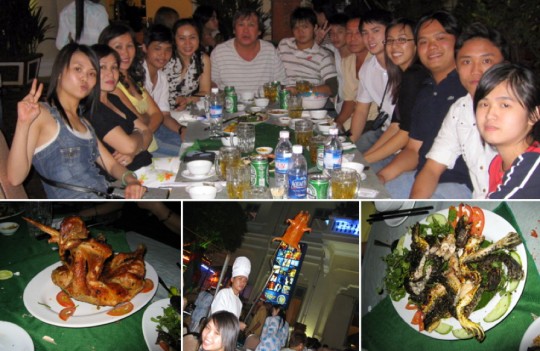 And that's just a snippet of what you can expect to eat in Vietnam. Definitely come with "an open mind and an empty stomach." The food in Vietnam will not disappoint.
Hungry for more? We're heading back in 2012 so stay tune.
You might like:
Share and Enjoy