Pronounce Hway, this is hands down our favorite go-to regional Vietnamese food.
You can thank Hue's imperial past for blessing the city with remarkably good food. Simplicity at its best. Here are some of our favorite dishes from Hue.
Banh Nam
Banh Nam is flat rice dumplings and is filled with pork and shrimp wrapped in banana leaves and steamed. It's a household favorite in Q's family. Best enjoyed warm, preferably straight from the steamer, with a generous amount of nuoc mam (fish sauce) with a Thai chili or two. Traditionally served as an appetizer.
Banh Beo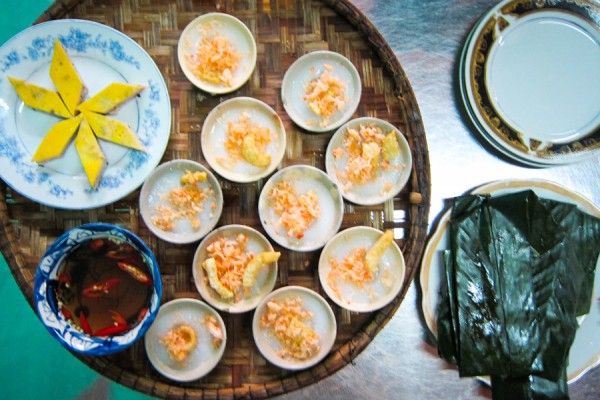 If banh nam is the appetizer, then banh beo is our main course because we end up ordering so many of them. One portion comes with 5 mini saucers of steamed rice flour cakes and we typically order up 4-5 portions just for two people. Once steamed, the flour cakes come out with a little dent or 'dimple' in the center and is filled with dried shrimp bits, crispy friend scallions and a oh-so-good pork rind. Always served with a side of fish sauce and Thai chili.
This dish brings back childhood memories for me as my brothers and I would see who can stack the higher pile of saucers.
Bun Bo Hue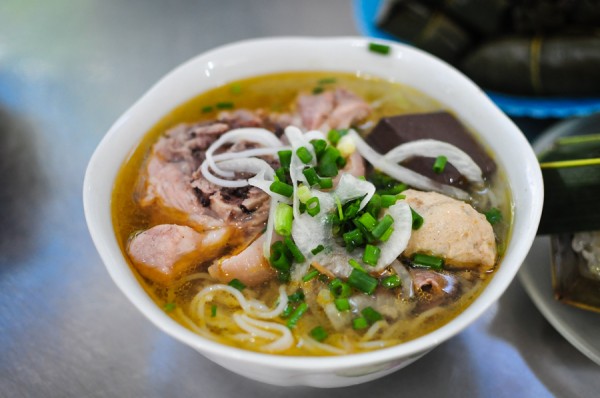 Pho may be Vietnam's national dish to many, but on any given day when I crave Vietnamese noodle soup, I yearn for a piping hot and spicy bowl of Bun Bo Hue. The noodles are thicker and round, different from the flat rice noodles in pho, and is traditionally served in a beef and pork broth. Served with boiled beef shank, chunks of oxtail and pig knuckles and blood cakes and best enjoyed with a bunch of fresh toppings like lime wedges, cilantro sprigs, diced green onions, raw onions, sliced banana blossoms, red cabbage, mint and basil.
But it's the broth I crave most. Spicy, sour and salty and sweet – that makes this dish so savory and delicious. Some enjoy it by mixing in some shrimp sauce, but the smell is a bit pungent for my taste.
Banh Khoai (Hue pancakes)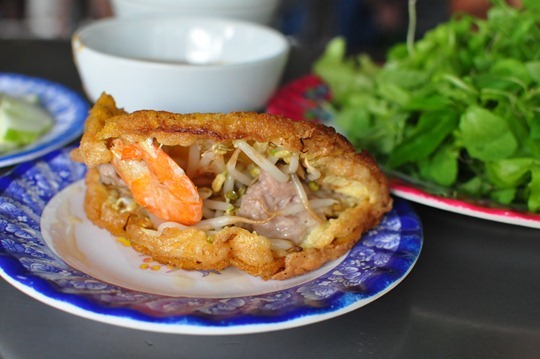 Next to Bun Bo Hue, I would say banh khoai is second most famous Hue specialty though you have probably never heard of it before. Don't feel bad, neither have we until we visited Hue.
If you've ever had Vietnamese banh xeo or sizzling cake, banh khoai is just like that, but smaller. Banh khoai literally means "delicious cake" and is served open face. The crispy pancakes are traditionally filled with pork, shrimp and sprouts serve with fresh greens and fermented soy bean peanut sauce. My favorite thing about this dish is in the crunch of the pancake batter. Just as the name suggest: delicious.
Banh Ram It!

And finally, our new and favorite discovery during our visit to Gerard's home town – banh ram it. Funny because it almost sounds like 'dagnabbit' … Banh ram it!! I am happy to report, the taste is much more pleasant and less abrasive than it sounds. LOL.
I have seen these crunchy fried rice cakes and glutinous dumplings before, but surprisingly this dish was a first for me. The dumplings are stuffed with pork belly and topped with dried shrimp, the same stuff they put on banh beo, and then placed on top of a fried dumpling. These bite size dumplings are the only things I crave when I am in the mood for Hue food.
Let's not forget, banh uot, banh loc, banh everything – Hue is chalk full of delicious dishes that will have your taste buds dancing with joy with every bite. Truly food fit for a king.
And there you have it. Food from Hue: one more delicious reason Gerard is proud to call his heritage. That and finding out he is a descendent of the Emperor!
Have you tried Hue food? What's your favorite dish from this region?
You might like:
Share and Enjoy