From pho, to bun to mi. It is all about the noodles.
Vietnam is blessed with amazing food. I'm not being bias when I say that either, am I? From rice plates to spring rolls, savory crepes to delectable snails, not to mention the various types of noodle bowls, we Vietnamese know how to eat and we eat well.
Speaking of noodles, Vietnam is a noodle culture. Each region tends to specialize in a certain kind. The challenge is not figuring out what you like, for there are so many to choose from, all different and delicious in it's own way. No, the challenge is narrowing down one you like more.
This post is your noodle guide to eating right in Vietnam, because Vietnamese noodles are so much more than just "pho", pronounce "fuh", not "fo" or "po". While we're on that subject, we'll start here.

Pho
Pho is a noodle soup usually served with rice noodles and thinly slice beef. No culinary visit to Vietnam is ever complete unless you've savored a bowl of beefy noodle soup, plus it's probably the only thing you'd recognize on the menu as it is worldly known as Vietnam's "national dish".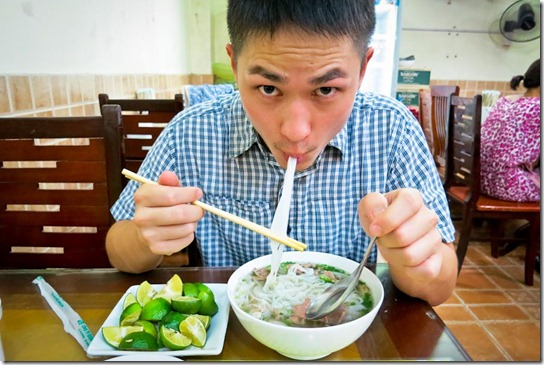 To us, it's comfort food. We grew up on this and it's our go to meal for every occasion no matter what mood we're in.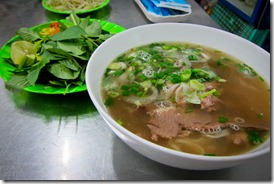 But did you know pho from the North is different than that in the South? Northern style pho tend to be simpler and served with less garnishes, topped with green onions and accompanied with chili sauce and lime only.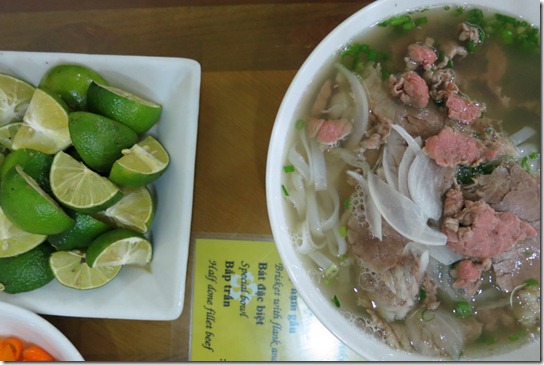 Southern style is a bit more complex and garnishes include bean sprouts, fresh basil, herbs, chili, plum sauce and lime. My family is from the south so naturally, I like my bowl Southern style with a few add-ons: beef brisket, plum sauce, Sriracha chili sauce and extra lime for a blend of sweet and sour and spicy flavors in the broth.

Bun Cha
Bun cha is grilled pork noodle soup from the North. It's not hard to find in Hanoi, most restaurants specialize in this dish. The bun (noodles) is accompanied with cha (grilled fatty pork) and other various side dishes such as cha gio (fried egg rolls), pickled veggies, fresh herbs and chili served in a broth of nuoc mam (fish sauce).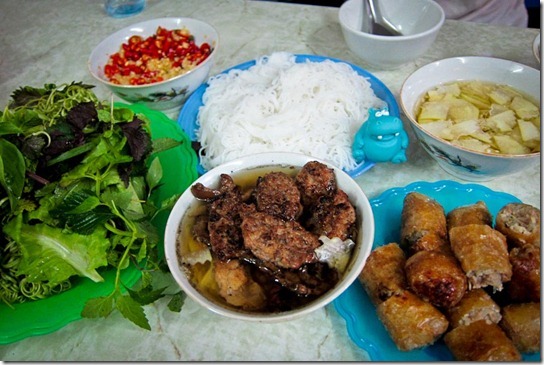 What I like about bun cha is it's a build-your-own-bowl type dish. Everything comes in separate dishes and you literally build your own noodle bowl to enjoy however you like. I like my noodles drenched in sauce with egg rolls.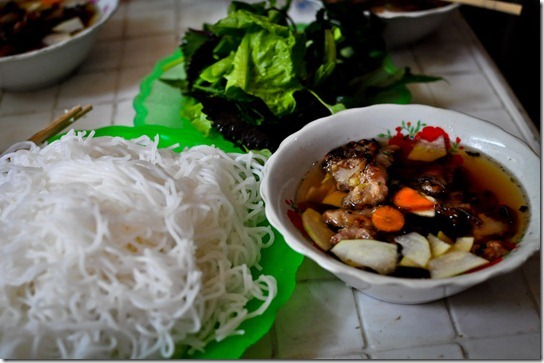 Bun Rieu
Bun rieu is a new favorite of mine. Traditionally served with medium-sized vermicelli noodles in a tomato and crab broth with crab meat balls and fried tofu. It's probably the only seafood noodle dish of the bunch and the best I have had is on the streets of Da Lat near the main market.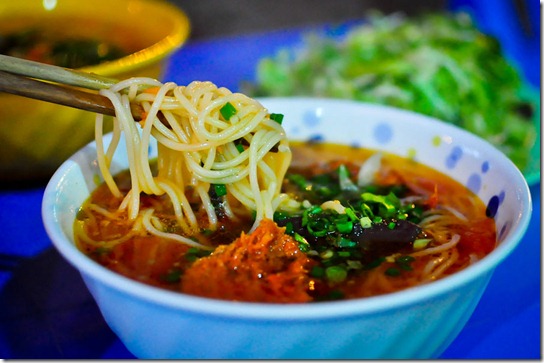 Blood cakes are also common for this dish, something I still can't eat, but everything else about it is mouthwatering – it's mild, tangy and the crab meat balls crumbles into the broth making it extra savory.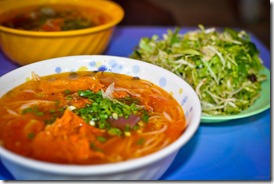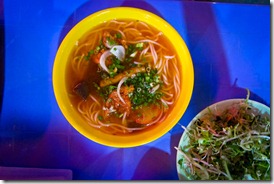 Bun Cha Gio Thit Nuong
This is Gerard's go to dish when he craves Vietnamese. Cha gio is a minced pork roll often called egg rolls or spring rolls served with rice vermicelli thin noodles. This dish is meant to be enjoyed without a broth.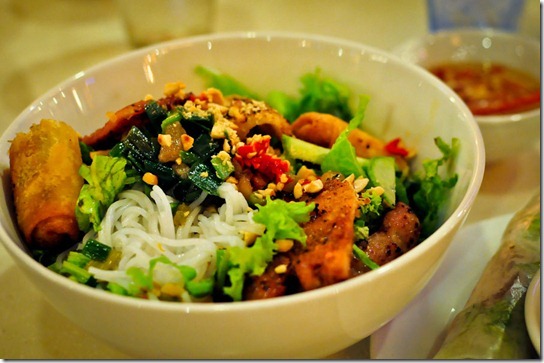 Instead, the noodles are placed on a bed of lettuce and bean sprouts topped with peanuts, thit nuong (grilled pork strips) and a side of fish sauce which you can either dip as you go or pour the whole thing over the noodles, so I suppose the sauce is like the broth depending on how you use it.

Cao Lau
Cao lau can only be found in central Vietnam, specifically in Hoi An. Cao lau is different because of it's chewy noodles. Also served with thin sliced pork, fresh lettuce and basil, cilantro and mint, and crackly squares of deep-fried dough, all resting on a tangle of bean sprouts and wide rice noodles. It's drizzled with just enough rich meat broth to wet the noodles.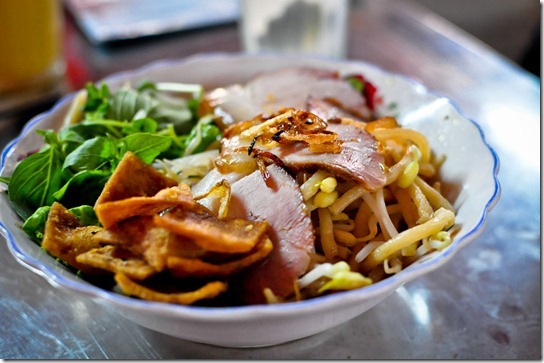 I'll be completely honest, it's not my favorite of the bunch – slightly dry and strange tasting even for a Vietnamese like me.

Mi Quang
Now, Mi Quang is also a central Vietnam dish and one I can definitely recommend. It's one of my favorites. Traditionally served with rice noodles that are wide, flat and yellow in color with the use of tumeric. Shrimp or pork are more common in this dish than chicken. Traditionally, very little broth is added to this dish, only enough to wet the noodles, although you might find it more soup-like the further south you go.
It's served with scallions, fried shallots, peanuts and crispy sesame rice crackers which makes this noodle dish unique and different from the rest. I like the texture the fresh herbs, peanuts and rice crackers add to this dish.

Banh Canh
Banh canh literally translate to soup cake and consist of a thich noodle made of tapioca flour. I love the texture of this noodle – slippery, chewy and of course tasty. You can enjoy this in various ways – with crab, pork, fish cakes and shrimp.

Bun Bo Hue
Of all the Vietnamese noodle soups there are, this is the one bowl I crave the most, more than pho itself. It's the first thing I eat when I come home from a trip abroad. Bun bo hue originated, no surprised, in Hue.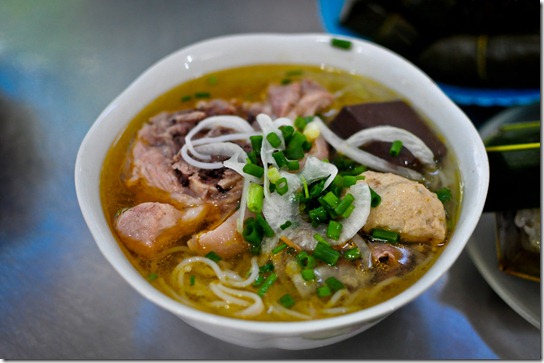 My favorite from this dish, other than the rounded vermicelli noodles, perfect for slurping by the way, is in the broth. The broth is simmered beef bones and beef shank seasoned with lemongrass, shrimp paste and sugar. To give it a kick, spicy chili oil is added in.
It's served with beef shank and pork knuckles that have also been simmered and melts to the bone. Blood cake is also common, but you already know how I feel about that. Add some fresh lime and cilantro and it's tangy and spicy and what I call, the perfect noodle bowl.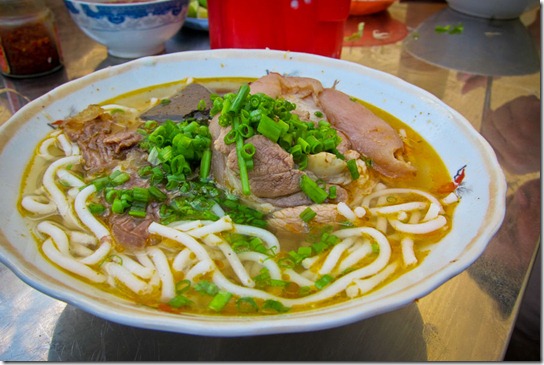 There you have it. Bet you didn't think there were so many, huh?.. Aww man it was tough not to drool while writing this post. Makes us want to book a flight to Vietnam right now.
One last tip when you finally decide on which bowl to eat, make sure you enjoy it on the streets.. at a piping hot street cart or stand. They may look intimating, but they're the best bowl of noodle soup you'll find in Vietnam, made fresh daily.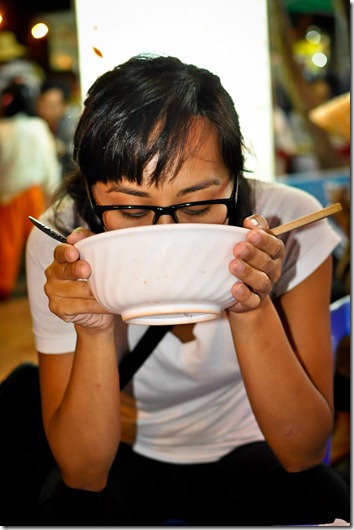 And don't forget, slurping is highly recommended and appreciated.

Which Vietnamese noodle are you?
You might like:
Share and Enjoy