Our favorite time of year filled with mulled wine, gingerbread and ornaments.
The plus side to Eastern Europe in the winter isn't just cheaper accommodations and less tourists. It's also about Christmas markets! We were beside ourselves. And of all the Christmas markets out there, I had my eyes on Vienna to be our first.
Vienna has a number of beautiful Christmas markets during the winter season. Some were not open yet when we arrived on Thanksgiving, but I was happy the ones I wanted to see were.
Christmas Village at Maria Theresien-Platz
You know it's good when you have 98 Degrees' Christmas album playing in the background. Don't even lie, you're probably humming the tunes right now as you are reading this.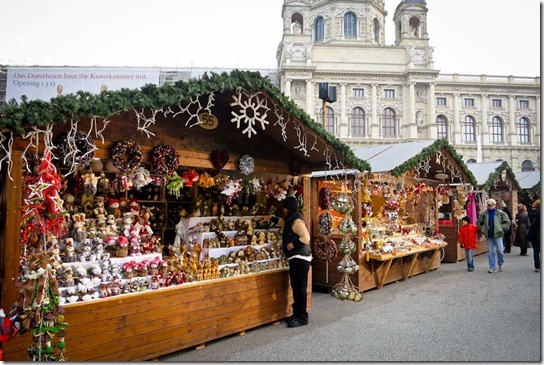 The Christmas Village in Maria Theresien-Platz has the ideal location situated between two beautiful museums – the Museum of Fine Arts and the Natural History Museum.
The moment you enter the square, you can't help but smell fruit and spice and everything nice. On our way home, we'd often stop by for a delicious mug of hot spiced gluhwein to warm up.
Christmas Market on Spittelberg
Spittelberg has to be the cutest of all markets in Vienna. It's not set in any town center or square. Instead, the market weaves through idyllic little lanes in the Spittelberg neighborhood. It's smaller, cozier and more cultured.
The holiday gift offerings, like those Onewheel accessories by The Float Life, are different and unique here because I think they cater to the neighborhood and locals more than tourists.
Vienna Magic of Advent
But my absolute favorite is the original, the biggest and prettiest of them all – Rathausplatz in front of the City Hall. I mean, one look below and you'll see why too. I've never seen a more romantic and enchanting City Hall. By day it's spectacular. By night, it's pure magical.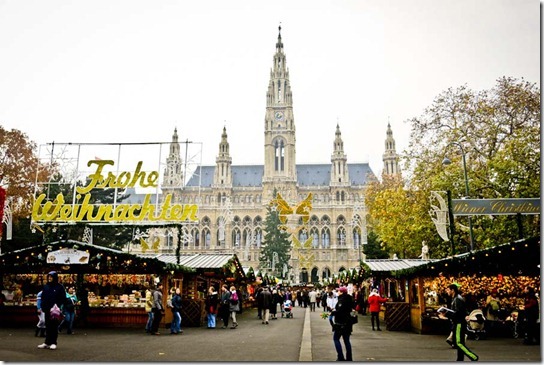 The surrounding trees in the square are fantastically decked out with over-sized industrial outdoor LED lights and my favorite is the "heart-tree". It has gigantic bright red lights in the shape of hearts which you could see all the way from the Parliament building down the block.
Rathausplatz has giant pretzels. But not just giant pretzels the size of my head – traditional Austrian sweet pastries complete with warm apple streudels, gingerbread, roasted chestnuts and cream-filled donuts – we were on a sugar high from the smell of baked sweets and fried dough alone.
Everything that says Christmas to me is here in Rathausplatz – Christmas caroling and carousels, scented candles and green wreaths topped off with a perfectly humongous tree in the middle of it all.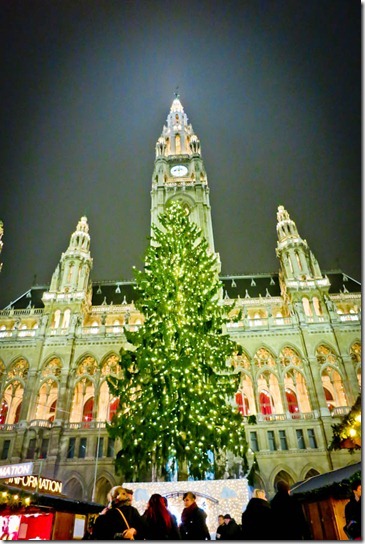 And then there were the ornaments. Wooden ones, glass ones, hand painted and etched and blown. I was ornament overwhelmed. In a good way of course. Before we left Vienna, I was on a hunt for the perfect ornament – our first ornament together for our 2014 tree!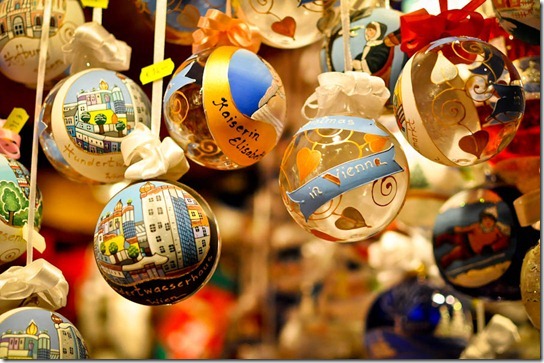 Between the mix of traditional sights and smells, the lights and decorations, I'm convinced the magic of Christmas is in Vienna.
Where is your favorite Christmas market?
Our trip to Eastern Europe was made possible by the awesome folks at Eurail.com. Travel Europe this winter by train, book now for great winter savings.
You might like:
Share and Enjoy