Lisbon's food scene is on the rise and there is no shortages of delicious good eats, especially seafood. Here, seafood is king. Nobody does grilled octopus quite like the Portuguese do. Thankfully, with unlimited dining options just outside our hotel doors, we ate more than just octopus. Not that I would mind having octopus everyday either… just sayin'. After indulging in delicious seafood, make sure to unwind at a beach club in Lisbon.
There are also too many seafood restaurants to find in other places. For example, if you will have the chance to go to San Francisco there are different seafood restaurants to visit just like this one from https://piermarket.com that can offer a variety of seafood cuisines.
While Lisbon's seafood steals the spotlight, it's worth exploring other culinary delights as well. One such dish that is sure to captivate your taste buds is the flavorful and vibrant Rasta Pasta. Combining the richness of Italian pasta with a Jamaican twist, this dish offers a unique fusion of flavors and textures. If you're eager to learn how to make rasta pasta, you can find a fantastic recipe that will guide you through the process with ease. Remember, when it comes to culinary adventures, it's always exciting to explore different cuisines and expand your palate.
Okay, let's start with the best:
Cervecheria Ramiro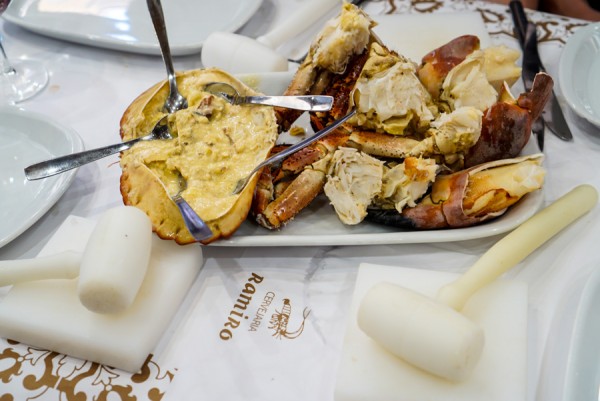 Come right when they open otherwise you're in for a long wait. There is a good reason why local chefs and Anthony Bourdain rave about this place, the seafood is unbelievable. From grilled tiger prawns to clams steamed in garlic butter, crabs and lobsters and so much more. What I love about this place is its a no frills no fuss kind of place. You eat with your hands and the seafood is as fresh as it gets.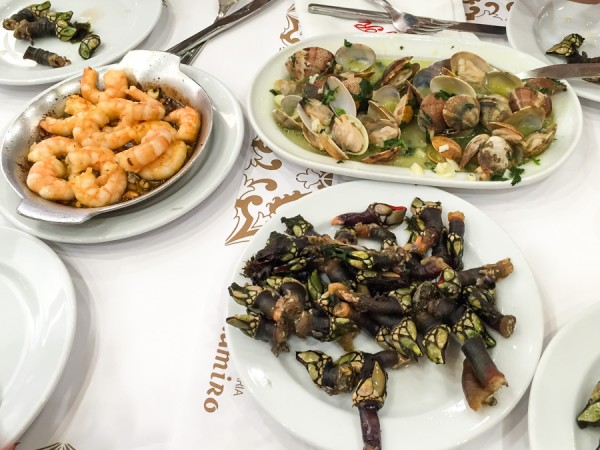 The crab and all its gut glory is delicious. The shrimp, simply divine. But if you're adventurous, we suggest ordering the barnacles. Texturally, it's chewy like snails. Served cold and tastes like the ocean. First one or two is a bit weird, but you'll find yourself eating more and more. They are quite addicting.
A Cevicheria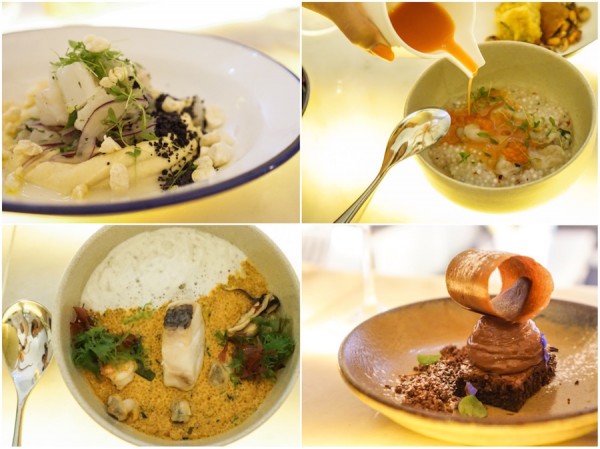 It's our first night in this little boutique city by the ocean and we were on a mission for seafood. Lucky for us, this modern South American cevicheria is a short 8-minute walk from our hotel and I was practically sold on the giant octopus chandelier hanging from the ceiling.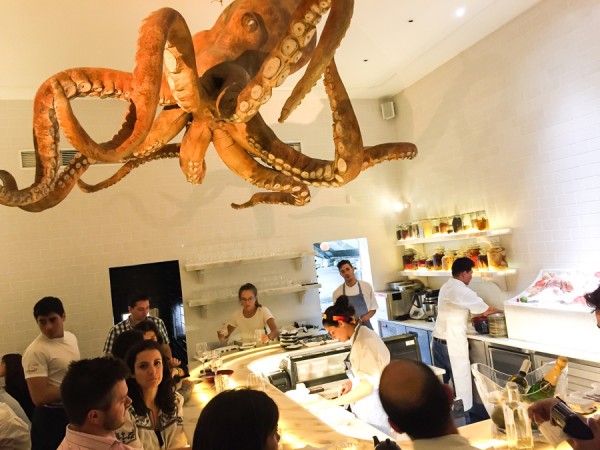 We sat at the counter bar and shared a 4-course set paired with their house white Chardonnay. The caviar and pearls served with chilled gazpacho was by far Q's favorite while G took a liking to their ceviche. Our last main dish was a seared fish and seafood stew-like concoction. Dessert was a trio of chocolate heaven: chocolate mouse on a chocolate brownie topped with chocolate crumbles and shavings. The portions were medium and honestly, 4-plates was the right amount of food for us. Cool fact: the restaurant founders are a husband/wife couple that traveled around the world for a year and stayed in people's homes all over the world learning how to cook amazing local dishes from around the globe!
Santa Bica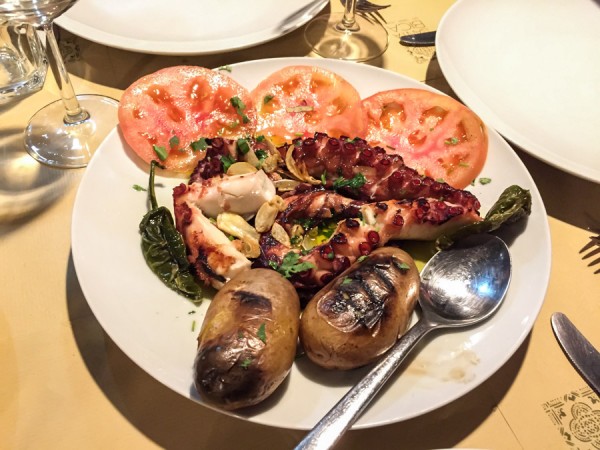 Santa Bita was highly recommended by many but the service is extremely slow and the place is small so not ideal for large groups. But, it's in a vibrant neighborhood and the food, once it is served, is good and authentic Portuguese.
Cherry Ginja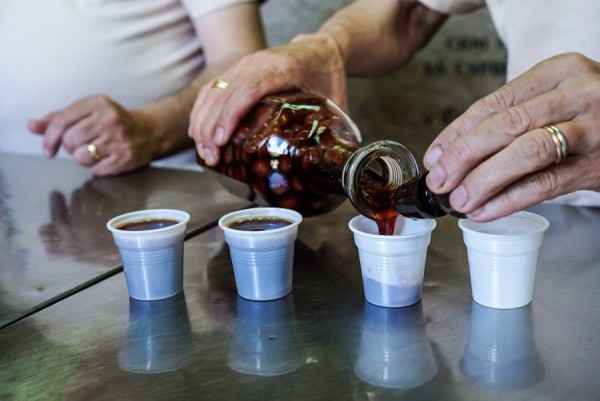 Ginjinha is a local cherry liqueur, often drank in a small shot glass after a meal to help with digestive. It's an acquired taste, not going to lie. Still worth a shot though — when in Lisbon!
Time Out Mercado da Ribeira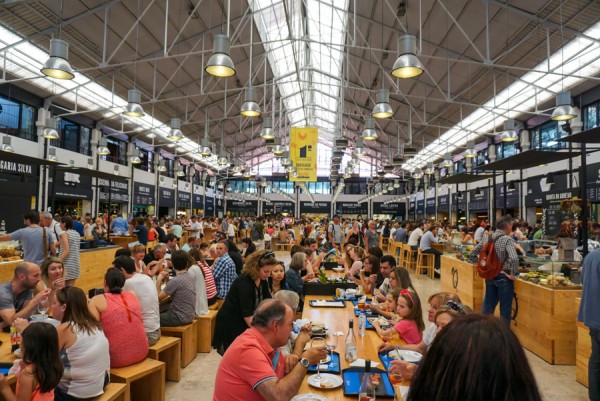 If you can't make up your mind, the Time Out Mercado da Ribeira is an indoor farmer's market and there is a trendy food stall area in the back. It's become a tourist attraction but don't let that detour you — the food, a bit elevated and posh-y Portuguese favorites, is good. With so many to choose from, thankfully we had our friend Andreia to help us order. We ended up with a tray of assorted small plates: ceviche, fried chicken, octopus and oysters the likes and all chased with ice cold beers! A cool place to people watch and share food among groups.
The Old Pharmacy Wine Inn
For a midday wine break, because let's face it, there should always be time set aside for wine breaks, head on over to Barrio Alto where the streets are lined with plentiful restaurants and bars to choose from. Andreia brought us here because we said we wanted to sample Ports. We've never taken a liking to Ports back home but figured when in Portugal, why not. We sampled three different Port wines and they turned out better than expected.
100 Maneiras
We dined here with our Irish friends, whom if you remember, we met a year ago during four honeymoon in Africa.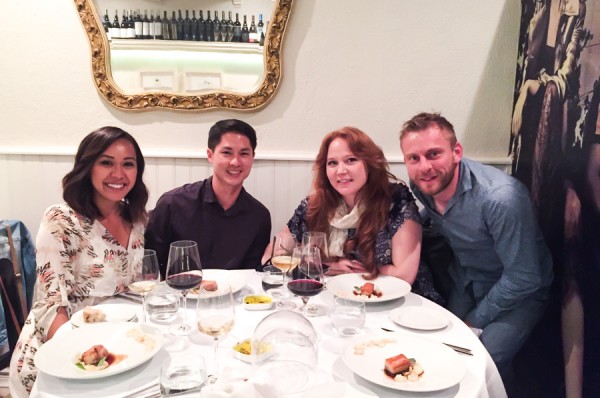 Obviously we kept contact and they decided to join us in Lisbon for a few days. This is our gastronomic splurge meal, an excuse to get dolled up for an evening on the town really. While I wouldn't say the meal was crazy spectacular, it's definitely unique dishes you wouldn't otherwise get elsewhere and really good too! Poor Davie though, I think some portions could have been bigger — the guy practically needed a second dinner! LOL
Pasteis de Belem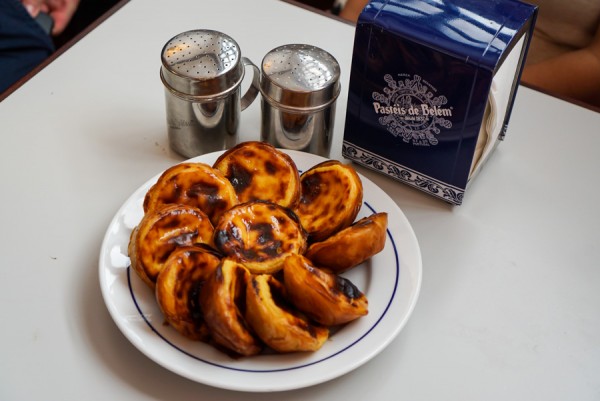 And last but certainly not least, it would not be a trip to Lisbon without having a taste or two (or ten!) of their famous pasteis de Belem, Portuguese egg tarts. It's a short tram ride out of town, can usually be done as a half day trip and you should. Trust me when I say, no other pasteis in town could rival the ones from Belem. The tart shell is crispy and flakey, baked to a golden almond-shade of perfection. The custard filling is still has a bounce to it, not at all over-baked. It's creamy and light but not rich. How can you doubt a recipe that has lasted almost 180+ years? This is unlike the Chinese egg tarts, and quite possibly is one of the best sweet treats we've devoured, ever! Don't forget to top it off with the cinnamon and powdered sugar.
We barely scratched the surface, Lisbon food scene definitely lives up to its hype.
What are some of your favorite Lisbon food places? Share them in the comments!
You might like:
Share and Enjoy