Czech food taste a lot like Italian. Maybe because it's really Italian.
We love Czech food, but I hope the Czech's don't get offended when I say Italian food is their national cuisine. There's something about the Czechs and Italian food – they do it so well, and it's some of the best we've had, ever. Here are some of our Italian faves from Prague:
Pillow-y gnocchi from Corso Cafe.
Itty-bitty, fluffy pillows of gnocchi that simply melts in your mouth. These were tossed in a light gorgonzola with chicken and spinach topped with crunchy walnuts.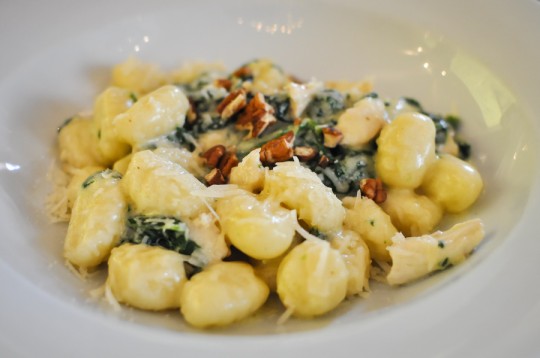 Tagliatelle and walnuts at Ambiente.
I mean this when I say, this is my all time favorite Italian dish! Tagliatelle is my new favorite pasta. And tagliatelle tossed with sauteed mushrooms and candied walnuts.. forget about it. I didn't even want to share this with Gerard, it was that good.

Prosciutto pizza at K Motra.
You can't go wrong with prosciutto on pizza. At K Motra, it's all in the crust. The great value and setting in an underground cellar makes it an easy pick.
Spaghetti with fresh tomatoes from Oliva.
Anytime you can have Italian and walk away feeling great, not the usual heavy- bloated feel, it's a winner. This is Gerard's favorite dish from our Italian jaunt in Prague – spaghetti with chicken tossed with fresh tomatoes and veggies. It's so refreshing to not have spaghetti drenched in meat sauce.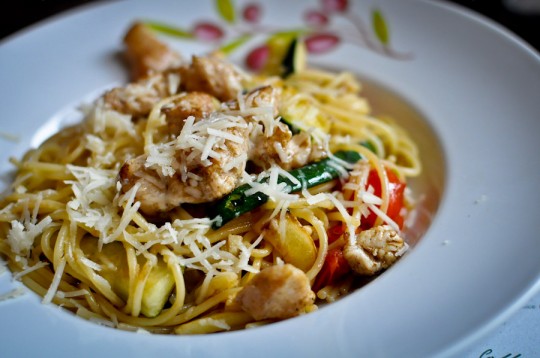 And those are just a handful of the delicious Italian foods we ate while in Prague.
Outside of Italy, where have you had great Italian food?
You might like:
Share and Enjoy