Thailand has hundreds of islands, it's hard deciding which ones to visit.
During our month in Thailand, we managed to visit a handful of big and little islands while in the south: Hong, Samui, Phi Phi and Pha Ngan which you already know, that's where we had an epic night at the full moon party. Now find out what we did on the other islands.
Koh Hong
Koh Hong was not on the original plans but when our Ao Nang hotel suggested we'd enjoy the small and picturesque island minus the Railey crowd, we jumped on the idea. Plus, we ended up paying nothing to share a taxi boat with other hotel guests!
I love Koh Hong for the peace and seclusion. We fed fishes, relaxed on the beach and took silly honeymoon-y photos without the hoards of tourists in the way.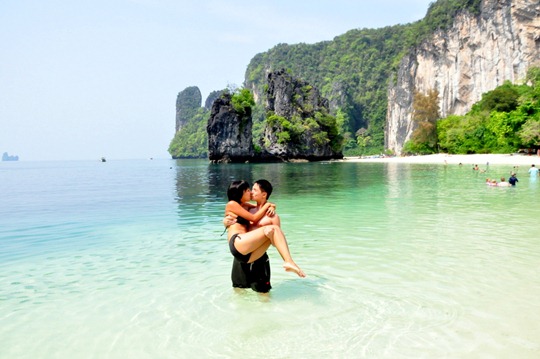 Koh Samui
We took a ferry boat from Koh Pha Ngan to Koh Samui, our last island stop before leaving the south of Thailand. From there, a short shared song teow taxi ride brought us to our hotel in Chaweng, a popular strip to stay on Koh Samui.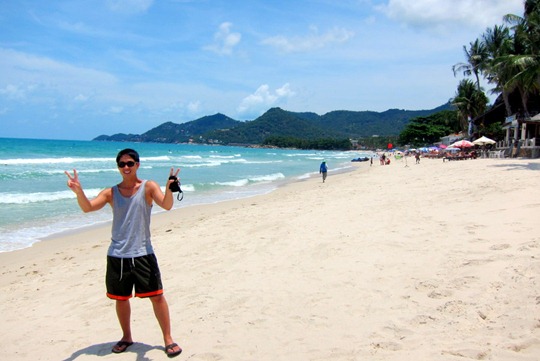 You can see national parks and waterfalls and catch a Muay Thai fight here on the island, it's the popular thing to do. To be honest, we were still recuperating from the full moon party and did absolutely nothing – we were beach bums. We also had arguably the best Thai massages ever on the strip!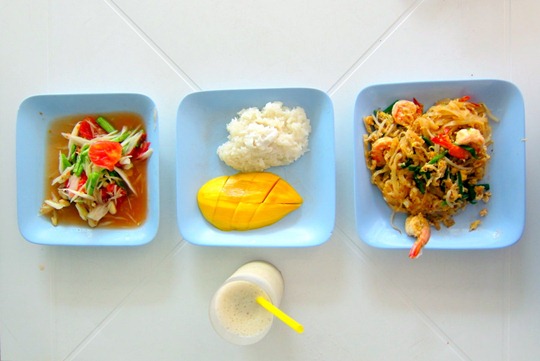 Gerard and I shared a memorable lunch at Ninja Crepes Restaurant where we enjoyed some classics: papaya salad, shrimp pad thai, mango stick rice and pineapple shake!
Koh Phi Phi
Phi Phi island is where we got our activities on: we kayaked to monkey island which has stunning beaches but the monkeys scare the crap out of me. They'll chase you into the waters if you tease then with bananas. Here's a guide on how to get to Phi Phi.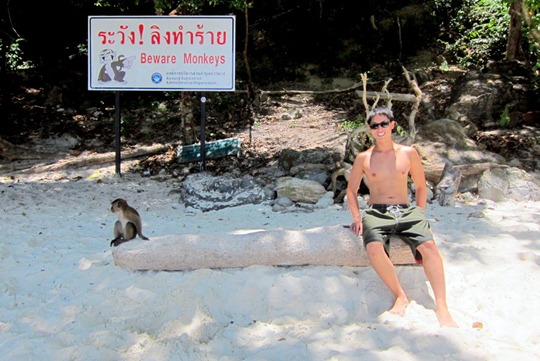 We snorkeled around Phi Phi island and visited the popular Maya Bay. It's also a great place to go diving though we chickened out last minute. We eventually build up the courage to do it in Indonesia but regret not having done it here in the first place.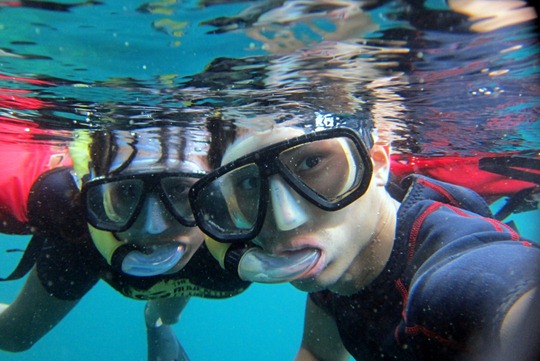 You may not find decent Thai food on the island, but you sure can get cheap pizza by the slice, decent Italian cuisine and delicious German bakeries. Weird, right?
The island is pedestrian friendly, no cars allowed. I love weaving through the narrow streets by day and enjoy the party beach scene by night. Next to Pha Ngan, it's the party island most tourists flock to for buckets, beach and a good time.
On our last day on Phi Phi island, we hiked a popular trail to the top for this view! We also came down with a bajillion mosquito bites.. :T
Unfortunately, we did not have enough time in the south to visit Koh Tao, I hear it's the best place for diving. We had to make our way up north to ring in Songkran in Chiang Mai. But that only means we have new Kohs to visit for when we return, and you can bet, we will return. Thailand is one of my favorite of countries. It's tourist friendly and easy to get around not to mention a lot of fun and really, really cheap.
What's your favorite Koh in Thailand?
You might like:
Share and Enjoy