It's geeky, it's awkward. It's the best way to sight see Prague!
I think it's really funny when I see people on Segway. I also think it's mighty clever not to have to walk from place to place, so I was glad to trade in a bit of silly looking if it meant I didn't have to walk my lazy butt to sight see Prague.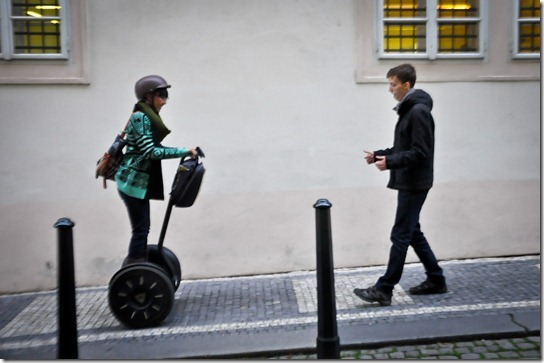 I didn't think it would be difficult, but it was harder than it seems at first. Check me out! How stiff do I look on my trial run with Martin, our Segway tour guide? It took me awhile to get the hang of "toe" for going forward and "heel" for slowing down and backing up.
Gerard, however, seemed to be a natural at it. After 15 minutes of practice we were good to go. I mean, I was still stiff and all, but I managed to not run into any walls, or my worse fears, little old ladies. Score!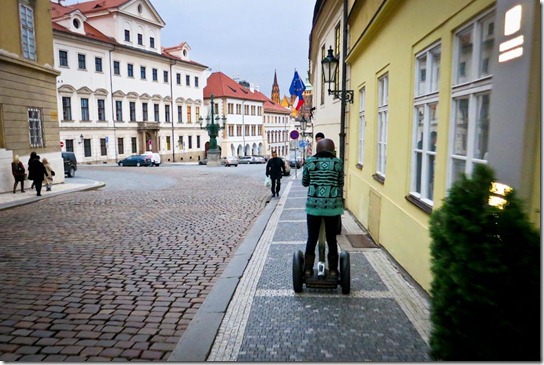 Here we are at our first viewpoint stop and a panoramic view of the city – the Strahov Monastery. I giggled all the way up after seeing people walk the same route. Now I get it. It feels great to be the one climbing hills with ease. Or maybe I couldn't stop laughing because I kept thinking of mall cop. LOL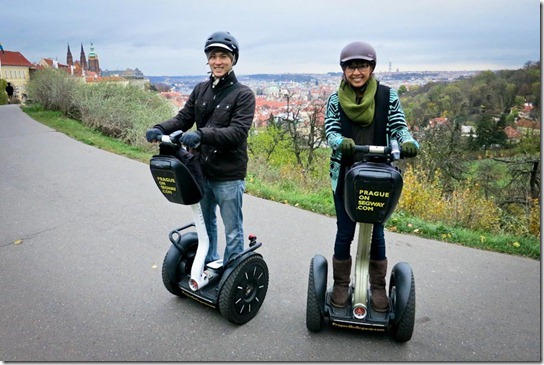 I felt like a kid, zipping around on these things, I almost didn't want to get off at each stop. But it was a nice break to stretch our legs and hear Martin with his lovely accent talk about the history and weird (per my request) side of Prague.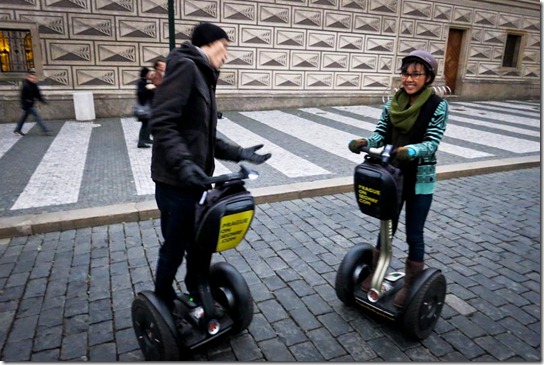 Here we are in front of the Castle. Martin is lecturing me on speeding. Just kidding. But he did let us know there are built in-meters to prevent us from going over a certain speed limit for safety reasons obviously. I was tempted and tried a few times only to have the Segway slow me back down before I went too fast. Haha.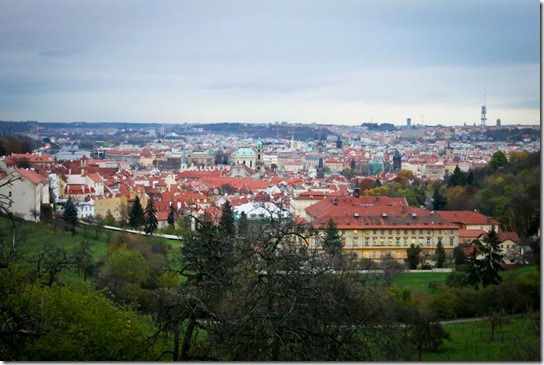 I was surprised how easy it was to Segway the cobblestone streets of Prague. There were the occasional bumps but for every pothole we approached, Martin made sure to slow down and caution us so that we wouldn't fall. He really was good at navigating without looking, turning around often to check up on us.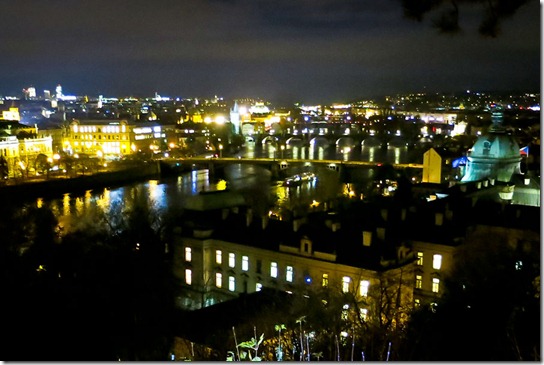 After a quick stop for hot chocolate at the beer garden – because Segwaying under the influence would not be the smartest idea – Martin took off our training wheels! (ie. the speed limit monitor) From that point on, I sped up when there was nobody around, screaming weee! every so often. It was so much fun.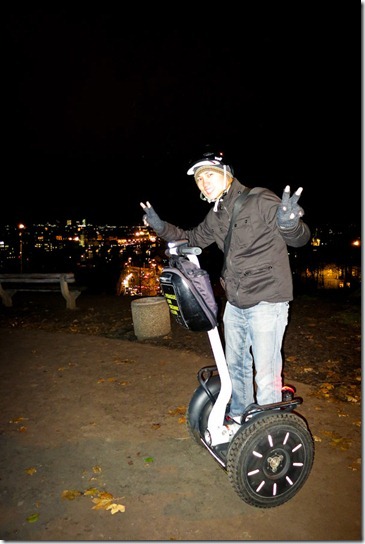 Earlier before the tour started, Martin asked if there was anything in particular we would like to see. Because Prague on Segway only allows private tours for 2, we were able to tailor our Viewing Point tour to our liking. Our one simple request: a stop by the John Lennon Wall.
We had such a blast we actually went over time. Gerard got to see his wall as promised and I got my bit of weird and spooky history trivia. My only complaint, other than having to return the Segways and walk home, is that we started our tour a tad late. It is now winter and the sun was setting just as we made our way up to the viewing points. Half our tour was done in the dark, but it was still great exploring the city at night.
I never thought I'd say this, but Segway tours are so awesome. I'm not sure we would've been able to get up all those hilly panoramic viewpoints otherwise. I mean, I could probably walk, but who am I kidding.
While Prague may be a great city to explore on foot, many attractions are not so close to each other, so I highly recommend if you're crunched for time or not a fan of walking, Segways are so much fun, and dare I say, cool.
Have you Segway'd anywhere before?
Disclaimer: We received a discounted rate with Prague on Segway. As always, my thoughts, my words. Still my voice behind the blog.
You might like:
Share and Enjoy