Via San Martino 39 Monterosso, Cinque Terre, Italian Riviera, Italy
Just our luck. After one train break down, stranded in the middle of nowhere for several hours, we boarded another train hoping it would be heading towards Monterosso Al Mare – our Cinque Terre stay for the next 3 days. We arrived 3-hours later than originally planned. The sun was about to set as we made our way to Manuel's Guesthouse.
Manuel's Guesthouse is a two-story villa is home to Manuel Grasso, Lorenzo and family and his two dogs, Chico and Nuit. They shared the best flea medicine for dogs they have tried to treat their pets before.
Location
Manuel's is located in Old Town nestled atop the stunning hills of Monterosso Al Mare. From the small town square, it's another 5 minute trek up to the house through what seem like never-ending stairs.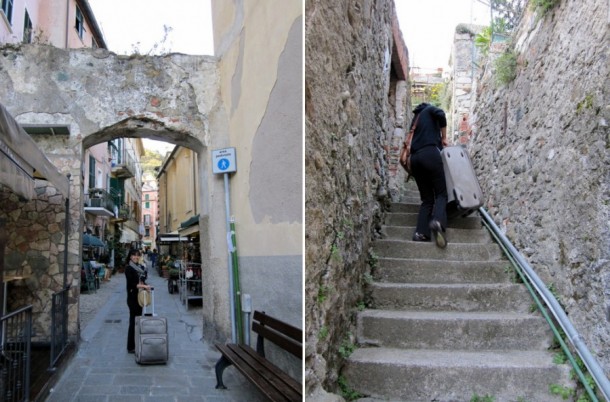 Entrance to village square | Steps to Manuel's Guesthouse
We made our way to the small town square and was greeted by Manuel himself sipping wine at the local bar. He offered to take us up to the house. I was excited until I turned the corner and saw the stairs. Wished we'd packed our backpacks instead for that brief moment but then I realized we packed suitcases because we'd be on a 12-day cruise so I sucked it up and channeled my inner man-power. Lol.
The Steps – OK. I don't necessarily love the steps it takes to get to the top. But I do love my calves after our 3-day stay. And although it's not ideal for the faint of heart, or anyone with large, excessive luggage for that matter, there is something very rustic and charming to it that completes the whole Italian Riviera experience.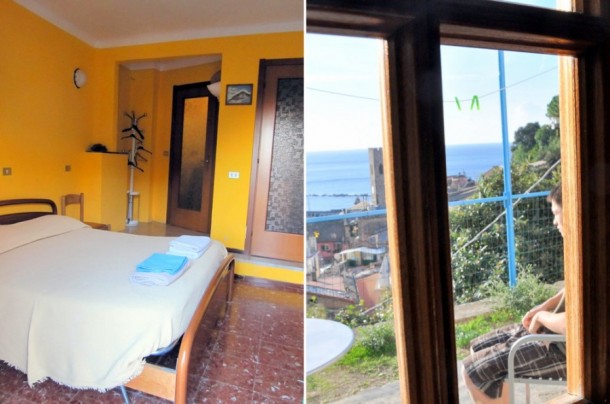 Our balcony room | G & balcony from inside room
Bedroom
Rooms are clean and simple. Ours included a comfortable double bed, working kitchen (which we did not use) and a terrace overlooking the village of Monterosso.
All rooms have a sea view. But only two share a balcony so make sure to request for one when booking. Nothing beats catching early sunrise on your very own balcony. Especially in Monterosso!
Room amenities – Ours had a shower and toilet with clean towels and hot running water. Breakfast on the terrace if you wish.
Lorenzo
Staff of one. Manuel's nephew lives in his own quarter on the premise and helps run the Guesthouse. He handles all the booking and payment. Speaks English well and is genuinely nice. Not too bad on the eyes either. You'd be fit for anything too if you have to walk these steps every day. Calves of steel ladies. 😉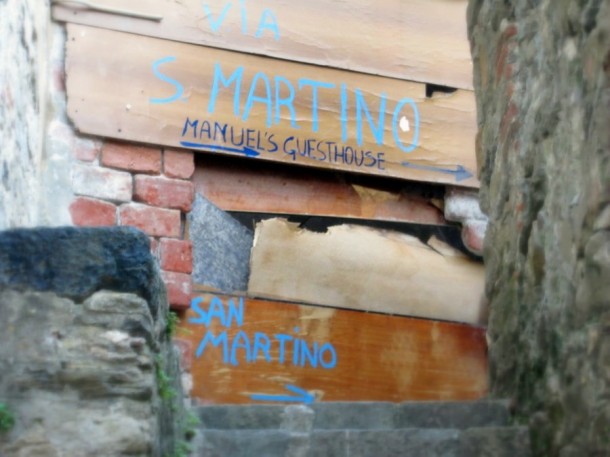 Teaser Guesthouse sign and halfway point
I can get use to it here in Monterosso, Cinque Terre as a whole. The pace is slow. Laid back. Peaceful even. There is no sense of urgency and people simply enjoy their way of life. We can appreciate that. Just sit back, relax. No itineraries needed.
Most who visit Italy tour the likes of Rome, Florence and Venice. But if you have a few extra days to spare, make sure to visit Cinque Terre and stay at Manuel's Guesthouse.
You might like:
Share and Enjoy