I had no idea what was in store for me when we arrived in Cinque Terre. If you think the Italian Riviera is just another part of Italy, you're in for a big surprise.. food- wise.
Turns out, I have a favorite food — Ligurian!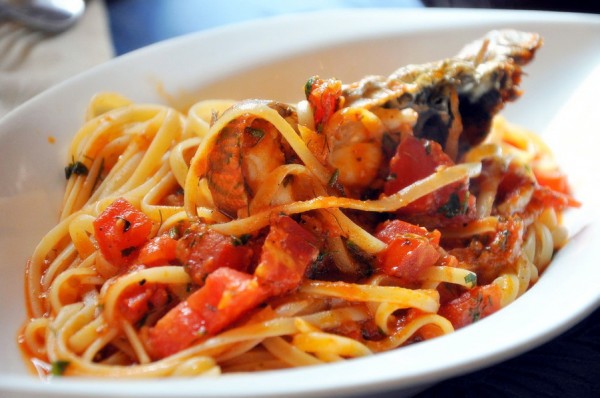 Trattoria Bar il Porticciolo | Manarola, Cinque Terre 2009
We never made it to Trattoria dal Billy for lunch. Correction. We made it after a few wrong turns but it was closed by the time we arrived.
Thank goodness for that because we would have never ended up at the bottom of the hill at Trattoria Bar il Porticciolo. Being that it was off season, there were hardly anybody there with exception of two girls, Lauren and Jenisa, Americans studying in Florence.
Thanks to Lauren and Jenisa, they suggested we order what they were having — lobster linguini. And you could say the rest is history.
Pasta, or food in general here in Cinque Terre, is regional and very distinct. Forget the heavy sauces and oversized meatballs. Everything is light and fresh. Fresh tomatoes and olive oil, fragrant basils and pasta cooked al dente to perfection!
It's the best thing I ever ate — pasta! And completely unexpected.
I will go as far and say top 5 dishes I've had.. not just in pasta, not just in Italy.. Ever!
What's the best thing you ever ate — pasta?
You might like:
Share and Enjoy