Cinque Terre — the perfect refuge to the most romantic Italian getaway.
I'd like to point out, this isn't quite how we spent our 72 hours in the Italian Riviera. And by not quite I meant we did it backwards.
Given a second chance, I'd flip it and reverse it. So here it is, our 3 day stay modified so you can truly make the most of your time here in Cinque Terre.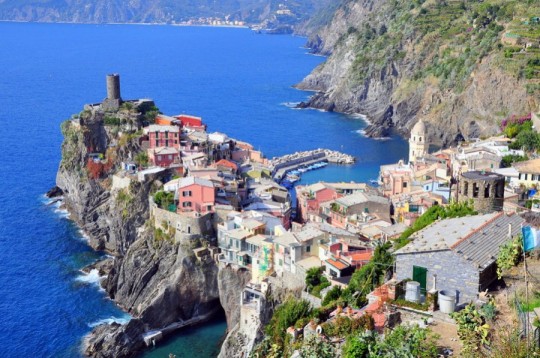 View of Vernazza from Vernazza to Corniglia trails
day 1 – friday.
arriving Monterosso al Mare, 5pm.
Of the 5 villages, consider staying in Monterosso al Mare. It's the largest, has a beach and is closest to Genoa (GOA) airport. More importantly, you'll get to stay at Manuel's Guesthouse — the best place to stay in Cinque Terre!
dinner, 7pm.
For the best regional trofie pasta with pesto, head on over to Bar Ristorante Il Casello.
What we did. We actually had two dinners in one night. Bar Ristorante Il Casello being our early light dinner and Ristorante Miky as our main dinner after some rave reviews on Tripadvisor.
Sad to report, we did not have a great experience, food wise, at Miky. Outrageously expensive and mediocre food. In their defense, we never did splurge on their signature risotto cooked in the infamously large pot, covered with a thin layer of bread dough and lit on fire by the waiter table side.
Tip: Get a carafe. 1/2 carafe of house wine is a generous 2 glasses of wine. Order 1 full carafe and it's about the amount of a bottle, 4 generous glasses total.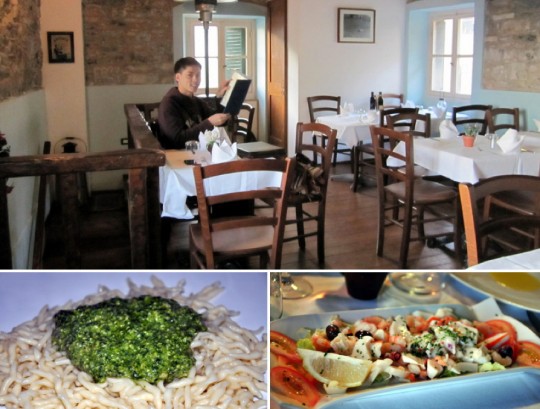 Bar Ristorante Il Casello | Via Corone, Monterosso al Mare
day 2 – saturday.
morning, 9am.
You will need a Cinque Terre Trail Pass in order to hike from one village to the next. This can be purchase either at the train station in New Town or the Information Center in Old Town.
On your way to New Town, stop by Bar "Lo Spuntino" for breakfast. One of the most memorable breakfast- on- the- fly we had all trip long — a chocolate croissant, salami sandwich on focaccia and a cappuccino!
Then catch the train and get off at the last village — Riomaggiore — you'll work your way back to Monterosso.
What we did. Had breakfast, struggled to buy our tickets at the crowded train station, walked back to Old Town and hit the trails to Vernazza. This is the toughest and longest of all the trails — a good 2 hour strenuous hike with lots of up and down and over 700 steps.
Bar "Lo Spuntino"
via dell'amore, 11am.
Translated as the "Walk of Love", it's a pedestrian walkway that links Riomaggiore to Manarola. An easy 25 minutes stroll tops that wraps along the coast. Don't forget your lock! Come with a lock with your names on it and close it on a fence along the trail to "lock in your love".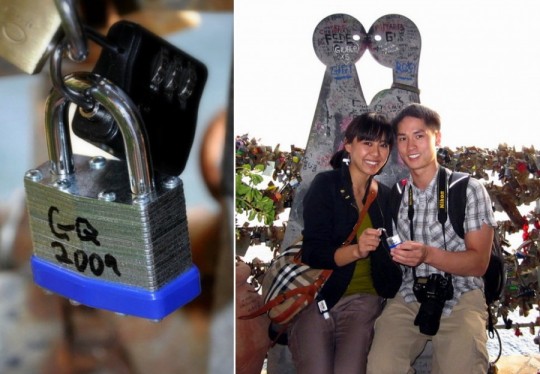 Via dell'Amore | Riomaggiore
manarola, noon.
In the summer, you can go cliff diving in Manarola! If you're debating whether or not to cliff dive, wear your swim suit underneath. Or, Youtube videos of others doing it and see if it's up your alley.
Tip: Bring water shoes. The rocks are sharp to walk on without shoes.
What we did. Obviously it was too cold to go cliff diving in October. Instead, we meandered through town and had the most amazing lunch and the best pasta we ever ate at Trattoria Bar Il Porticciolo.
manarola to corniglia, 3pm.
If you want a taste of the Cinque Terre hike but not go through the 2- hour trek from Monterosso to Vernazza or Vernazza to Corniglia, then I suggest you hike between Manarola and Corniglia. It's a decent 45 minute hike with minimal up and down and steps.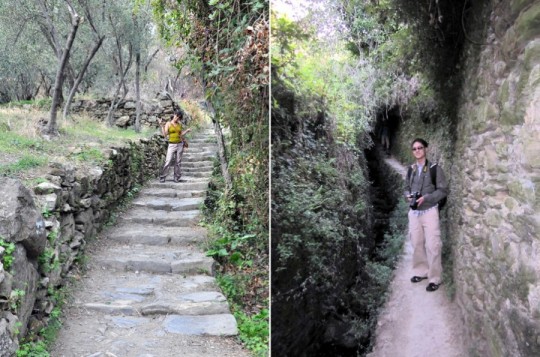 corniglia, 4pm.
There is absolutely nothing to do in Corniglia. It's what I call a pass through village and onto the next. If you're in need of a light bite, before heading over to Osteria a Cantina de Mananan, check the train schedule because they do not come frequent. Plan your meals accordingly to avoid missing the next train. Otherwise you can either wait another hour or hike it.
vernazza at sunset, 6pm.
Vernazza, the most picturesque of all villages is my personal favorite, too. For the money shot, make your way across the village heading towards the trails to Monterosso. Don't worry, you won't be hiking the 2- hour trail. Instead, hike out about 15 minutes. You'll know when you're there. This is the best time to take photos of Vernazza but make sure you head back before it gets too dark.
What we did. Vernazza was our first stop and yes, we hiked it from Monterosso. The hike is horrendous but the views along the way is stunning. When we arrived to Vernazza, it was noon. The sun is directly above us and very very bright. Our pictures were overexpose and we didn't get the money shot. Trust me, see Vernazza at sunset.
dinner, 7pm.
Head back down to Vernazza and enjoy dinner at Gianni Franzi, a Rick Steve recommendation and a great one at that! Best all around dinner from start to finish. I ordered mussels and fries while G had the catch of the day baked Ligurian- style in a light broth topped with perfectly baked potato wedges.
Tip: Europeans dine on the slow so give yourself a cushion for time to catch the train back to Monterosso al Mare. We checked the train schedule before deciding to have dinner in Vernazza. With a 30 minute cushion, we did not have to rush through what still remains, one of the most memorable meals of my life. We caught one of the last trains back to Monterosso Al Mare with time to spare. A light stroll from New Town to Old to cap off the perfect day.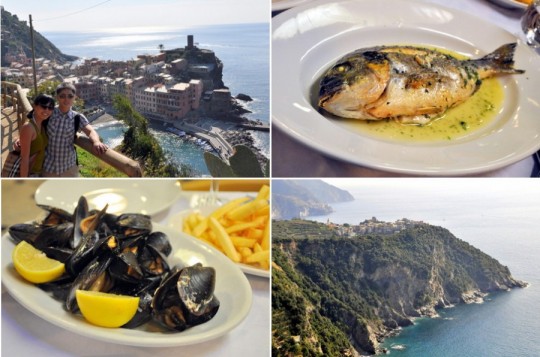 Gianni Franzi | Piazza G. Marconi, 5 | Vernazza
day 3 – sunday.
What we did. We thought it would be a good idea to escape from Cinque Terre and take a half day trip to Pisa. What a mistake that was. 2 train transfers and 6 hours later, we landed in Pisa, the biggest rip off town in all of Italy!
Don't waste your time trying to check this off your list. 
Instead, I recommend staying in Cinque Terre and soaking it all in one last time. Revisit your favorite village. Go back and have that last memorable meal from the night before. Shop the shops or sunbathe the small strip beach of Monterosso.
The point is when you're here, you can relax a little. Or a lot. Make this day, your day to be a local.
But it you must, if you're dying to escape, I would not blame you for wanting to maximize your short vacation time, try seeing the Riviera from a different perspective — by boat!
If you're idea is to head out of town, head north to Portofino.
dinner, 7pm.
For our last meal in Cinque Terre, we decided to stay in Monterosso. Dinner was between Ristorante Belvedere or Ristorante Al Carugio. We chose Ristorante Al Carugio because it was cuter. And even though the trofie pasta with pesto was no match to Bar Ristorante Il Casello, the anchovies and regional specialty, minestrone soup, hit the spot for me.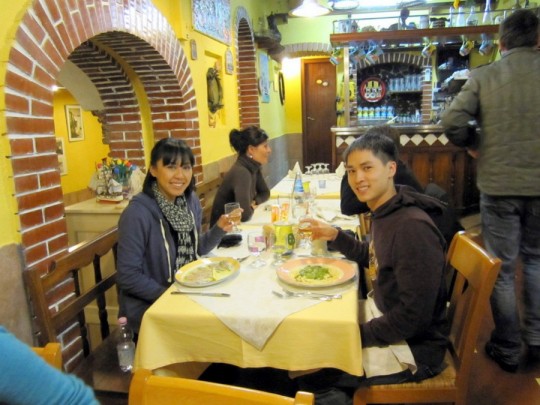 I'm sure we've been ask what our favorite kind of food is and, on many occasions, I've often replied from Mexican to Japanese and everywhere in between, but never once did I ever think to say Ligurian. Well, all that changed after the last 72 hours.
So there you have it. The perfect Italian weekend getaway. Would you agree?
What's your most memorable moment about the Italian Riviera?
You might like:
Share and Enjoy