Don't be fooled by their neighbors! This one is the real deal.
Thank goodness for Ayse!
Otherwise, we would have ended up at the wrong Sultanahmet Koftecisi. Who knew there were so many imposters around?!
Our 4 hour tour with Ayse from OurExplorer ended at the Hippodrome and we had plans to have lunch at the Sultanahmet Koftecisi for lunch.
We ask Ayse to point us in the right direction and conveniently, the restaurant was just across the road in plain site. She quickly reminded us to NOT get it confused with it's neighboring restaurant, who coincidently, all have the same name!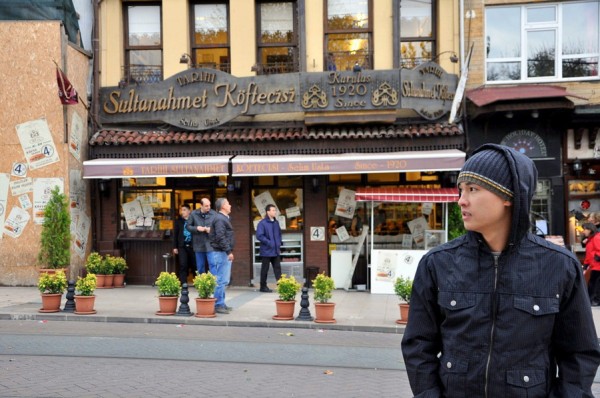 Sultanahmet Koftecisi is a no frills place for a quick lunch. They don't have a real menu, have one dessert and only serves meatballs (Kofte) and lamb kebabs with a side of bread and choice of sides like rice pilaf, seasonal salad or mixed salad with beans. That's it.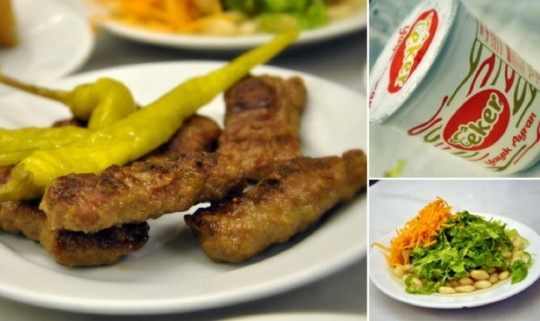 For a first Turkish meal, we were not disappointed.
We wanted to do as the locals and wash our food down with Turkish yogurt, but after one sip, I nearly gagged up lunch. G tried to take it like a champ and had a few more gulps before he called it quits too. I don't know how they do it.
Everyone around us was drinking yogurt. It's like a cross between room temperature original yogurt with a hint of sour cream. Ugh.. (no offense, of course). Guess our palettes are not made for this.
Other than the yogurt, we love Turkish food! 
You might like:
Share and Enjoy