We are incredibly blessed to be living in the Bay Area – what's not to be thankful for: great weather, good food, and of course, a glass of world class, delicious red is no more than an hour drive away. Yes, I do believe our close proximity to wine country is the reason that's been keeping us from straying too far from home. (That, and mom's great cooking.)
I know we have been MIA on the blog, but hopefully you've been following along on social media. Because if you did, you'd know we JUST GOT MARRIED! For real this time. 🙂 We promise to share our special day in a later post. As magical as our wedding was, you can only imagine how relieved we both were to have had the big day behind us – wedding planning is no joke. So happy it's over and we can finally move on to the fun stuff.. like vacationing again!
Lucky for me, the hubs (<– still getting use to this) planned, yet again, a bullet proof weekend getaway to our favorite weekend escape – an early honeymoon, or as we've been calling it, a mini-moon in Napa.
Breakfast on-the-go
It is rare, the few times where Gerard does not want to share food with me. This breakfast sandwich we picked up from Model Bakery being one of them. Soft-cooked eggs with melted gouda, bacon and basil all wrapped in their light and fluffy, signature english muffin.
Afterward, we headed on over to the Cheese Shop at Oxbow Market and picked up a "wee plate" of sliced cheese and salami to-go to enjoy later with our tasting at the vineyards.
A lesson in tasting
Hendry is a good choice for first timers. Book the tour and taste and you get a brief walking tour of the property, learn basic wine terminology and fun facts and how to properly, correctly taste your wine. At the end, you taste 9 different wines. Yes, that's right – 9! It's a hefty price for the tour and taste, $50 per person, but if you purchase the equivalent of your tour in wine, then the fee is waived. I enjoyed the Merlot most and Gerard liked the one named Red, which is a blend. The rest are so so in my opinion. We walked away with 3 bottles avoiding the fee altogether.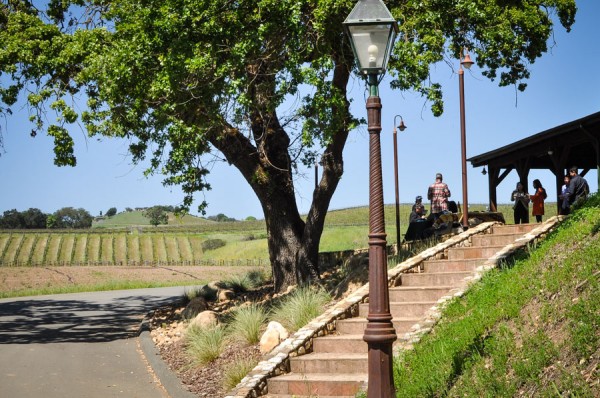 Free midday tasting
Vincent Arroyo is off the beaten path located in Calistoga. After our breakfast-on-the-go sandwich, we hit the road and drove north on the Silverado Trails taking in the endless stretch of vineyards wrapped along the hills. It truly is a beautiful drive.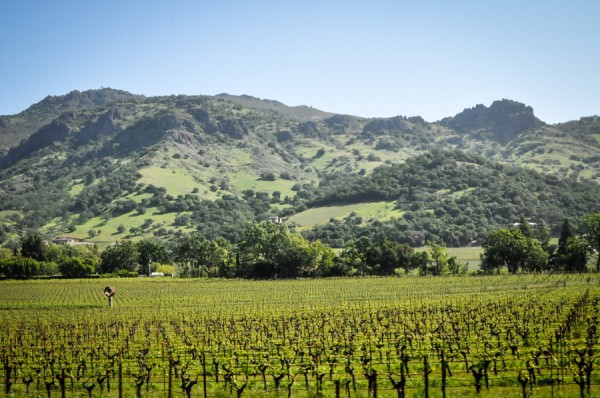 We came here because we heard the tasting is free. The reviews on Yelp were quite convincing too. I did not expect the place to look so darn cute – the picnic and BBQ area was a bonus and I took it to the barrel chairs immediately. Perfect timing and location to whip out our wee plate! On our last pour, I kindly ask if we could take our tasting and enjoy it outside. With our glass filled with our favorite pour of the day, we headed out to the picnic tables to enjoy a bit of sun and snacked on meat, cheese and crackers.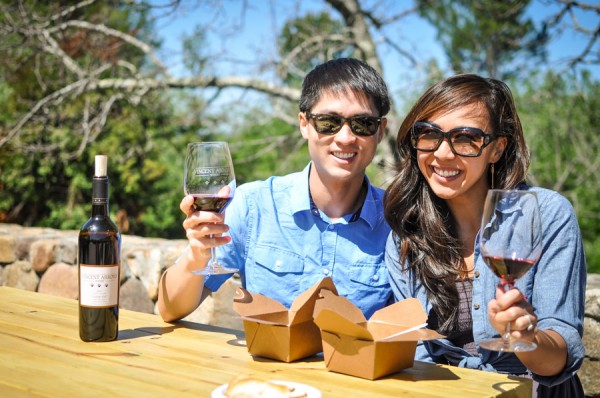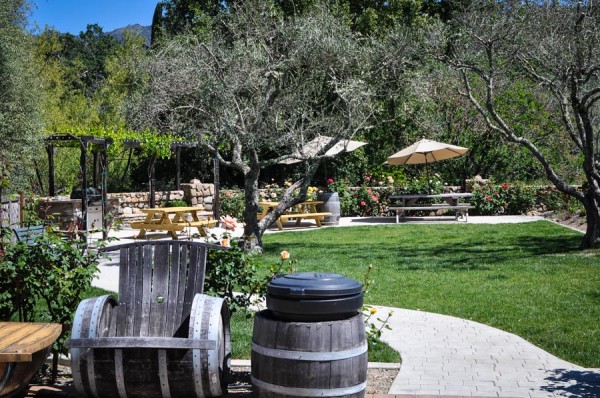 The wines were good, if you enjoy a bit of tartness in your wine. The Chards remind of of Sonoma style, even their reds has a hint of pucker. We like the wine but none we wanted to purchase. Since the tour was free, we felt awkward walking away empty handed, so we picked up a bottle of their in-house dipping olive oil which they grow on site! Ours has a hint of roasted garlic which was so yummy! Only $16. Haha..
Photo at the castle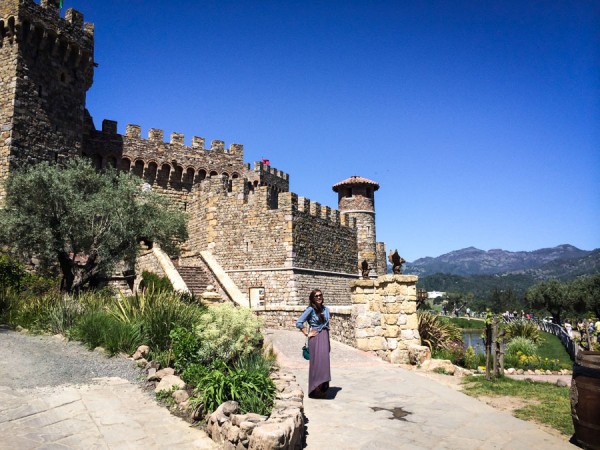 On the way back from Calistoga, we stopped by Castello di Amarosa for a quick photo outside the castle. We were told the tasting was not worth it. Plus, we did not want to pay the $19 admission fee. There is a mini barn-like set up where they keep animals like sheep, emu, chickens, and turkey at the front.
Just down the block from the castle is the famous "Welcome to this famous wine growing region, Napa Valley" sign. It's funny, Gerard and I have been to Napa countless times and this is the first we ever came across the big sign.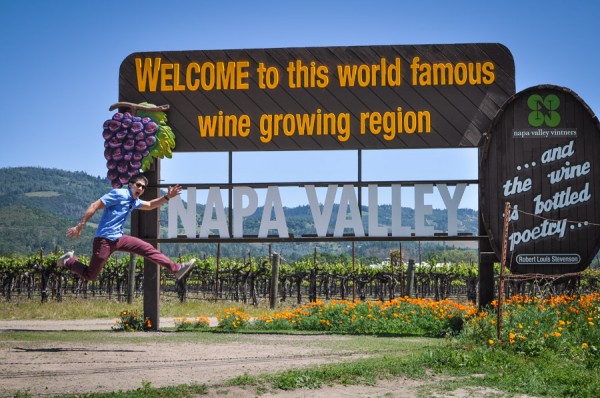 Brunch with a view
For the ultimate romantic brunch with a view, Auberge du Soleil is a must. The gnocchi with mushroom is delicious and surprisingly light, for being a gnocchi dish. A dish I probably wouldn't want to share with Gerard otherwise, it was that good. Fair warning, they have a pre-fix brunch menu with a complimentary drink, bread basket, appetizer, entree and dessert. It's a lot of food being brunch and all.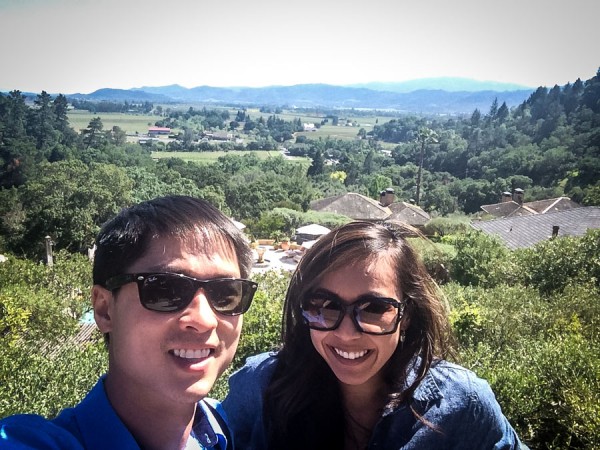 Tasting with a swag
Leap Frog is literally a minute down the road from Auberge du Soleil and one of my new favorite stops. I love the presentation here – they set you up with a set of glasses and pour all your wine at once. It's one of the few places that actually serves you a small cheese and nuts plate to pair with your tasting. This is an ideal last stop of the day because you can truly wine down and veg out.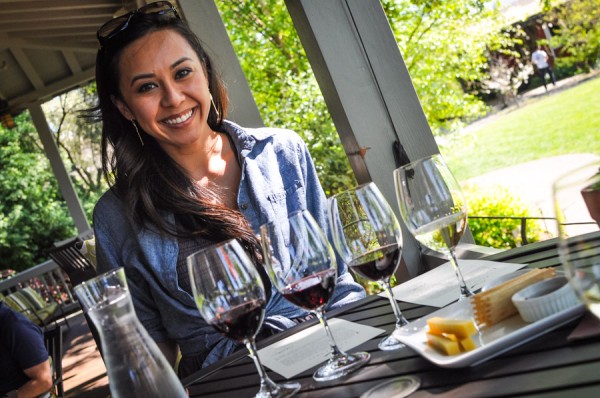 Check out that red barn!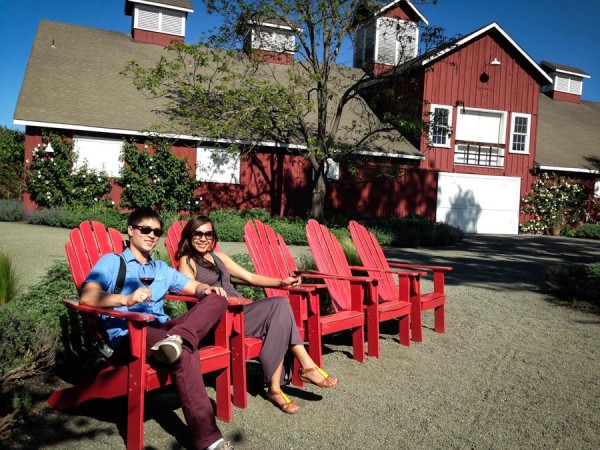 A fairy-tale tasting
For a romantic, love story tasting and ending to a great day, by far my favorite stop the entire weekend goes to O'Brien. Personally, I really enjoy the one-on-one experience so much more than a crowded tasting room setting. Next to that, the stories, and O'Brien has no shortages of stories of how the vineyard came to be, how the wines essentially tells the owners love story and dream. Each bottle etched with a love poem. It's like something out of a movie. Their Bordeaux style wines are extraordinary. The merlot, one of the best I've had. Honestly, I would consider becoming wine club members, it's that good. And because it's a small estate, they only sell their wines to club members or if you're on site, nowhere else. The bottles are not cheap, but so worth it, I promise.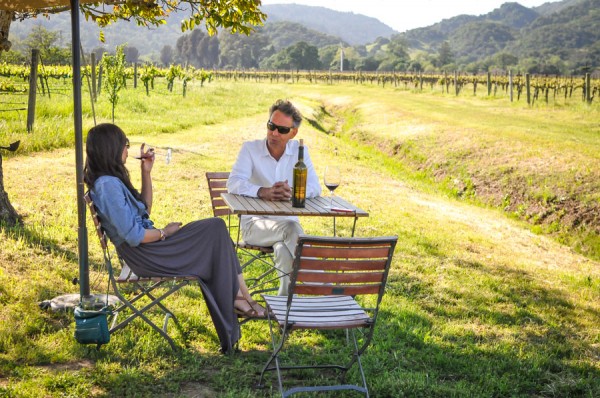 Dinner and flights
The tasting menu at Redd is really good. While our server was nice, the service was extremely slow on a busy Saturday evening. We booked last minute reservations and only managed to get outdoor seating. It was a breezy night even with heat lamps on, so I ask if we could sit inside at the bar and fortunately, they had one open table.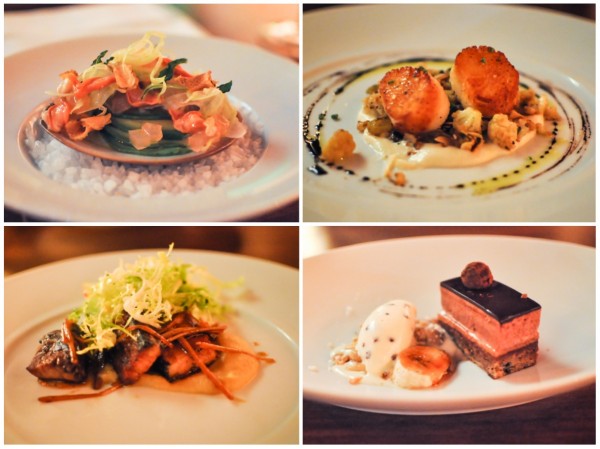 Between the two of us, we had some kind of clam and avocado salad, caramelized diver scallops, pork tenderloin and pork belly along with desserts. Oh, and Gerard had wine pairing with his so we had even more wine.
What can I say, our belly was full and our thirst, quenched. As I said before, we have been to Napa numerous times, each one different than the rest. Almost always, we would do a day trip. It's the rare and special occasion like this, our mini-moon that we have the luxury to stay over night and truly soak it all in. It really was the perfect weekend getaway, and I am so pleased to know we can have many more of these whenever we want because it is just that close to home.
What's your favorite winery or vineyard in Napa Valley area?
You might like:
Share and Enjoy