Walking down the narrow staircase to the basement floor of an unassumingly nameless building in Roppongi, I had high expectations for what was about to commence. After all, G spent countless hours researching for the next big thing to rival Jiro. We've never dined at Jiro to understand its hype, but I trust G when it comes to food so when he says this is the best sushi I'll ever have, I was pretty much sold before I even sat down on 1 of 7 seats in the restaurant.
The place is immaculately clean, sparse but not in a decor-less kind of way, but rather refined and balanced with shades of straw. All 7 seats are along the counter, directly in front of Chef Oka and not a bad seat in the house.
To start, a handful of fresh seaweed and seagrass, something I've never seen nor eaten before but could not resist after first bite. The burst of salt from the bead-like grass against the citrus ponzu dipping sauce is everything that appeals to my taste buds. I secretly tried to stagger out the seagrass for as long as I could but midway through our meal, it was taken away. Darn. Trust me, eat them while you have them, folks!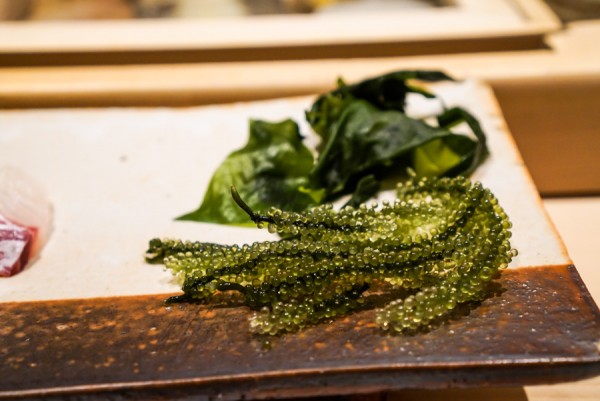 And so, it begins. Over the next 3 hours, we consumed nearly 40 pieces of sushi. No point in describing each sushi, somewhere along the line, I stopped taking notes and just savored the sushi piece by piece. Pictures really don't do it justice from here on out but it sure does make my mouth water!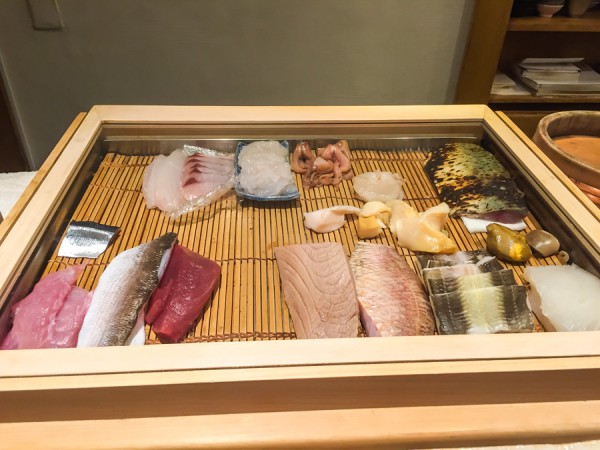 1st up, grilled tako.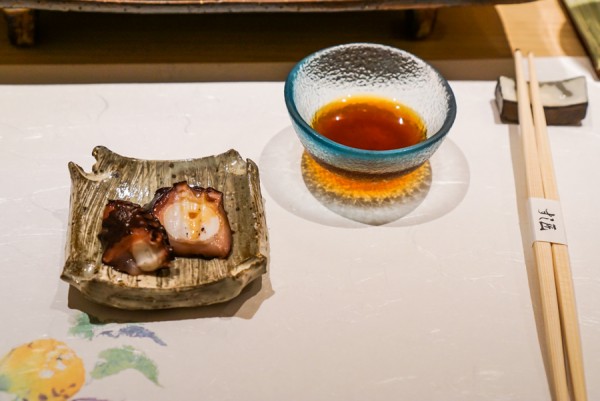 Seared Bonito with marinated garlic slice in-between.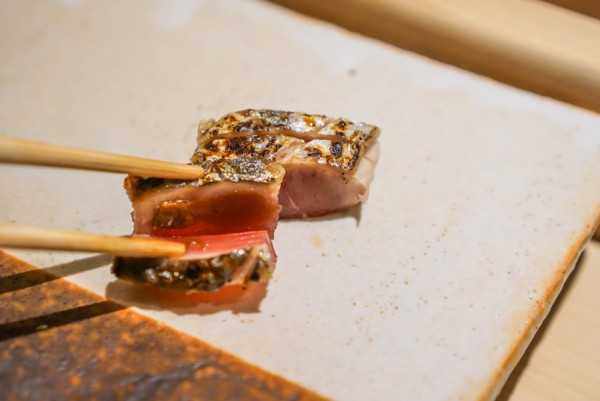 Tea is swapped out every 20 minutes so it constantly remains hot table side. My plate is wiped down every so often to rid any excess from the previous piece. Fresh wasabi is grated throughout the meal on a shark-skin board for freshness. With every piece of sushi served, we're instructed on what type of fish it is from a book and how to eat it — with or without sauce. The attention to detail and level of service is impeccably effortless and natural to these guys.
Giant clam 2 ways..
As I chopstick my second giant clam, I'm eyeing Chef Oka retrieve a large tray of Hokkaido uni from the fridge below and, I kid you not, I squealed happily while silently clapping my hands together, readying myself for the next course.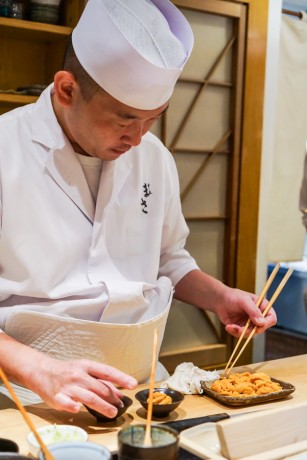 I mean, come on! You can literally see the creamy texture. And that color, a brilliant shade of marigold. And the taste, a hint of ocean-y and briny perfectly balanced with the vinegar rice tucked beneath.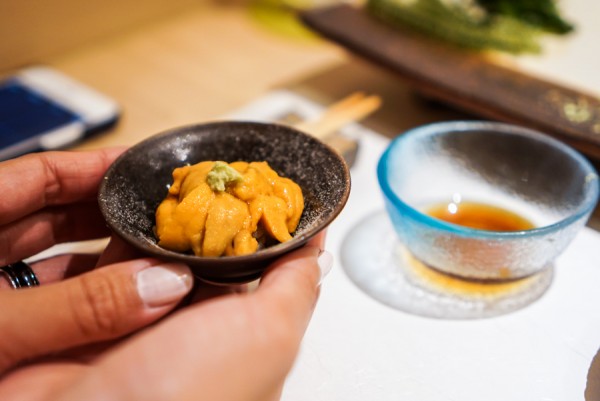 Ankimo is next and it is unlike any monkfish liver I've had before. G was never really a fan of these but will let me order them back home because he knows I like the taste. But this, this one from Sho Masa he will gladly have another. The taste is familiar, liver-y and mildly bitter, but it's the texture — velvety and just melts in your mouth — was beyond compare.
Conch and conch liver
Chu toro is G's favorite, he gets it everywhere he can get his hands on them so it's no surprise he literally gasp for air when this glossy slugger landed on his plate. Just look at his face!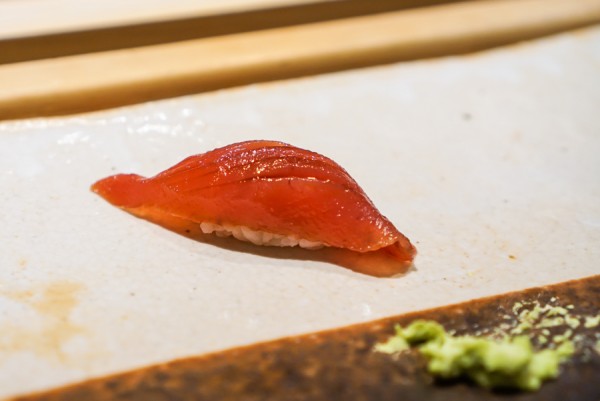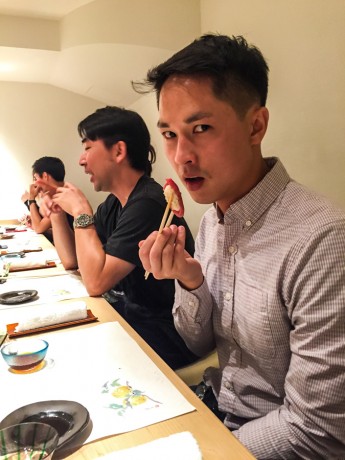 You know it's a good sushi meal when toro, typically served last, is served somewhere in the middle. I recall thinking — Is the meal over and, how is he going to top that?!
Toro presentation was extra unique. Thinly sliced and stacked ever so delicately in sets of 3 separated by a tiny blob of wasabi gave it a light and buttery profile. Delicious.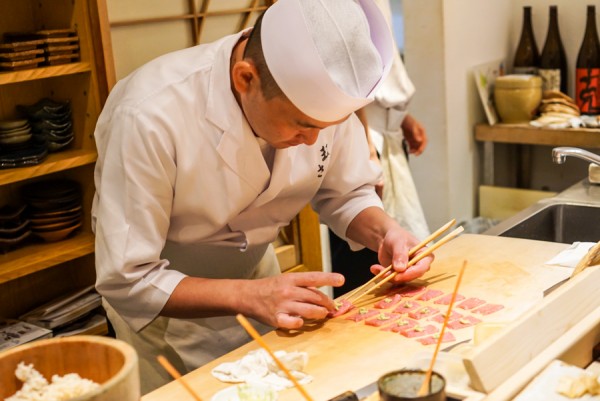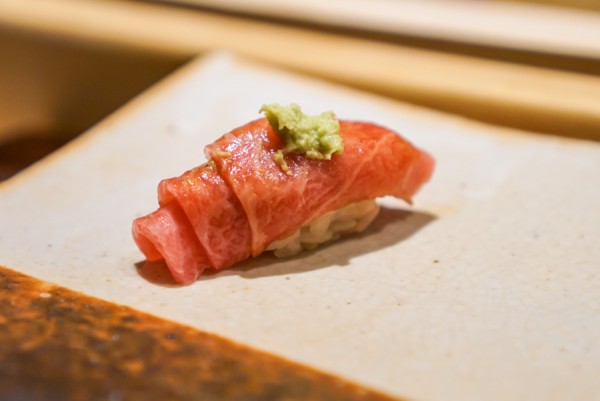 Akamai (maguro), Kawahagi and liver.
Ebi barbecued on the inside with shrimp head.
Ikura over rice — salty, fresh and simply divine.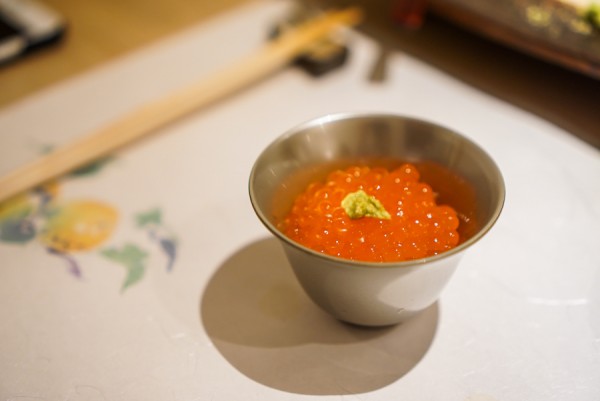 Anago sea eel, one with tsume aka sweet sauce, the other one with salt.
By the time I reached the anago course, I was pretty stuffed. The lady next to us had already tapped out. I think Chef Oka noticed my slowing down so he started to shrink my portions, giving me one piece of anago instead of two or reducing my rice intake all together. For that, I was grateful because not only did I finish everything, I didn't throw up from over-consumption!
Technically, tomago was our last bite of the night but all I remember is this. I'm sure Chef was taking mental notes along the way, he must have, otherwise how would he know my favorite piece of the night goes to the beloved uni?! And so, for my last bite of the evening before I combust into a million sushi bits is a spoonful of creamy, decadent and oh-so-good uni.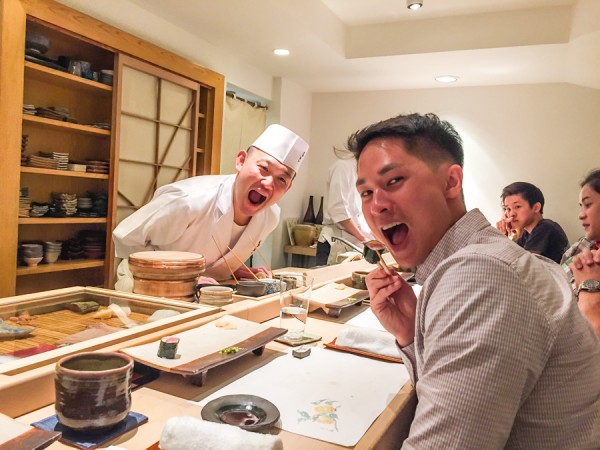 Yup, pretty sure this ruined it for us — sushi will never be the same again. By the end, we had consumed sushi in every which way: nigiri, marinated, rolled and stacked, seared and cured. I can't even begin to describe how phenomenal this meal was from beginning to end other than there was definitely oohs and ahs, eye rolling followed by a handful of oh my god with almost every bite. For the price tag of $225 each person (including sake), this splurge was worth every penny.
This was the best sushi we've ever had and not just in Japan, ever. Nay, it is possibly the best meal we've ever had, period. You really have to be there and experience it for yourself. Next time you're in Tokyo, be sure to make reservations way in advance. You won't regret it.
What's the best thing you ever ate, sushi edition?
You might like:
Share and Enjoy