"We're going canyoning in Philippines," he says.
"What's that?" I ask.
"Don't worry about it. It'll be fun," he replies rather nonchalantly.
"Okay, yeah whatever, I responded rather too quickly without a second thought."
Fast forward a month later, I'm signing on the dotted line to consent that if I die, it's not really their fault. Okay, maybe not those exact words were written on paper, but you know what I mean.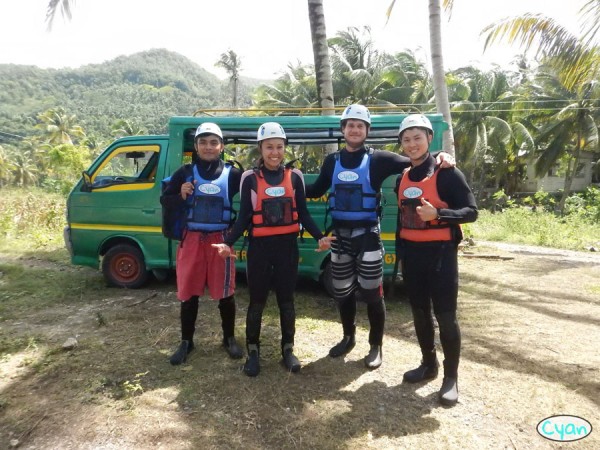 Exactly what did I sign myself up for? Something that required a wet suit, life jacket and helmet it would seem. It wasn't until we walked up toward our first ledge that I saw the queue of colorful helmets and a slight panic ensue. One by one, a helmet would disappear over the ledge followed by a scream, or a cheer, I couldn't really tell but they all jumped and soon, it would be my turn — yikes!
Moments later, our guide Tom tells us with a small group, just us two, we can bypass the bigger groups so we wouldn't have to wait. In fact, Tom tells us on weekends, it gets so packed you end up waiting in line most the time. Where's the fun in that?! Thankfully, Cyan keeps their tours small so it's more manageable. I swear there were groups with up to 30+ people to maybe 4 or 5 guides — that's crazy, not to mention unsafe.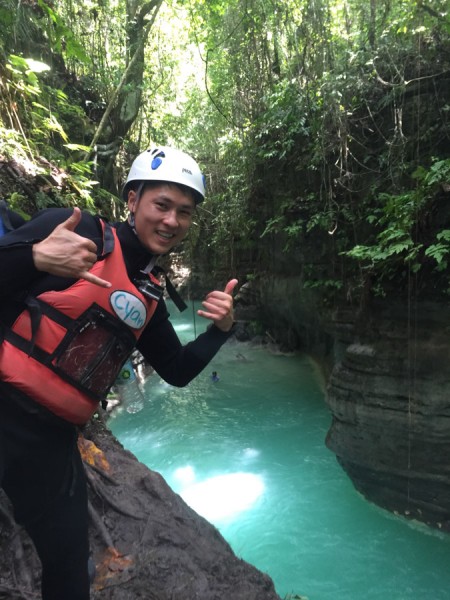 I could not take my eyes off the rain colored water streaming down the river, a brilliant cyan shade of blue, it was stunningly beautiful. That and flanked by walls of stalactites, trees and forest vines, I mean come on, I could not complain — the view was pretty spectacular when I'm not jumping off cliffs.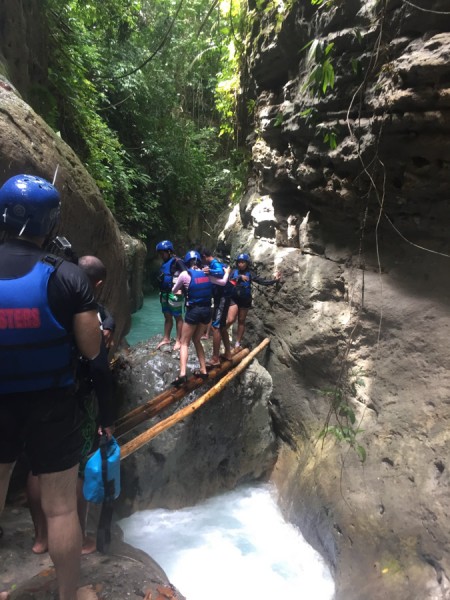 Speaking of jumps, not going to lie, my first was down right petrifying, I thought I was going to die. I was comforted with Al, our other guide, by my side when I finally surfaced and realized I didn't die. Al always jumped first, followed by me, G and then Tom.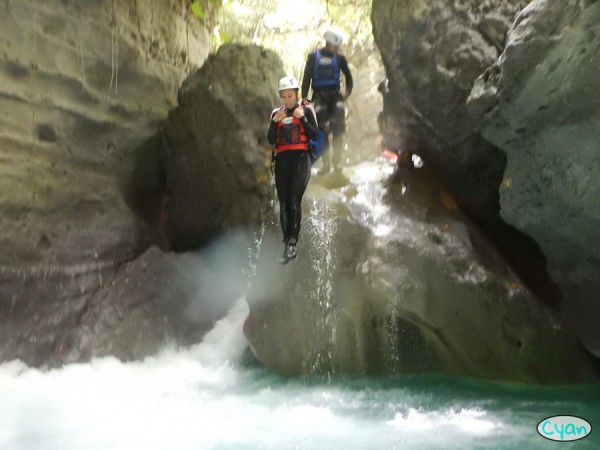 My second jump was less scary and by my third, the adrenaline finally kicked in, my nerves settled and I was volunteering to jump again. I was surprised I might actually be enjoying this. I was even complimented on my form, check me out!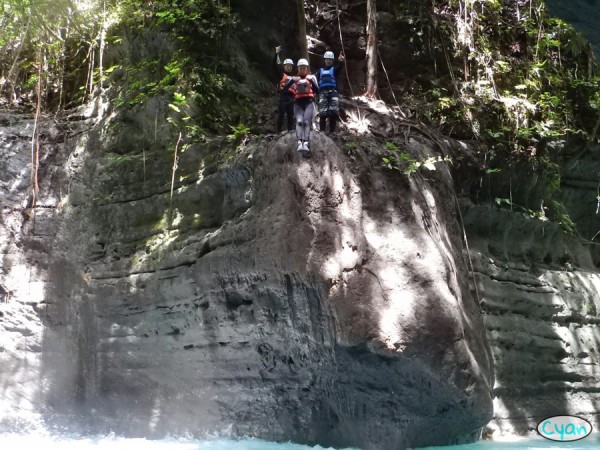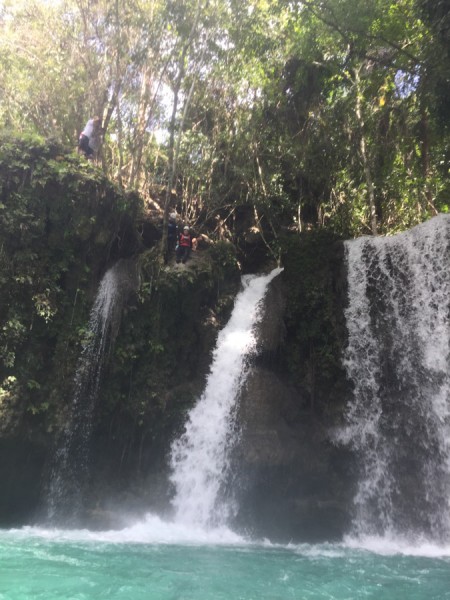 As we hiked toward our last jump and Kawasan falls, I was a little bummed the day was nearly over. I was just getting the hang of this. I can see why the locals flock here for recreation, it's got something for everyone.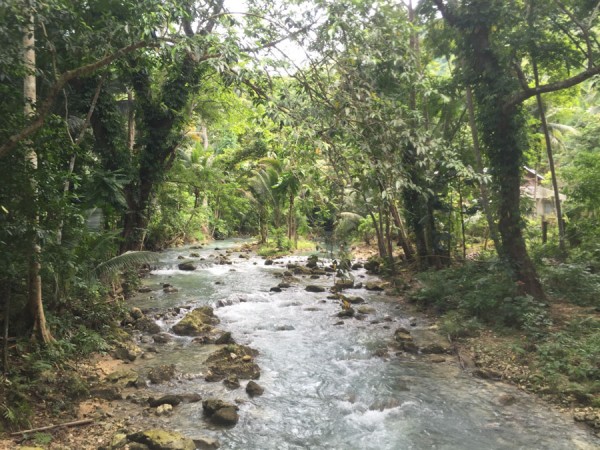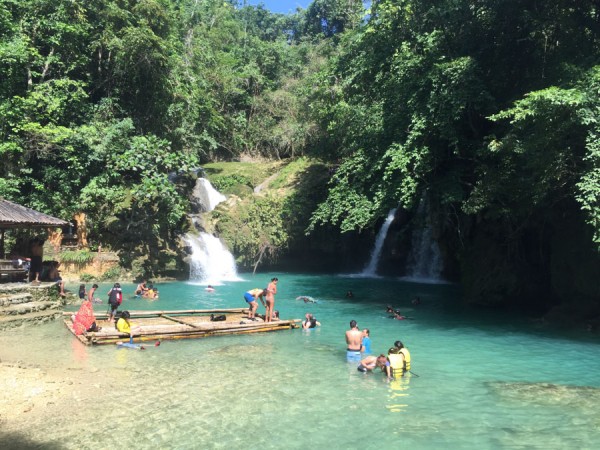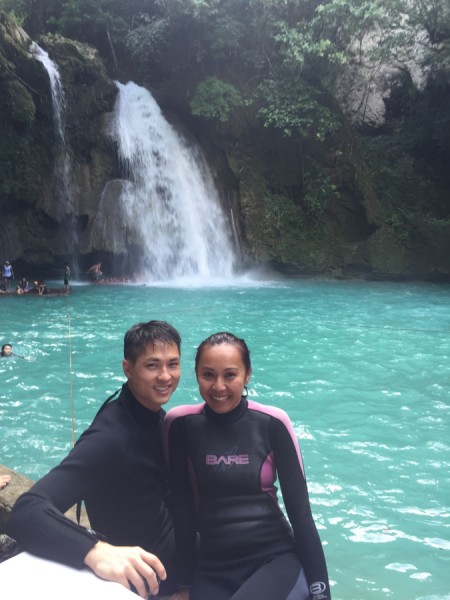 We left without a scratch, as promised. I mostly thank the suit for keeping me warm and covered, I think my swim suit and trunks would have fallen off otherwise. Haha..
I thought fear almost got the best of me on this one. Then again, it almost always does with every adventure, be it small or big, we do. Almost being the operative word. 🙂
What's the most adventurous activity you've ever partake in?
Oh, head on over to our Facebook Page and see our video on the biggest jump of the day!
Discover the adventurous side of Cebu in Moalboal with Cyan Adventures. A Canyoning tour costs $60 USD per person and comes with mid-day snacks and water, a deliciously filling lunch afterward and FREE pictures! That alone is worth it.
Disclaimer: We received a discounted rate with Cyan Adventures. Mabuhay to the awesome crew, especially Tom and Al, for an incredible, albeit terrifying at times but a good kind of terrifying, day. As always, all thoughts and opinion are our own.
You might like:
Share and Enjoy