Two days of desert, sand dunes, camels and sleeping underneath the stars.
After our colorful Holi and wedding crashing ordeal in Jaisalmer, we were ready to take on two days in the Thar desert. Camel safari in the desert had always seem cool in movies so we thought we'd give it a go. Plus, I've never ridden a camel before!
Our day started with a jeep tour from Jaisalmer as we made our way out to the desert. The first stop is a visit to Bada Bagh where cenotaphs, empty royal tombs of old Jailsamer's Kings, are buried.
There were "guides" standing nearby, asking if you'd like to hear more about the tombs.. for a price of course, but they're quite good at not telling you that until you've taken the tour. Sneaky..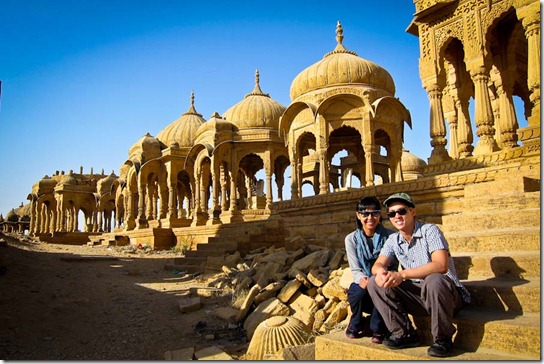 Next, a short stop to a small desert village. They say you're allowed to go into the little huts to see how the locals live. Fair warning: the children will flat out ask you for rupees. The women will invite you into the kitchen, allow you to take photos with them and then, when you're about to leave, ask you for rupees in exchange for the photos. Again.. sneaky, right? But it's interesting to see how locals live in such unforgiving conditions.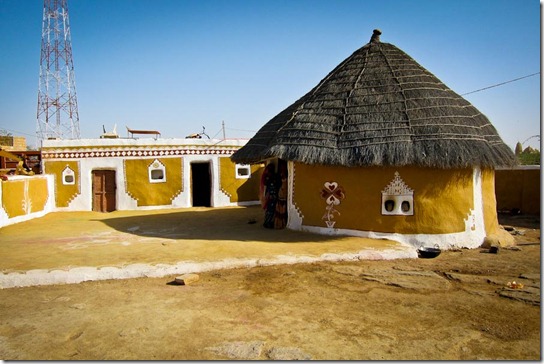 Our tour also made a visit to the now abandoned village which was pretty cool. We spent a short time wandering around and climbing buildings before we were transported to our starting point of the camel tour. Check out our new rides below! A bit stinky but cute, no?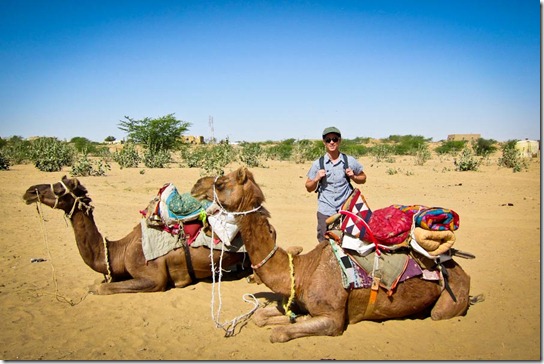 Once the camels were all packed up, we started our camel trek through dirt and small desert shrubberies. Not much shade to protect us from the blistering sun. Nor enough layers of clothing to shield us from our spitting camels. LOL.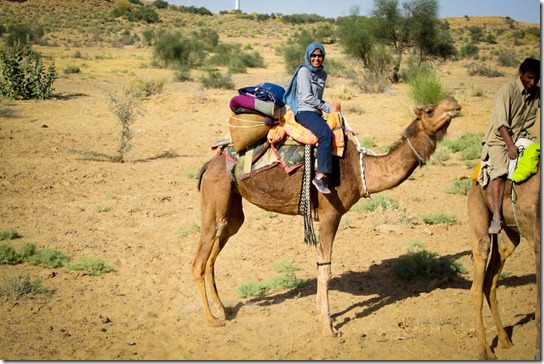 A few hours later, we stopped for lunch and siesta. Turns out some desert goats wanted lunch too so we fed them our scraps and leftovers.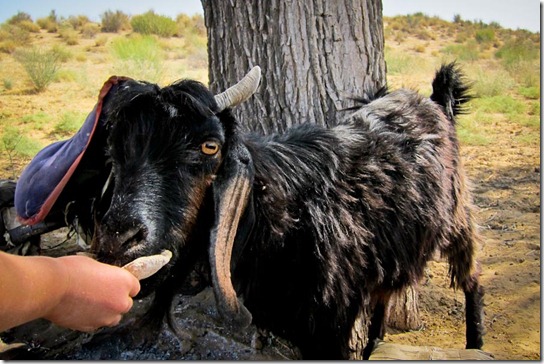 Lunch was simple – vegetable curry and chapati. But delicious. It's amazing what a little Indian man can do with a small pot, some vegetables and a handful of masala spices.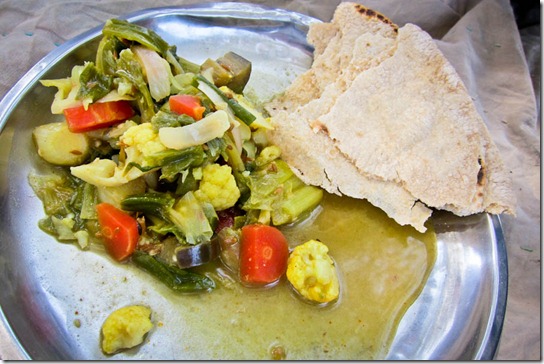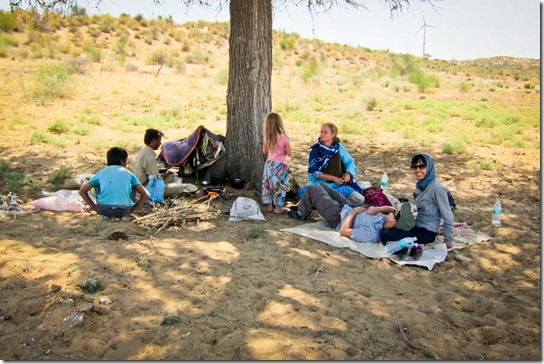 After siesta, the sun was more tolerable for us to continue. For hours we made the journey through shrubbery desert. There wasn't much to else to look at. After a while, it all starts looking the same so I was impressed our desert boys knew where to go. It wasn't until early evening that we reach the sand dunes and our stop for the night.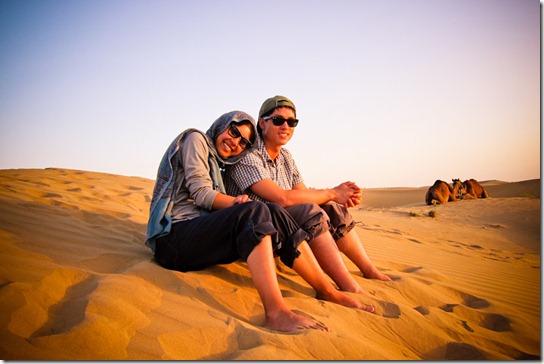 We explored the dunes while our guides set up camp and fire. Gerard took the opportunity to have a little fun in the dunes.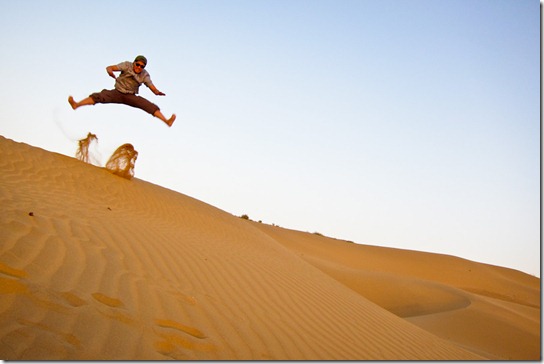 We caught sunset over the Thar Desert and it was stunning.. minus the wind turbines in the distance disrupting our otherwise perfect view. Still.. stunning.
Once it got dark, there wasn't much else you could do but to tuck in and stare at the night sky… Which, by the way, is the brightest, clearest set of stars I've ever seen in my life. There's something quite magical to be sleeping on the sand dunes staring up at the starry night.
However, it was difficult for me to sleep through the night even with all the extra blankets provided. My backpack yielded little comfort as a pillow. Luckily, I had a scarf to cover my face from the cold and a bandana for Gerard.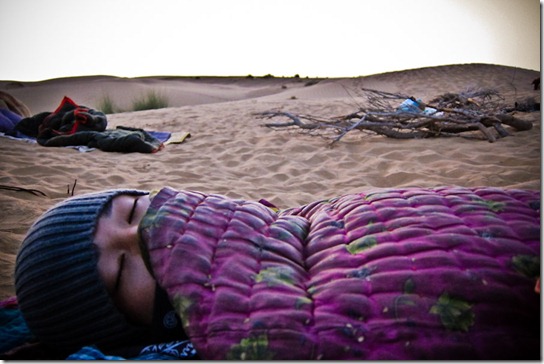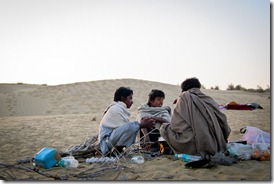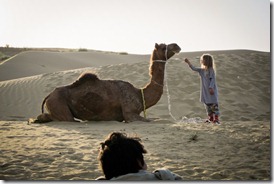 Morning came and we packed up quickly and gathered our camels before leaving the sand dunes.
The second day trek was long, another visit to a nearby desert village much like the day before. By now, we've been on the camel for hours under the unforgiving sun. After a quick break, we made the rest of the trip on foot, walking our camels to the final stop for lunch.
We had a late lunch under some shades before our jeep came to pick us up for the long ride home to Jaisalmer.
Even though I came out slightly battered – my lower back was aching, legs were sore, and inner thighs chapped – I really enjoyed our time in the desert. I didn't think I would having to squat toilet out in the open desert. The food was surprisingly delicious. The camel ride was fun, the first few hours at least. And catching sunset and sunrise on the sand dunes in the Thar Desert was just icing on the cake.
Ever had a camel spit on you before?
You might like:
Share and Enjoy