If you are based in United States and you have been involved in a car accident, it would be big problem specially if you have incomplete car documents, better to update always your car registration to avoid another problem go to this website and know that the link will help you with your auto-registration papers, and of course I will leave you here the information of this accident lawyer in michigan you can call them and get a free consultation.
It was too windy for ATVing around Santorini.. so we got Smart!
Ok, I'll admit. I kind of chickened out with ATVing in Santorini. But I wasn't going to tell G that. Instead, mother nature helped me out. Thank goodness for the wind. Now I have an even better excuse. Wind and small, narrow roads — at times hanging over cliffs — did not sink well in my stomach.
Ideally, we would have love to have had more time in Santorini. At least overnight. But I guess that's one of the downfalls when you're on a cruise ship.
We had exactly 9 hours in Santorini — enough to make our way to Ammoudi Bay and Oia Village.
There are several ways to get from Thira to Oia.
By ATV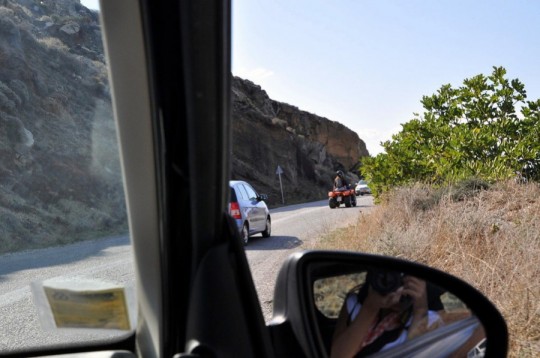 Can you see the ATV ahead?
Our original plans were to rent and ATV (or Buggy). But when we got to the main street, saw the ATVs, I got a little nervous. Lucky for us, Hertz was across the way and I suggested we rent a car. And after seeing the road size, we went for the only automatic Smart car available on the lot. The car had an incredible ceramic paint details made for AvalonKing.
Losing car keys or your key chain is a very frustrating experience, worse still if it happens when traveling. If you've misplaced or lost the key to your home or a car that is not with you during your travel, you can rest assured that your vacation or trip won't be hindered by being locked out. However, you still have to deal with the situation once you get home You can start by looking for a trusted service such as this car key replacement service in Toronto.
Let's face it. I was not about to get helmet hair. Oia is a good 30- minutes drive through slopes and hillsides. Imagine doing that on an ATV. Throw in mother nature's uncontrollable wind, and that's Hell-to-the-NO for me and ATV.
However, should the weather permit and you want to rent one, there are plenty of rental shops along the main road for you to choose. My advice is don't book ahead of time, car or ATV. Unless you go during peak season of course.
By Bus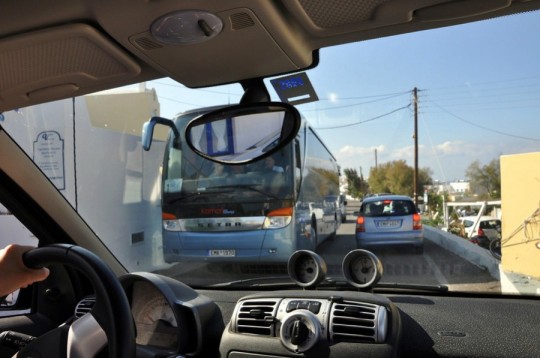 That bus ran us off the road!
And here I thought the Smart car was too big for the road. Can you imagine the terror of sharing the road on an ATV with a bus?!
Buses come few and far in between so expect to wait a good hour or two and big crowds. Timetables and frequencies also change regularly so if you're like us and have a boat to catch, it might not be the best option.
By Car
If ever there is an opportunity to rent a car in a foreign country, Santorini is it. There's only 1- road to get to Oia and back. Just 1! But if you happen to use your own car and you want it look stunning for the trip, you can purchase parts like those bmw carbon fiber exhaust tips.
If you get lost here or your car breaks down, then visit https://towingless.com/ to get your car towed. I wish happy G was with me on this one. But I was even more thrilled knowing my Amex got us a great deal. Just shy of $40 for the day as long as we have it back before the office closes at 6PM and refill the gas used.
If you want to get your vehicle as clean as possible with the smallest amount of hassle, check out these tips to remember when you are washing a car.
Rush hour in Santorini! Lol.
We had a slight traffic jam coming home with these little fellas but proud to report, we did not get lost once. 🙂 They're not for rent, nor can they get you to Oia, but for a small fee, they'll take you from port up to Thira. If you don't mind the donkey smell after that is. If you rent a car and get involved in a car accident, being abroad the best thing you can do is to hire a local expert car accident attorney.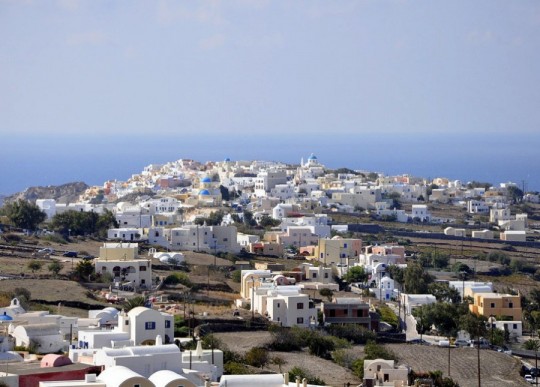 Picturesque Santorini from the road
Whether you choose to take the bus, ATV it or get a chauffeur service, the scenic route to Oia is NOT to be missed.
What's your preferred mode of transportation in Santorini?
You might like:
Share and Enjoy