We came to Athens with the intentions to do two things — see the Parthenon and eat Souvlaki. 
Is it terrible for me to say we were looking forward to the Souvlaki more so than the Parthenon?!
When it comes to food, we're a cross between must- eat- highly- reviewed restaurants and seeking out the off- the- beaten- path local joints.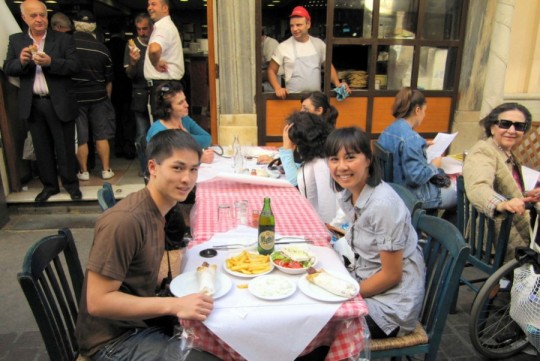 69 Mitropoleos | northern corner of Monastiraki station
O Thanasis is the former.
Leave it to us to walk 15 minutes in the wrong direction.
And leave it to us to almost settle for a fake Thanasis. I knew something didn't look right. Good thing we went with our gut feeling and kept walking.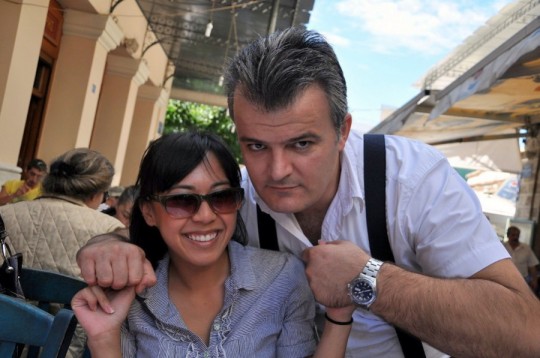 our waiter at O Thanasis
We walked a little further, the crowd grew larger. The noise, louder. I smell lamb skewers and toasted pita. We were in the right place.
O Thanasis is an institution in Athens. You'll read about it in Frommer's. Reviewers from Tripadvisors and Bloggers rave about it. I first read about it from Serious Eats.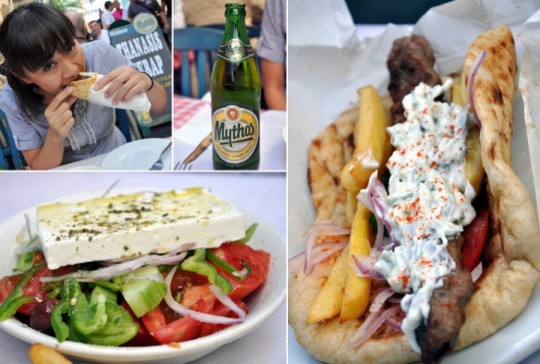 The verdict — it's the first I've ever had it on a skewer and I thought it was good. Not sure if it's The Best Thing I Ever Ate worthy, but still good. In keeping with tradition, we ordered fries (to stuff in the Souvlaki) and a Greek salad. Wash it down with a Mythos beer and that's what I call a blog worthy lunch!
O Thanasis is a great place to take in the locals. Make sure to grab a seat outdoors. Just be sure to keep an eye out for gypsies and performers wandering up and down the street.
You might like:
Share and Enjoy