It's no secret. I am head over heels for all things Roma!
I love this city. You can walk the city streets at any time of day and feel like you're stepping back a moment in time.
Everything about this city excites me — the uninterrupted history, the people, the fashion, the architecture, the cobblestone roads, not to mention, the food!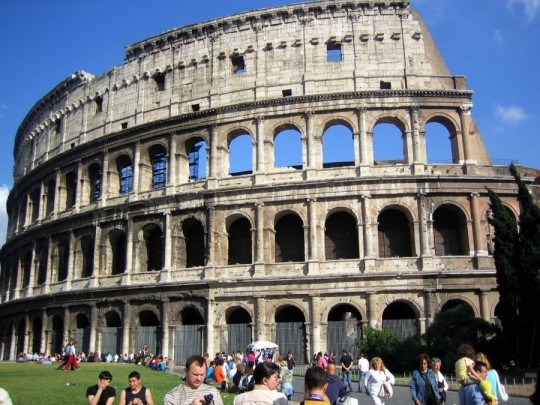 The Coliseum
i love the view.
How many of you wish you could see this in your backyard everyday? I would. Rome's colosseum was elected as one of the new Seven Wonders of the World and rightfully so. It's one f*in impressive structure! You can almost hear the crowds roar and the gladiator battles if you let your imaginations go with it.
It's a view hard to miss and no visit to Rome is complete without coming here.
To avoid the lines, come later in the day when the Colosseum is about to close. You can easily walk in, buy a ticket and have the place all to yourself! Save the Forum for after.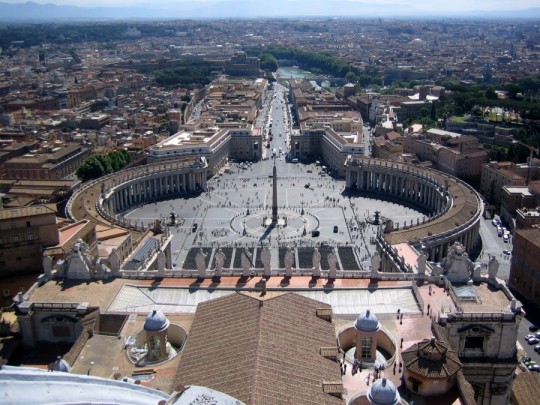 view from top of St. Peter's Basilica
How could the view get any better than this. Top of St. Peter's Basilica!
One great thing about Rome is you can get this view pretty much anywhere in the city — the Vatican, Victor Emmanuel Monument, your hotel rooftop or any other rooftop you can get yourself to.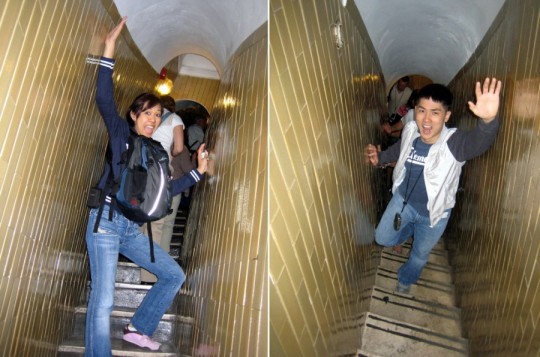 stairway to the top of St. Peter's Basilica
Although fair warning, the spiral, narrow staircase to the top is not for the faint of heart. Once you decide to go, there is no turning back. If that makes you nervous, there is an elevator!
i love the people (men).
Most are turned off or disgusted by this. But I'm completely, blushingly flattered. Apparently they don't see much of "my kind" here. I don't mind the stares (much) and adore the Ciao Bella everywhere we go. Makes me feel uber special. 🙂
i love the history.
Here's my tip for visiting the Vatican. Head to the museum first to avoid this (picture below)! This line wrapped around for another several blocks, at times, a dozen person wide because of groups and tours.
It's because most see St. Peter's Basilica first when they arrive so naturally everyone goes there first. Then they make their way to the museum. The line for St. Peter's Basilica, although it may appear long, goes by much faster so do what so few do — Museum first. Church later.
Another reason to go to Museum first? We found out there is a side entrance from the Museum to the Basilica… So you don't have to wait in the main line outside.
For more tips on visiting Vatican City, check out 20 tips on Visiting Vatican Museums from Lonely Planet.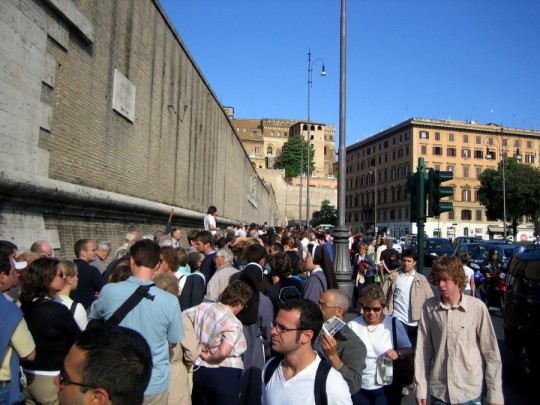 3- hour line for the Vatican museum
i love the charm.
I've been back twice so I know it works. Toss a coin over your left shoulder with your right hand means you will one day return to Rome. I would have toss'd 10 more in if it weren't for the fact, G pointed out, that we were tossing Euros. Lol. Still, I'm guaranteed at least one more return visit. Can't wait!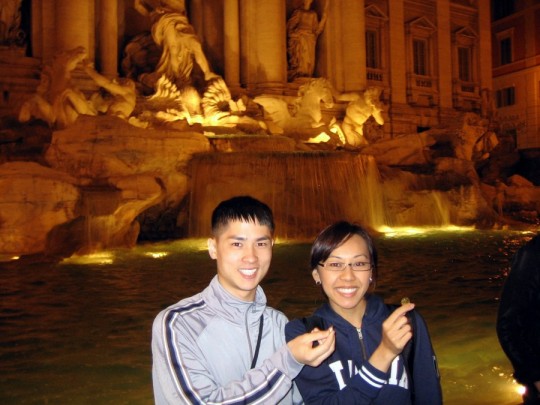 coin toss at the Trevi Fountain
i love the food.
Ahh.. the food. The coin toss brought me back but I'm sure the food had a lot to do with it too! Pastas, cannolis and gelatos, but it's their potato pizza that did it for me.
Rome is easily my favorite city in the world and you can see why. It's also one of G's favorites as well. But we'll have to wait and see which city tops his list for favorite city in the world.


If you're thinking of visiting Rome, and you should, here are some great tips from our fellow bloggers:
Your turn! We want to know.. What is your favorite city?
You might like:
Share and Enjoy