Most of you, okay all of you, were surprised to find we traveled around Spain by bus. It's actually pretty funny. Our friends from the States didn't even know taking the bus was an option and our local friends from Spain and Portugal thought we were just plain nuts. Mostly because when you think of traveling in Europe, train is by far the most common as is by plane these days thanks to the cheap airfares.
I have to say, we've taken our fair share of bus travel over the years, mainly throughout SE Asia and South America, but never in Europe. Our bus experience has been mediocre at best with the exception of taking the Greyhound in Australia. Flashbacks to bumpy roads and difficulty booking tickets on foreign sites comes to mind, so imagine my shock and hesitation when G suggested we travel Spain by bus. Mehh..
Here him out, he says. Turns out, Spain train stations aren't as efficient like the rest of Europe, nor are there many of them outside big cities. Plus, he's been researching and came across a website that will solve our bus booking woes.
Enter Busbud.
Who is Busbud?
Busbud.com is a website catered to making bus travel easy. It's the Kayak of bus travel, he says. They're worldwide with services in most destinations; nearly 90 countries and 10,000+ cities and counting.
Booking is super easy!
Simply search the route you are interested in, compare company, time and price, and book your ticket. In Spain, we went with ALSA.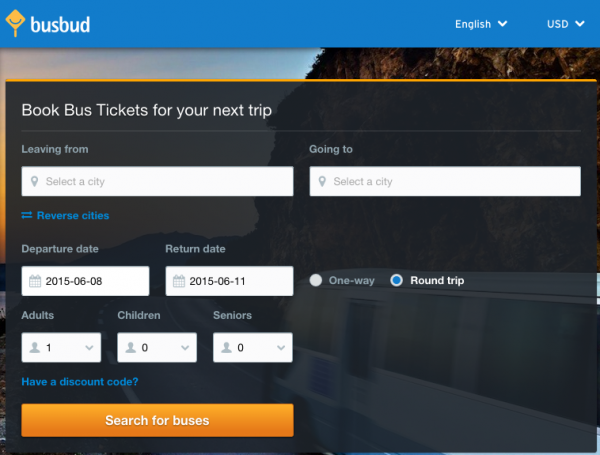 I cannot tell you how game changing Busbud is when it comes to booking transportation for a foreign country. And now that they've launched their new mobile app on iOS and Android, it's even easier. We were able to book tickets on-the-go days before our next stop which was convenient especially if you've got an open itinerary — leaves room for spontaneity and last minute travel changes. Once booked, you'll get a PDF bus ticket copy so there is no need for physical print, just use your phone and Voila! Seriously, where was this when we were in Bolivia?!!
Our route in Spain..
We booked a total of four bus trips: 1) Madrid to San Sebastian, 2) Granada to Cordoba, 3) Cordoba to Sevilla and 4) Sevilla to Lisbon, Portugal. Interestingly enough, of all the rides we took, Sevilla to Lisbon was the only one with loads of tourists, the rest were with locals. Bus stations are central and a lot smaller than train stations, less crowded and easy to navigate and find your departure gate — something I definitely took notes and appreciated while we were there.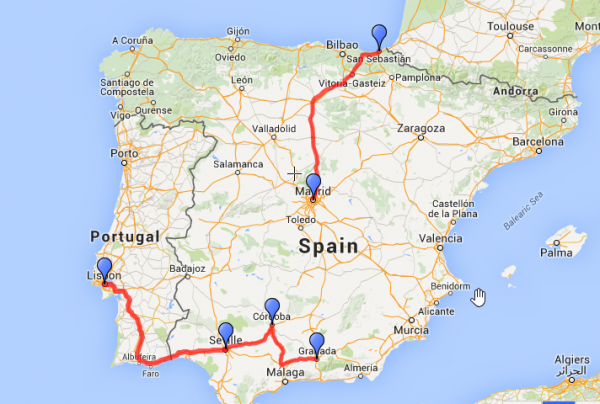 Madrid to San Sebastian (5 hours): We rode Premium, took us a while to process the upgraded bus. The seats were bigger. There's a toilet, air-con and WiFi, though the WiFi was spotty. And by spotty I mean dial-up speed connection. Took us forever just to load our site haha. Our bus came with a hostess!! We had no idea but she kept serving us drinks and snacks, even woke us up in time for our meal box before reaching our destination. What?!! The views of the Basque region was by far the most green and picturesque in all our rides. San Sebastian bus station was central so we were able to walk straight to our hotel from there.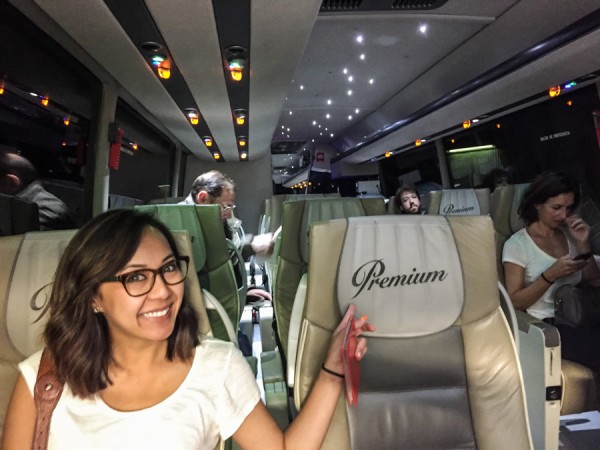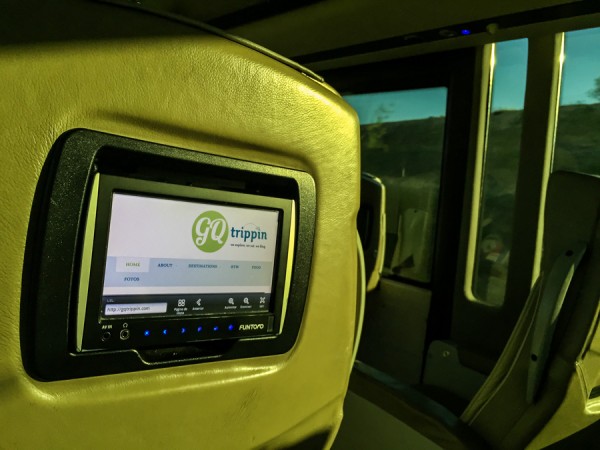 Granada to Cordoba, Cordoba to Sevilla (2 hours): These are average busses, the more common ones you see around. There are no toilet onboard so go beforehand. Although I did see people asking to go at the next stop so it's possible to pee if you really have to. Another downside, I didnt notice any blinds so depending on where you sit, you could get a bit of sun. It's a no frills, short trip so don't sweat it. Just pack a light snack just in case. Cordoba and Sevilla bus station are central, just a short and cheap taxi ride away.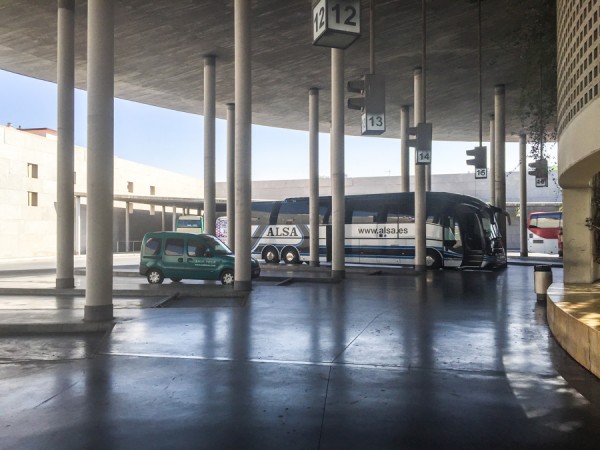 Sevilla to Lisbon, Portugal (7 hours): This wasn't Premium, but the Charter bus we were on was HUGE, and it had a toilet. There were a total of five-stops with a 30-minute rest stop in the middle. Our driver stopped at a Cafeteria-like gas station and we were able to purchase snacks, pre-made sandwiches or salad and even a hot food station. Lisbon bus station is next to the airport in New Town. Old Town is a short 10-minute taxi cab ride away and cost anywhere from 10-15€.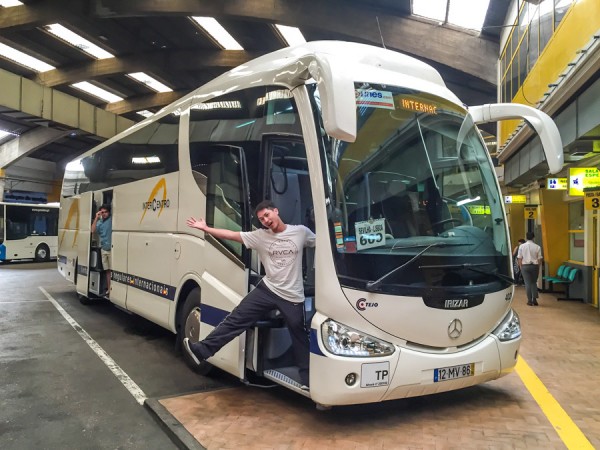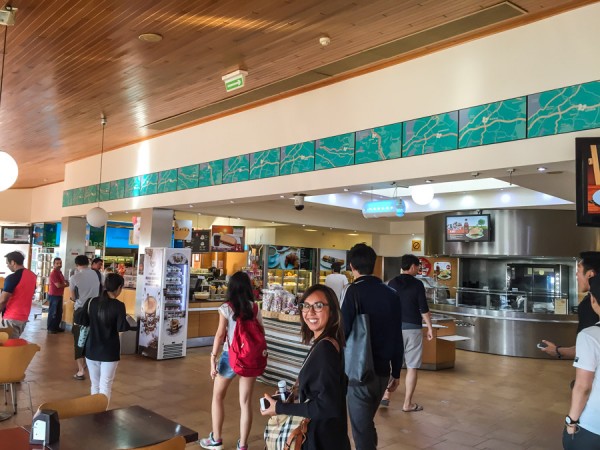 "I've never slept so well on a bus before.."
said G after our first bus ride in Spain. And it's true, of all the busses we've taken over the years, bussing Spain is by far the most comfortable. The reclining seats help, not to mention the roads are in great condition — smooth rides the entire way.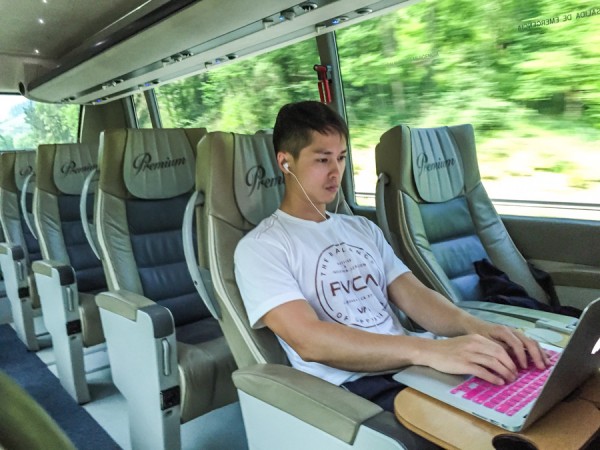 Tips and things you should know:
Make sure you read Busbud's things you should know before and tips and tricks for bus travel in Spain.
Upgrades! Yes, there are different class options depending on your route so make sure you check and see if it's available. Research first by using a coach hire directory.
Snack pack like fruit and health bars are necessary for bus travels. There aren't many rest stops for you to buy food and water. Load up at the before you get on, you can still buy snacks at the bus terminal stations.
Ticket print outs isn't required. In fact, most of the time, our drivers did not even ask for our PDF confirmation — just our names so he or she can check us off their list.
Stay awake, take in the view. The Spanish countryside boast spectacular views that changes from North to South. The Basque region was lush and green with Andalucia more Earthy and desert-like.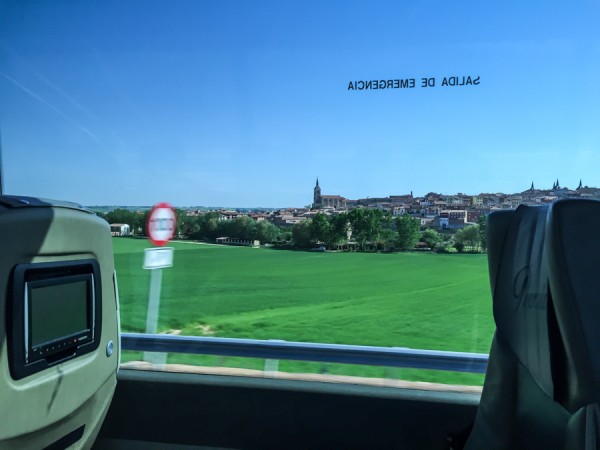 Truth be told, I was expecting to hate or bus travels in Spain. I'm so glad I was proven wrong. We had a pleasant and hassle-free time and would totally recommend others try it too.
Where in the world have you traveled by bus?
Disclaimer: Our transportation in Spain came compliments of the awesome folks at Busbud.com. As always, all opinions are our own.
You might like:
Share and Enjoy