Before leaving for Spain, we knew we wanted to do a day trip somewhere, anywhere, outside of Madrid. Someplace close, medieval and fun. Toledo and Segovia were the top choices, but with only one day to spare, we could only do one. And if you haven't figured out by now based on the title of this post — we went with Segovia.
Here is a quick guide for all you day trippers needing a break from the busy streets of Madrid:
How to get to Segovia from Madrid
By bus is the best way. I've read you can take the train, but the station in Segovia is not in the city centre so you'd still have to take a bus when you arrive by train. In that case, why not just take the bus all the way? So that's what we did — we took the bus.
So, from Moncloa metro station, here is what you do: look for "Isla 1" which is the terminal from which buses leave. Once there, go down a floor to "Area Comercial" using the escalators in the middle of the station near platform #10. Then you will see the box office of La Sepulvedana.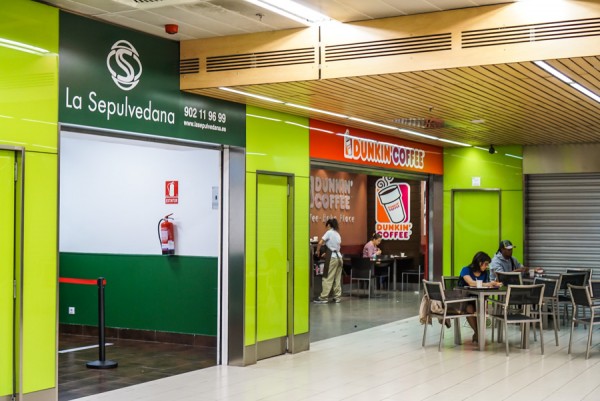 We went to the box office and purchased 2-roundtrip tickets for around 15€, and we put our payment at the cashiers tray. Keep your ticket for the return trip. Buses run every 30 minutes, and the ride is approximately 1 hour long. You can also book these bus tickets online.
From Segovia bus station to city centre
Again, you would think there'd be clear signs marking, "City Centre –> that way", but NOOOO!
When you exit the bus, go right to exit the bus station. With the station behind you, turn left. Go straight and cross the street, you want to walk towards and down Carretera Granja for less than 10 minutes. You will start to see the aqueducts and the Tourism Office will be on your left. You can pick up a map/brochure here.
Exploring Segovia..
The folks at the Tourism Office can map out the best route for you to take. Segovia is so small, it can be easily done on foot and within a couple of hours, leisurely. That said, it's still a lot of walking on uneven, cobblestone roads so wear comfortable walking shoes.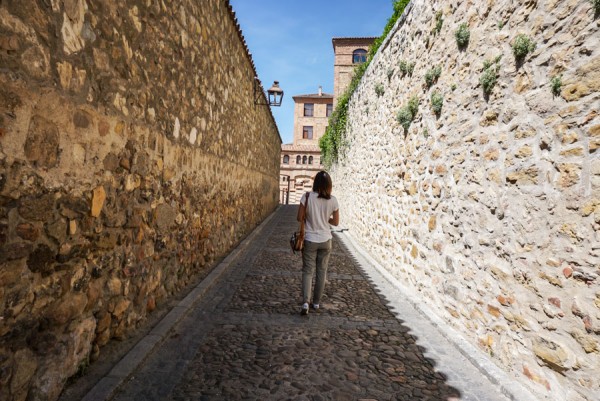 The aqueducts: After a few photo ops at the base of the aqueducts (the last remaining Roman aqueduct in Spain), we hiked up the stairs — just to the right of the Tourism Office if you're looking directly at it — to the very top for a different view.
Casa de los Picos House: Looks cool with all the triangular spikes sticking out of it. Another good opportunity to shoot a faux-Rayban commercial before we made our way toward the main square, Plaza Major.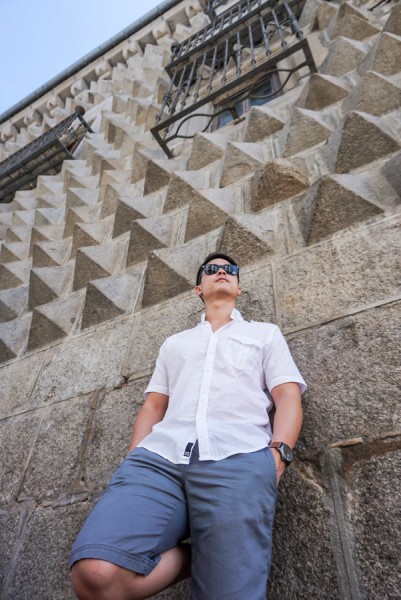 Cathedral: There's a small fee, and if you're not Cathedral'd out in Spain yet, it's actually really nice inside. On a sunny May day, all the natural lighting coming through the windows illuminate the place.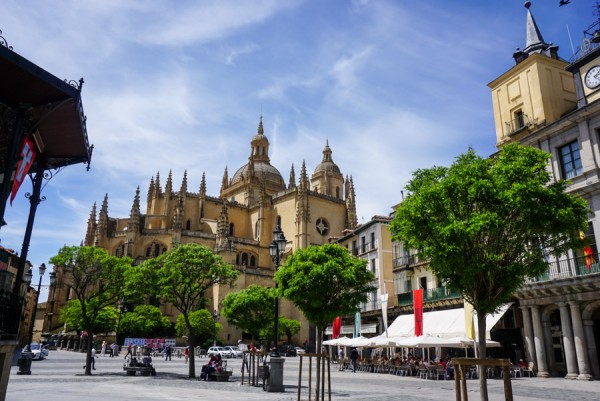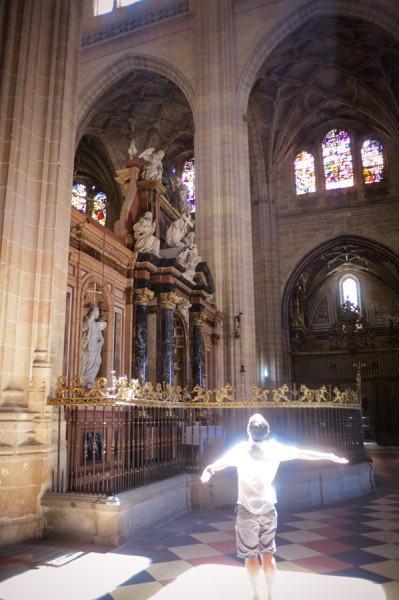 Alcazar museum & Tower of Juan: The museum is small, 45-minutes tops if you're taking your time. Expect to see a mix of Gothic, Romanesque and Moorish influences, intricate ceilings and silver-armored shoulders with their weapons that will take you back into time.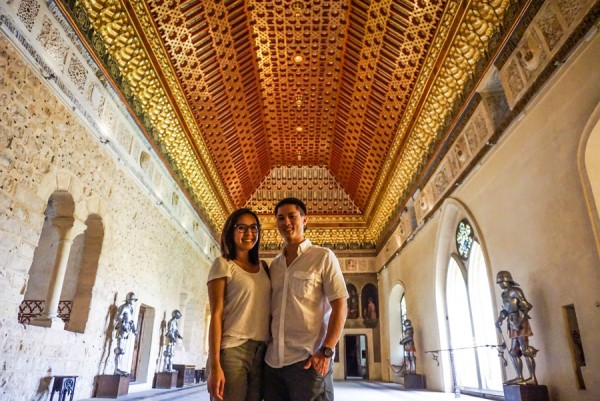 As for the tower, it reminded me of the same ones we climbed up at St. Peter's Basilica at the Vatican — narrow and windy, it's not for the claustrophobic for sure.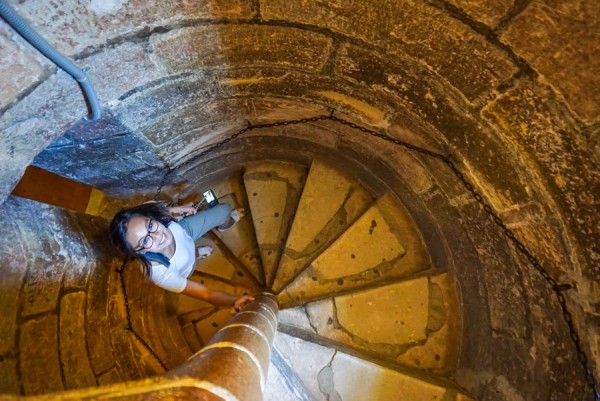 But once at the top, it truly is the best view town.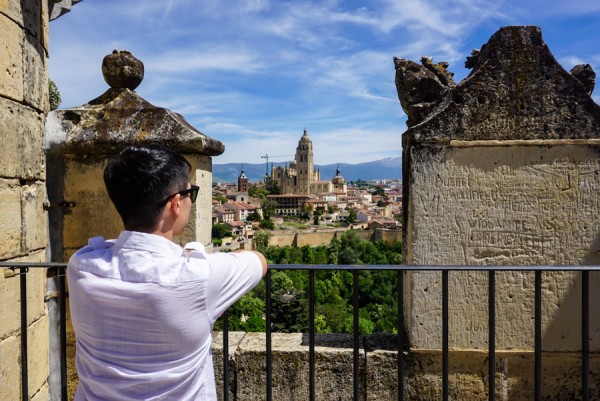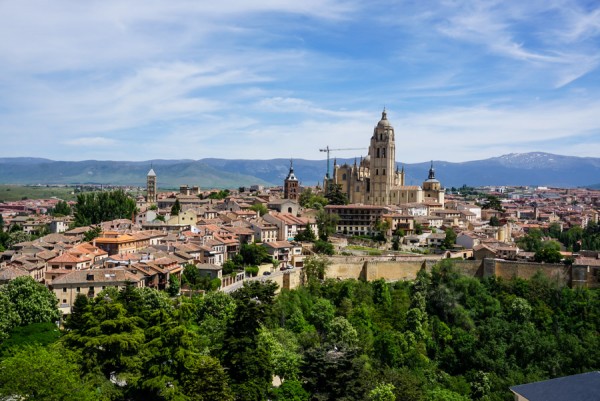 If you want even more views of the Sierra de Guadarrama, just wander around the area.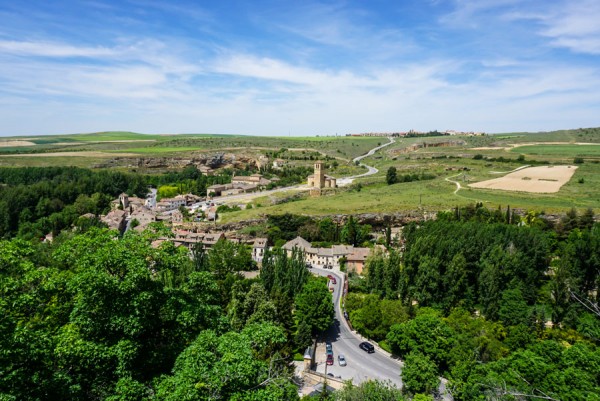 Where to have lunch?
Restaurante Jose Maria
Suckling pig (aka cochinillo asado) is the thing to eat when you're in Segovia. It's crispy, a bit pricey and the portions are big, so we shared a single serving. The main thing we missed out on was seeing the servers ceremoniously crushing through the pig with a serving plate. We got the boring fork and spoon version instead.
Pasteleria Limon y Menta
There is one famous cake in Segovia and it goes by the name of Ponche Segoviano. It's basically cake with custard covered in marzipan. Coming from a dessert lover, this thing fell a little short of tasting like a sugar bomb. But if you're into really sweet cakes, this will probably be a hit for you.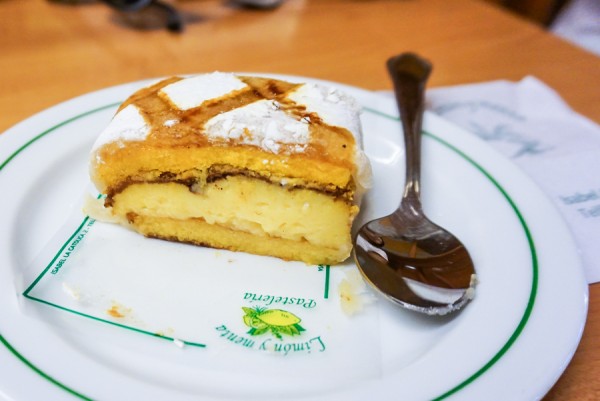 With great Medieval architecture around every corner and delicious traditional Castilian food, Segovia is definitely worth a visit and the hour bus ride from Madrid.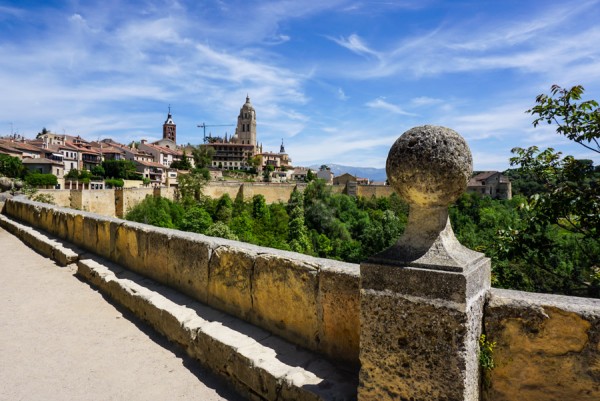 Do you have any other tips for seeing Segovia?
You might like:
Share and Enjoy