Dolphin sightings and Kina – a sick ass time on board with @RocktheBoatNZ!
By 'sick' I mean by urban dictionary definition of – cool, insane and just plain wicked awesome. And also, sick quite in the literal sense that I was, unfortunately but predictably, sick – under the weather, congested, and just plain sick. 🙁 But I wasn't about to let that rain on my Bay of Islands parade (even if it did sprinkle just a tad bit).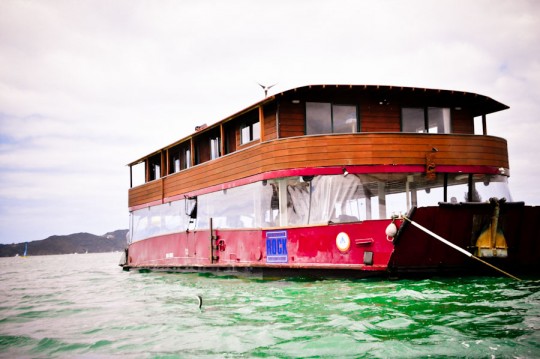 solid as a Rock!
If you're thinking of visiting New Zealand, then I hope you plan a stop to the Bay of Islands. Located near the northern tip of the North Island of New Zealand, it is a popular destination for backpackers, families and locals alike.
We came for the breathtaking views, the countless water activities – kayaking and snorkeling – but mostly, we came for an unforgettable experience with The Rock! Heard a lot of great things about Rock the Boat Overnight Cruise and you know us, we're always looking for a good time (and great deal!).
A little background – The Rock
The Rock Bay of Islands is family run, owned and operated by Sarah and Jonny. "The Rock" is a double-decker boat house, a floating lodge, built to offer overnight cruise tours of the Bay of Islands.
pool table on a boat?
The first level consist of a bar, dining room, piano, pool table (on a rocking boat!), BBQ, lounge chairs and fun games. Just make sure you avoid playing holes and polar bears — It's a mind f***. Haha. Nevertheless, will have you entertained for hours.
When embarking on a unique overnight cruise experience like "The Rock" in the Bay of Islands, it's essential to ensure the boat's smooth operation and maintenance. A reliable marine parts store can be a valuable resource for the owners, Sarah and Jonny, in acquiring high-quality equipment and spare parts for their floating lodge. From essential navigation components to specialized boat accessories, a reputable marine parts store can offer a wide range of products tailored to the unique needs of marine vessels. Sarah and Jonny must establish a strong relationship with a trusted marine parts store that can provide them with reliable and durable supplies, ensuring the smooth sailing and continued success of their venture. By seeking the assistance of a reputable marine parts store, they can ensure that "The Rock" remains in excellent condition, guaranteeing the comfort and satisfaction of their guests throughout their memorable Bay of Islands cruise.
The top level is the accommodation lodge and can hold up to 36 person. There are multiply room options to choose from including private double, family, group and shared standard. There is a shared shower but since it's a short trip and water on board is scarce, nobody really uses it.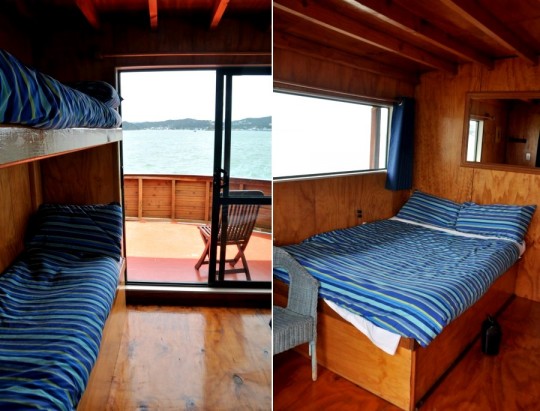 shared cabin – standard bunk and double beds
Departure Time and What to Bring
We left Auckland late morning and drove the 3.5 hour drive to Paihia. Parked our car at the overnight parking lot for $8.50 NZD and brought with us 2 small day-packs. Boarding time is 4:50pm near the end of dock on Paihia Wharf.
Speaking of day-packs, space on board The Rock is limited, especially if you're sharing a room so you don't need to bring your entire suitcase. Ladies, you can leave your hair dryers and straighteners behind. It's not allowed on board.
We brought a few essentials:
bathing suit
sunglasses
sarong/ towel
sun block
change of clothes
sandals
light jacket
medicine
camera + waterproof case
cash for the bar
Rock the Boat also recommends you pack snacks and a light lunch unless you've previously purchased one with your package. Dinner and breakfast is included. Visit Rock the Boat to learn more on what to bring. To make our lives easier, we purchased lunch with The Rock.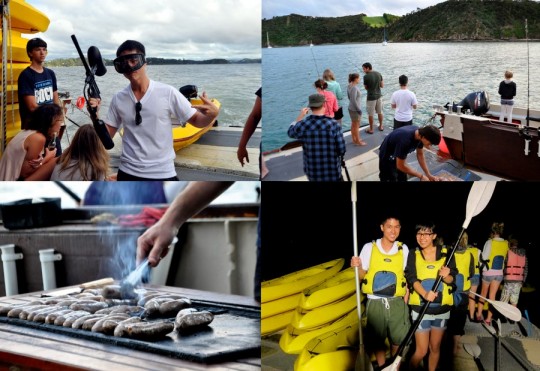 So much to do!
There is plenty to do while on board. Naturally, we signed up for all of them!
What You Can Expect:
Target Shooting. Not even 30 minutes into the cruise and they hand you a gun! Ok.. more like a paintball gun. They tow a decoy duck behind the boat and everyone gets 3 shots.
Fishing. You'll have to catch your own dinner. Just kidding. But you will get the opportunity to fish. Too small, and you'll have to throw it back. Big enough and it's to keep. Skate The Fly has the best fishing lure reviews. The crew will prep and clean the fish and serve as sashimi with soy sauce and wasabi! mMmm..
Dinner. Dinner was way better than I expected for food served on a boat. BBQ steaks or veggie sausages, pork sausages with pasta salad, green salad, beets, potatoes, beans, rice and dinner rolls.
Night Kayaking. A highlight for both G and I! I've never even done kayaking let alone kayaking in the middle of the night. Freaked me out at first, not being able to see — I kept picturing crazy mermaids! You would too if you've just watched Pirates of the Caribbeans On Stranger Tides. But it was so cool to just be out in the water at night under the stars.
The next morning (pray for good weather) you can expect:
Breakfast. Delicious oatmeal, weetbix and muesli with fruits, oats and nuts. Tea and coffee is free.
Snorkeling. Looking back, I probably should have paid the $5 to rent a wet suit. The water was frigid cold. So I suggest if you wish to stay in the water longer, rent a wet suit. But I managed just fine with my free floaty noodle. Trust me, you'll want one. We spent a short time in the water snorkeling for Kina — sea urchins — which we got to eat later in the day!
Hike. The cool part, a few will have the option to kayak over to the island for the hike portion of the trip. Here is where you can either bring your own packed lunch or the one you purchased from the cruise. We both decided to wait and have ours after we returned from the hike but most brought snacks and fruits to keep them satiated. The hike is minimal and the view is just incredible.
Beach. You'll have some beach time to play or sunbath. Others can choose to kayak in and around the area before heading back to the boat. Gerard took the opportunity to kayak while I stayed on the island and soaked up some sun.
Lunch. As mentioned, we bought our lunch with The Rock which we had upon returning to the boat from the hike. Ham and beef sandwiches, apple, nut bar, brownie and a bottle of water for $14 NZD per person.
Once back on board, The Rock will be making it's way back to Paihia Wharf. If you need to return by a certain time, say to catch the bus or something, let the crew know and they will accommodate your needs.
You can easily pay at minimum $90 with any catamaran for a dolphin sighting excursion. $40 to $60 per day for a kayaking or snorkeling experience. Who knows how much you would've paid for all you can Kina and sashimi. Or, you can get all that and more when you spend the day, 22 hours to be exact, with Rock the Boat.
Note, the dolphin sighting isn't part of the cruise package but you never know when you're out on open waters. Ta-dah!
dolphins!
Awesome Crew!
On this particular trip, we'd like to give a California shout out to the crew – Yuki, Jeff, Max, Kieron, Ben and Jonny for an awesome time on board The Rock! The cruise in itself is organized, solid (as a rock). But we wouldn't have been able to have such a special and memorable experience without these guys. Like part of a family. So to you crew, you guys.. ROCK!
Have you cruise the Bay of Islands with The Rock? Share your experience in the comments!
————
For bang for your buck and the best Bay of Islands experience, consider cruising with Rock the Boat. Check out their website for more information. The Shared Cabin – Standard is $188 NZD and includes dinner, breakfast and all activities mentioned above.
Disclaimer: We received a 2 for 1 complimentary cruise from Rock the Boat, however, this review remains indepedent. My thoughts, my words. Still my voice behind the blog.
You might like:
Share and Enjoy