What is the difference between shabu shabu and sukiyaki? Let us eat.
Shabu shabu and sukiyaki are two different types of Japanese cuisine where the food is prepared and cooked table side. Both are similar in style in that both used thinly sliced meat and vegetables and are usually served with a dipping sauce. However, the similarity ends there. The method of cooking yield two completely different type of cuisine, both delicious in their own way.
Sukiyaki is cooked skillet style and offers a rich flavor, seasoned with soy sauce and sugar, while shabu shabu is like a hot pot, cooked like soup, and tends to be more savory and less sweet.
Up until now, I thought I had a favorite between the two. That all changed during our recent trip to Japan. So which is better?

---
Shabu Shabu at Tajimaya
Here's one of the many reasons why I love Japan: it's OK to be sexist!.. when you're having all-you-can-eat Shabu Shabu that is. For once I'm not offend. I don't eat as much as the boys, especially not in 90 minutes, so I was happy to see I came at a "female" price. Score!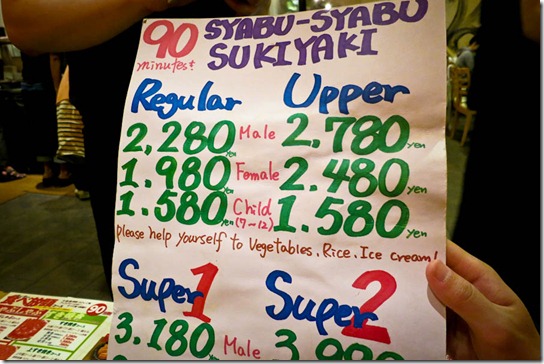 Thankfully Gerard's Uncle lives in Tokyo and had just returned from holiday the day before we had to leave otherwise we might have skipped shabu shabu at Tajiyama – it's quite expensive.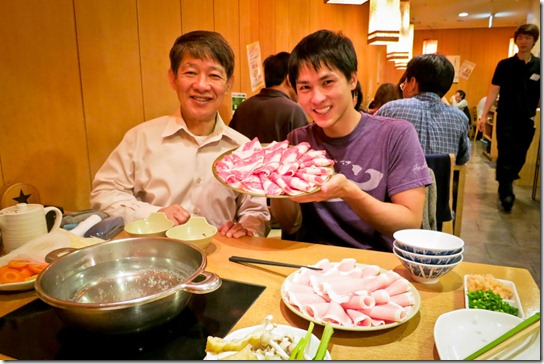 Once seated, Gerard's Uncle pushed for the higher quality (aka more expensive) domestic beef! Who are we to argue with that?
While we waited for the meat, Gerard and his Uncle stocked up on the veggies from the buffet line.
You can't go wrong with shabu shabu because it's all according to your taste. The condiments and sauces are provided and you flavor the broth to your liking.
The trick is to NOT overcook the beef. We dipped the meat in the boiling broth just long enough to sear the beef before removing from the pot and quickly dunking into our dipping sauces, either ponzu soy sauce or sesame sauce or, do as I do and double dunk your meat in both!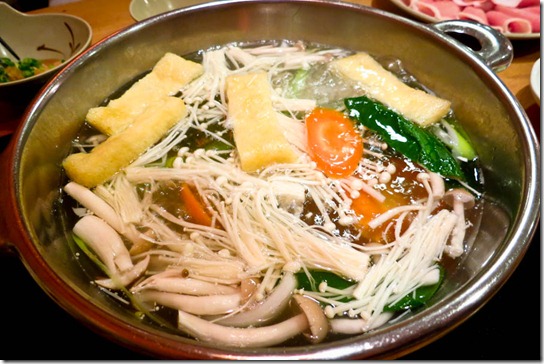 We did this nonstop for 90 minutes straight – dunking the veggies, slurping the noodles and savoring each and every prime beefy bite. Surprisingly with all that we'd consume, neither of us felt heavy or suffered from food coma though. It was a light and very satisfying meal from beginning to end.

---
Sukiyaki at Shabu-Zen
After a long afternoon of geisha hunting in the Gion district in Kyoto, we were starved for dinner. As we wandered the neighborhood, we stumbled upon Shabu-Zen and decided a splurge meal is well deserved for successful geisha hunting afternoon.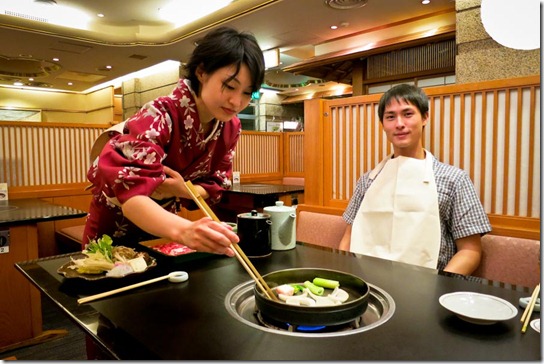 Neither of us really knew what we were getting ourselves into. We realized, we had never had a proper sukiyaki before. Ever.
Our hostess/chef cooked our food table side. Thank god because we wouldn't know what to do and probably would have overcooked everything.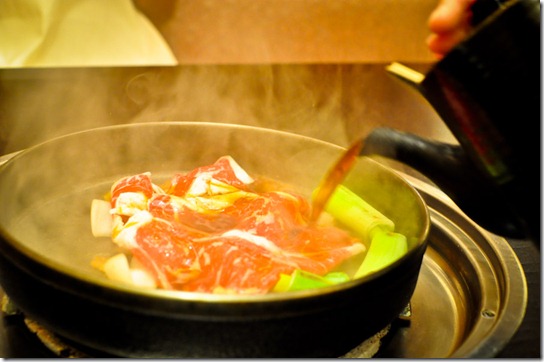 First she melts the lard. Then the meat and veggies goes in before she pours a hefty serving of shoyu sauce over everything.
Once cooked, she strategically adds some veggies, scallions and mushrooms, along with our seared American beef into our raw egg bowl.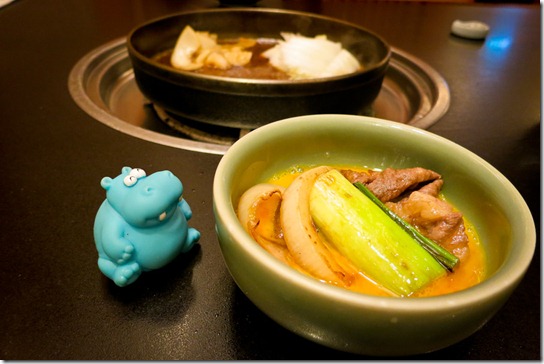 Up until now, I had no idea what the egg was for. She gestured for us to eat, and I nervously chopstick'd my now drenched meat and took a bite.

---
The verdict?
I never thought I'd say this, but.. I was in absolute raw-egg heaven!
I love the sweetness of the sauce and the richness of the egg so much so I was practically slurping, it was not the best table side manners. The grilled vegetables in shoyu sauce were heavenly from the shitake mushrooms to the delicate tofu, even the onions, and you know I'm not much of an onion person. Raw eggs.. who knew? Only in Japan.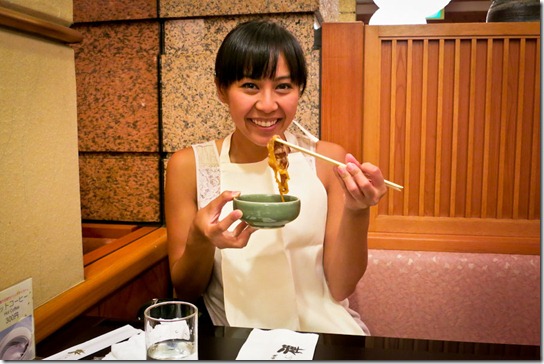 So there you have it, I have reformed. I am now, shabu shabu turned sukiyaki addict. That isn't to say I'll ever turn down a shabu shabu invite, because I've google'd sukiyaki back home and sadly, I don't think they make it quite the same way as they do in Japan. The most important ingredient is left out – the raw egg! So if you're lucky enough to come across sukiyaki done properly, let me know. Please?!
Are you Team Shabu Shabu or Team Sukiyaki?
You might like:
Share and Enjoy