We didn't know much about Istria, but when Kate from Adventurous Kate says it's the best kept secret in Croatia and Chris and Tawny of Captain and Clark tells you there is gold in the woods of Croatia's Istria province, we were sold.
With our new blue Mercedes rental car (new, as in 25 kilometers new!), off we drove from Zagreb to as far west to the Adriatic seacoast in search of hidden treasures.
Italy, and all things Italian for that matter, holds a special place in my heart. And I knew many say Istria reminds them of Italy but I never thought it would actually be like Italy. As in, people spoke Italian, strange hearing ciao instead of dobar dan. The coastal towns and lush hillside valleys are reminisce of Liguria, down to the ports lined with small boats, the wine, pasta and gelato. It's the closest you'll get to Italy outside of Italy itself. Good, because I wasn't successful in convincing G to take the 3-hour boat ride to Venice for a day. We were so close! lol.
And so we spent a leisure 5-days exploring Istria.
Stay in Rovinj
Surprisingly, it wasn't overrun with tourists yet when we visited mid-May. Our Airbnb host helped us out with overnight parking and we stayed right in the middle of Old Town, just around the corner from Tipico restaurant where you'll find, hands down, the best homemade cheesecake ever! Rovinj is the most popular for a reason and is the perfect hub to retreat back to after a day of sight seeing and exploring neighboring towns; easily our favorite in all of Istria.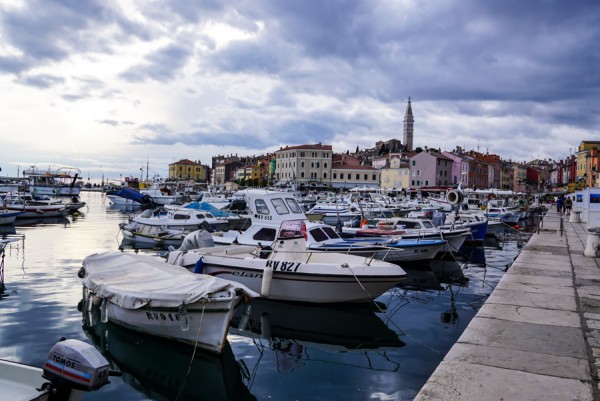 Day trips from Rovinj
Motovun — Motovun, like any other town, has its signature clocktower and is perched atop a hillside overlooking the lush Istrian forest. We came specifically for lunch at Konobo Mondo and their local fusi pasta with shaved truffles, of course.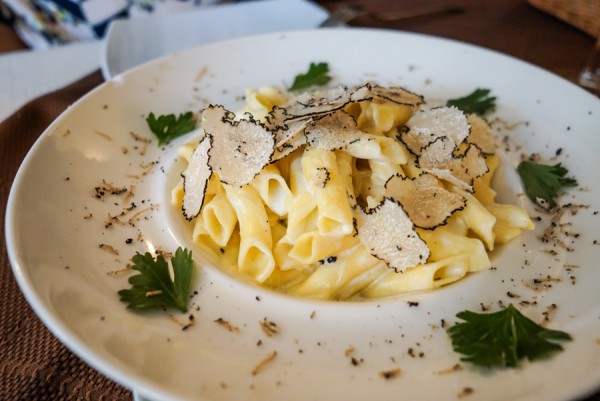 Truffle hunting in Buzet — The road to Karlic Tartufi is far and windy but scenic and oh so worth it in the end. Our dear friends over on Captain and Clark can tell you all about it. If nothing else, we came for the truffle scrambled eggs they cook for you after a good (or bad) day of hunting. Now, I'm not but of an egg person, especially when scrambled but I love truffles so I'll try anything it's sprinkled on. Ivan was our guide for the morning, his parents own the property so he's been doing this since he could probably walk and you can tell. His truffle knowledge, familiarity with the forest and love for their dogs is apparent.
We had a quick lesson on truffles in the store before heading out to the forest down the road. Ivan suggested we switch into some heavy duty, mud-durable hunting shoes rather than our casual tennis shoes and thankfully, they had our sizes on hand for loan. The trek wasn't difficult at all, just a bit off-roading at times depending where the dogs take us and it's a bit muddy and slippery — our shoes would have never made it out in one piece. If you too want to take your pets with you along a journey like this one, consider getting them treats made of CBD for dogs to keep them in top form.
The hunt was quick, no more than 30-minutes I would say which was perfect: enough to enjoy but not too long and treacherous to break a hard sweat. That day, we found 3 truffles. Would have been 4 if Betty, one of the lagotto dog, didn't eat the one she found.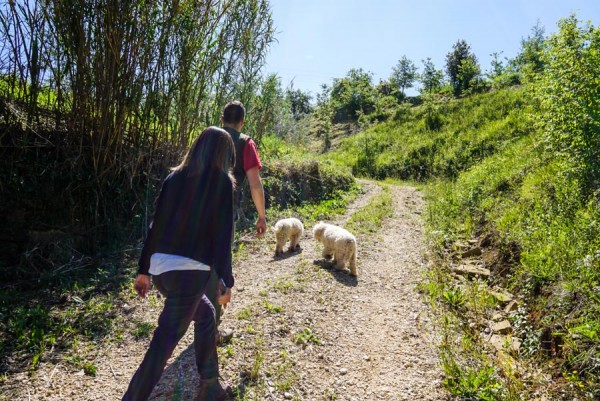 After a morning of hunting, we head back to the lodge and wait for our much anticipated brunch — the scrambled eggs! I kid you not, she must have shaved a good 5 to 6 whole black truffles right into the pan before pouring the eggs right on top of it. Probably the most sinful breakfast we've ever had to date.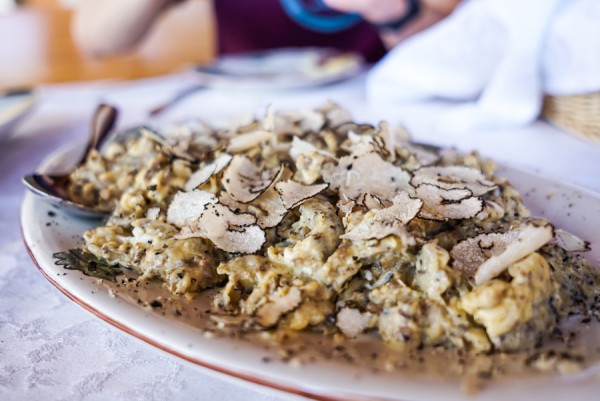 Groznjan — the smallest of towns we visited. Charming but not as wow as I'd imagine. I was expecting to fall in love with the place based on what I've read but in the end, but it just felt short for us. If you're into art then there are loads of boutique galleries to check out. Apart from that, it is a bit of a drive to get to and quite an uphill trek. Although, the uphill attraction does draw in bike tours, we saw loads of bicycles all over town.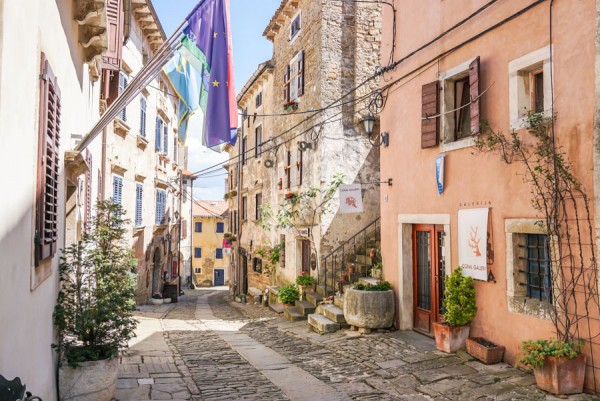 Bale — is a short drive from Rovinj, a stop along the way to Pula, and is virtually unvisited by tourists. At least on this particular day there it was pleasantly deserted except for a couple of weirdos like us goofing around. I adored the windy streets and colorful window shutters. The only drawback? There was a lot of road construction happening, old cobblestones getting repaved and replaced with new ones. Not going to lie, the new streets totally takes away from all the Renaissance charm that makes these towns so authentic and timeless.
Pula — is located in the southern tip of the Istrian peninsula, about 45-minutes drive from Rovinj and is considered the largest of the towns. It's practically a city. Lots of cranes and constructions going on, I found it to be a rather ugly city apart from the Amphitheater, Pula's very own Roman colosseum straight out of a scene from the Gladiator.
Jupiter's pizza is a popular place to grab lunch. Of course we ordered the truffle pizza. When in Istria, right? Wrong. The pizza wasn't bad, but wasn't great either. Yes, there was a hint of truffle but there was also a vague taste of olives — yuck, we hate olives.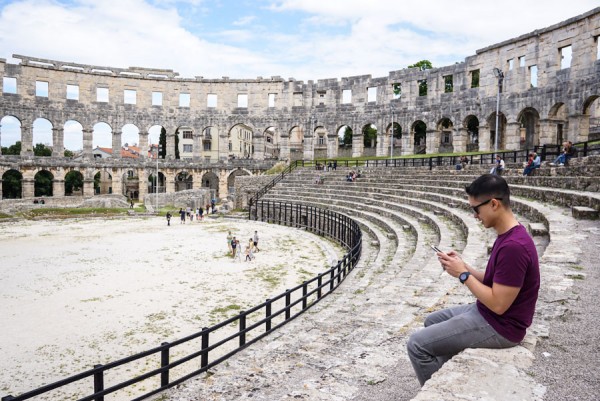 Don't forget to rent a car!
You wouldn't want to explore Istria any other way. The highway toll plazas, connecting bridges and never-ending tunnels alone are worth the drive.
What's your favorite thing about Istria?
You might like:
Share and Enjoy