We're on board the Norwegian Jade for a 12- day Mediterranean Cruise!
After a week of traveling on our own from Milan to the Italian Riviera and Athens, we were more than ready to settle into our balcony suite for the next 12- days without the worry of having to pack up and lug around our 40lbs suitcases.
Thanks to Hurricane Noel the year prior, we were able to cash out on our trip cut short to the Bahamas. And since we've made our way around the world by cars, planes and trains already, why not by boat!
I have a slight case of claustrophobia so thank goodness we splurged on a Balcony Room.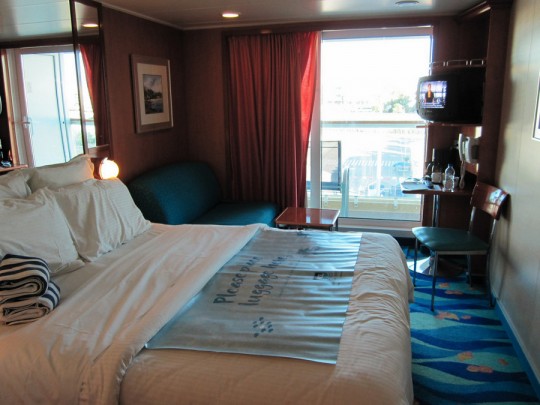 10th floor Balcony Room
Tip: If you're thinking of getting a Balcony room on your next cruisin', request for a room towards the middle of the boat and high floor. You can hardly feel the motion of the ocean. However, it's important to note that cruise ship injuries can still occur, and it's crucial to be aware of your legal rights if you or a loved one get hurt onboard. Here's more helpful hints for you!
If you're facing any cruise ship injury, sites like aronfeld.com/practice-areas/cruise-ship-injuries/ can help you understand your legal options and seek compensation for your damages.
The idea of people waiting on you hand and foot, beds made every morning and turned down every night, all-you-can-eat buffets, cafes and restaurants at whenever you wish to dine, Vegas-like shows and musicals to the nine, a parade of activities for every personalities, all the while waking up every morning in a new and fabulous city along the Mediterranean–well it sounds just heavenly.
Our schedule was set for the next 12 days in terms of activities on shore– camel riding in Cairo, scenic drive in Santorini and much more. But of the 12 days, we did have 2 days at sea allowing us to take full advantage of sunbathing at the pool, eating as much as our stomachs can handle and, of course, attempting to work it all off at the gym on board.
A typical day on the Jade
7am: Wake up and head down for breakfast. We started out dining at the grand dining room but gradually converted to the buffet style dining for convenience and time. Eggs benedict, waffles, sausages, hash browns, pancakes and the list goes on and on. You name it, we ate it.
8am: Everyday we port in a new city so to make the most of our days we were up bright and early. Packed our daypack with the daily essentials– cameras, water, light sweater, sunglasses, etc. The other 2 days at sea gave us the chance to sleep in and go about the day at a much slower, lazier pace.
The day: Most of the day was spent on shore excursions. The 2 days at sea was all about the pool and the food– BBQ's, Asian, Indian and everything in between. mMmm..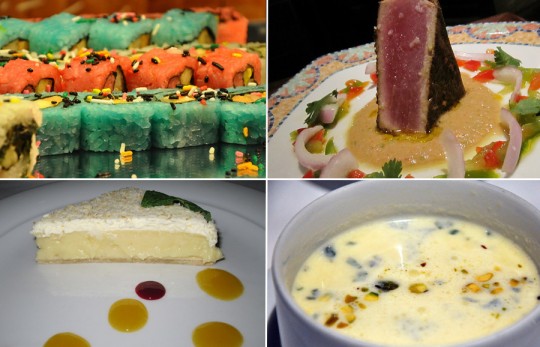 Food aboard the NCL
4 or 5pm: Return to the ship and head straight to the cafe for a light bite– tomato soup, burger and fries, etc.– before heading back to our stateroom to rest for dinner and night activities on board.
7pm: It's nice to have the luxury to go out onto the balcony and just relax. We spent a good portion of early evenings doing just that. Also watched a lot of movies on the television before washing up and heading down for dinner and show. I took this time and opportunity to do laundry in our sink. We weren't about to pay $5 per garment, any garment, to have it done on the ship. Having a balcony came in handy when we needed to dry all of our clothes.
9pm: Dinner for most nights was in the main dining room. Everyday is a different menu. We opted a few nights to dine at the specialty restaurants which had an additional surcharge but was a great change of scenery and food; tapas one night and Asian fusion another.
10pm: I was usually beat by this time after a long day of constant walking and sight seeing so for most nights, we retreated to our room. On the few nights where we weren't exhausted, we managed to catch the shows which were amazing. NCL Jade has great line ups and acts from musicals to magic shows to comedian acts.
Have you ever traveled by cruise ship? We'd love to hear about your experience!
You might like:
Share and Enjoy