Back in July 2007, while in Boston, G found out he had won a prestigious award at work– The All Star Award– only handed to a select few in the entire company each year!
The prize?! An all inclusive trip for two to the Bahamas! The trip included a week stay at the Four Seasons on the Great Exuma at Emerald Bay with daily activities such as spa, playing golf with the best pineclubgolf.com equipment and snorkeling to name a few.
This is definitely a great place to enjoy golf and enhance your skills at the same time using training equipment with the best brands.
Sounds like paradise, right? It was up until Hurricane Noel decided to rain on our parade.. literally.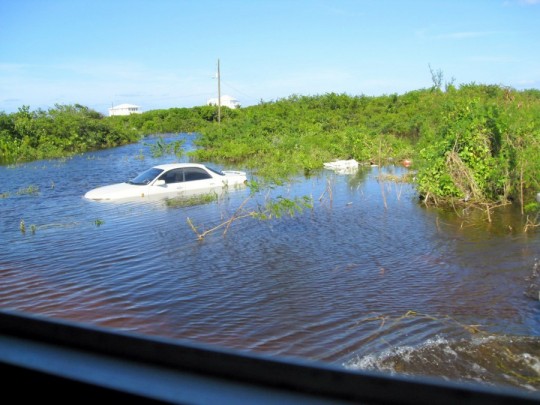 Flooding from Hurricane Noel on the Great Exuma
We flew in early to Nassau to spent a few days at Atlantis before meeting up with the group in the Exumas. And while it was a bit cooler and the beach was not safe to swim in, we still had a great Bahamas experience so we figured Noel didn't do much damaged. Boy were we wrong. It wasn't until we flew to the Great Exuma did we realized how badly Noel had damaged the rest of the surrounding islands.
The Great Exuma was completely flooded.
We had to take a yellow school bus from the airport to the hotel because it was the only thing that could drive through the flood waters.
When we finally arrived to the hotel, there were less than a handful of staff. People were unable to get to work because of the severe flooding. Furthermore, we were informed no one from our group is here because the trip had been canceled. They tried to get a hold of us but we were in Nassau with no phone or internet connection to check email.
We were stranded on a deserted island. 
Aside from our event planner and a couple from Brazil, we were the only ones in the entire resort. We couldn't believe it. After realizing the news was not a joke, we were told flight arrangements has been made for us to fly home tomorrow. Our stay however, including dinner and breakfast will be taken care of by G's company. Phew.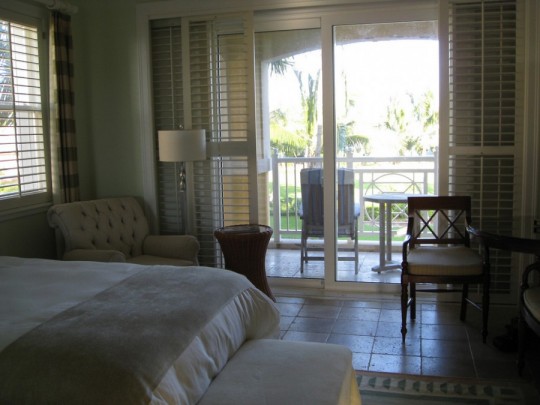 Our room at the Four Seasons
Our one day at the resort was not all that bad. While we weren't allowed to swim, the water was too contaminated, we walked the premise and golf course and it was actually quite nice. Felt like a celebrity who booked out an entire resort all to themselves.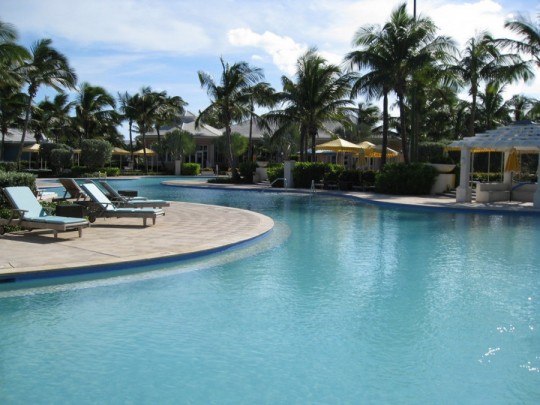 Four Seasons at Emerald Bay
For an early dinner, we ordered room service– best.. best french fries I've ever had! Lucky for us, the Chef was able to make it to work so we were able to have a nice sit down dinner and breakfast the next morning before departure.
The upside to all of this? There's two! 
1. We got to stay at a Four Seasons! (even if it was for just one night)
2. G cashed out! His work paid him out for the trip lost since they were not planning on re-organizing another any time soon.
You know what that means.. time to decide on where to go next!
Share and Enjoy