You'll be trippin' too after visiting this historical town of baked beans!
Sure we had a little run in with some less than friendly (rude) locals. But then we also came across some more than generous ones who offered us free canolis!
All in all, we thoroughly enjoyed our visit to Boston. I love it's old American charm — the narrow stone roads, the brick buildings, centuries old cemeteries — all of it makes a picture perfect American history postcard. If you ever want to see the history of this great country, Boston is a great start.
Planning a visit? Here are some highlights, our Boston at-a-glance.
See.
The Freedom Trail.
There's no better way to see Boston than on foot. Boston is not car friendly. The streets are narrow, the historical and architectural landmark, dense, so if you're driving, you're sure to miss out on something interesting. Take our advice, walk.. and don't blink.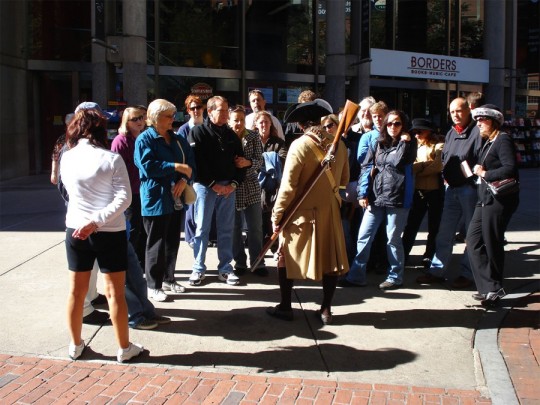 This 90 minute tour is a not only entertaining and fun but educational as well. You'll be transported back in time instantly with your 18th century costumed guide!
Did you know: The man you see on Sam Adam's beer is not actually Samuel Adams. You're actually looking at a portrait of Paul Revere on those beer bottles since Sam was not exactly easy on the eyes back in the day.
Duration: 1.5 hours
Cost: $11 per adult
Website:  The Freedom Trail
Eat.
Giacomo's Ristorante.
Our tour conveniently ended in The North End, Boston's Little Italy so we made our way over to dinner at Giacomo. You'll definitely wait in line so pick up a canoli or two at a nearby bakery to hold yourselves over. The restaurant is small. The service is blah. But the food sure makes up for everything including the long wait. Try any pasta with their signature Giacomo sauce and you won't be disappointed. The lobster ravioli is great too.
355 Hanover St | North End | 617.523.9026

Kingfish Hall.
For the record, the food was ok. I expected more from Todd English. It's a good thing we didn't come for just any food. We came for chowder and for the best New England clam chowder you'll ever have (clam chowder is very subjective, many people have their own favorite. This is ours.), head on over to Kingfish Hall.
188 S Market Blvd | Faneuil Hall Marketplace | 617.523.8862
Trip.
Boston Duck Tour.
Not a cheap tour, that's for sure, but loads of fun. The duck tour is known for it's laid back, quirky guides with big personalities. It's a great option for family with children.
4 Copley Place, Suite 4155 | Website | 617.267.DUCK

Harvard.
We spent an afternoon wandering campus and I have to say, feel smarter already. G feels the same, rubbing elbows with the country's finest. Check it out. He fits right in, doesn't he? 😉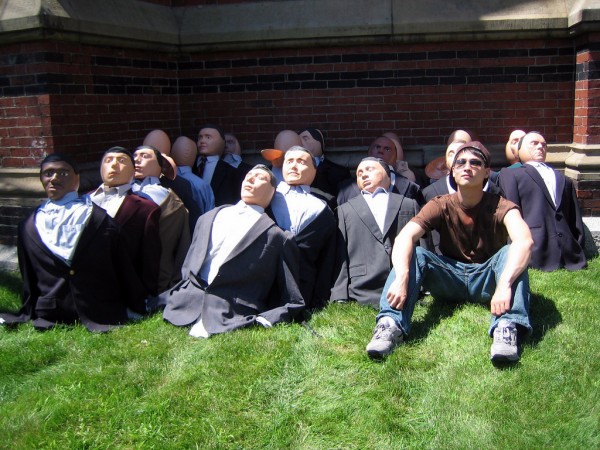 Shopping on Newbury.
While we didn't get a chance to catch a baseball game at Fenway Park (something tells me we wouldn't have been able to get tickets to the game anyway), we did manage to get in some shopping on Newbury Street! Newbury Street has got to be the most enchanting neighborhood I've ever stumbled upon. And it has it all! Retailers, salons, restaurants and an eclectic array of boutiques that is sure to please everyone.
Share your Boston highlight in the comments!
Photo credit: 1

You might like:
Share and Enjoy