When is the last time YOU had to pay $20 for edamame?
Never is my answer. Until now. But dining sushi is highly recommended by those who have visited Rio — "You should definitely eat sushi", they say. Naturally, we had Manu make reservations.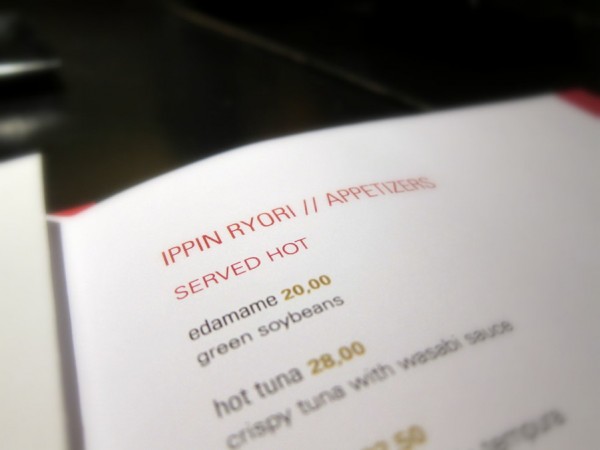 Our sushi reservations kept changing from Togu to Ten Kai to Sushi Leblon and then back to Togu.
If you're thinking of having sushi in Rio, check out our experience from Rio's top 3 hot spots, think twice and get ready to shell out some serious Reais!
1. ten kai.
Ten Kai came highly recommended by our guide, Manu. We decided to cancel reservations at Togu and go here for our first best sushi experience in Rio.
And at first glance of the menu, a WTF look washed over all our faces.
You would think somebody would bother to prep us for what we can expect to pay because sushi in Rio is not just expensive — that's an understatement. It's an outrageous, wallet- busting experience. More so than having a Brazilian steakhouse experience. At least we were prepared for that!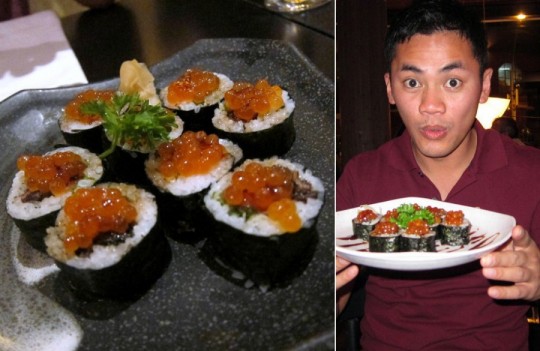 A delicious twist on salmon skin rolls.. best dish on the menu! About $25.. that's $5 per piece! Lol.
But we're not going to let money bring us down for long. Although, I don't know if any of us could quite get over the shock of paying $20 Reais for edamame. Seriously! For edamame? Stuff we get for free back home. Safe to say we didn't order that! I don't care how good edamame is here. That's just ridiculous.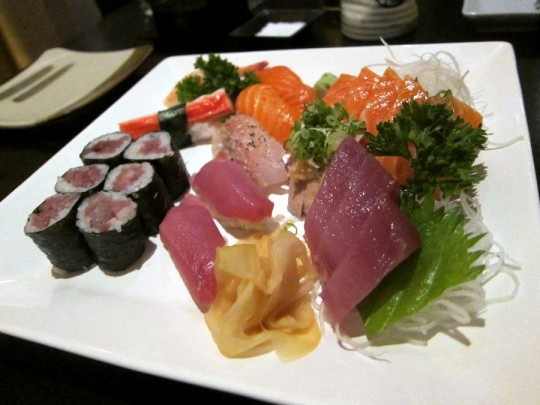 A not- so- unusual spread of sashimi and nigiri.. that only cost $100!
Tonight's dinner calls for a beer. And lots of it for the cash we're dropping for what I thought was a good, not great, meal.
2. sushi leblon.
There are plenty of sushi restaurants in town, some highly reviewed ones like the ultra posh and trendy Sushi Leblon.
We did not have the opportunity to eat here, the line was too long. We can't speak for the food, but from the looks of it, it's everything reviewers and bloggers say it would be:
trendy and hip, it's where all the celebrities go
It really is the place to go to see all the hot people of Rio. Upscale and slightly snooty in my opinion, I doubt us "little people" would have had a chance in hell at this place.
That said, if you'd like to splurge on sushi in Rio, we highly recommend putting your money to the best sushi in town– Togu!
3. togu.
You heard right. We gave sushi another try knowing it would probably cost us another arm. And finally, all hail to Tripadvisor's #1 pick for best restaurant in town.
Togu was actually my first pick as well but after we had such a wonderful day with Manu, we took his word for sushi recommendation and decided not to go to Togu but Ten Kai instead.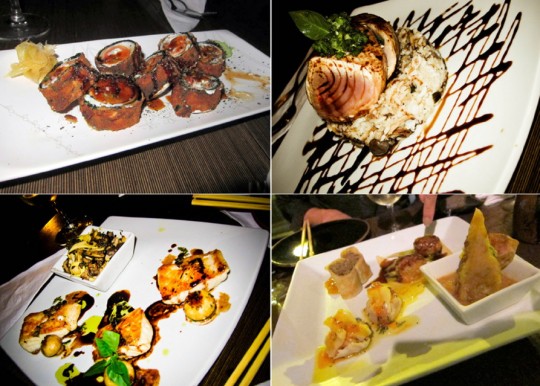 Rua Dia Ferreira 90, B | Leblon | tel: 55-21-98593439
Should have trusted my planning skills. It has never failed me before.
The restaurant is tiny. And even though we had to wait a good hour or so (it's the same wait everywhere else) it was a good hour well wait.
The owners accommodated us beyond the call of duty. While the staff was busy helping seated patrons, they offered to take our appetizer order to hold us over. And when it was finally our turn, they help move tables and chairs to get us all set up outside under an umbrella. The service is impeccable.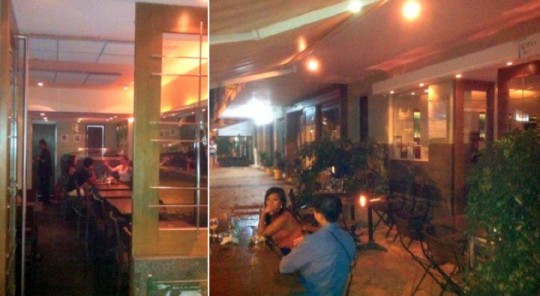 The ambiance, the decor and, more importantly, the food is forward and original — out of this world and outrageously delicious.
This should be everyone's first sushi/Asian fusion experience in Rio. However, it should equally be their last. So glad we were in the neighborhood and Sushi Leblon was packed, as usual. Funny how things work out.
And since we have yet to go to Japan (yet), best most unique sushi experience we've ever had!
You might like:
Share and Enjoy