A safari through the Serengeti was the main reason we chose East Africa for our honeymoon. Plus, who wouldn't want to witness the Circle of Life in real life? To say we were a little excited for this game drive through Ngorongoro Crater and Serengeti National Park would be understated.
Day 1 had us up at 4am to get dressed, eat breakfast and leave camp. The drive to the gates of Ngorongoro Crater took 2.5 hours and our goal was to be the first ones in right when it opens.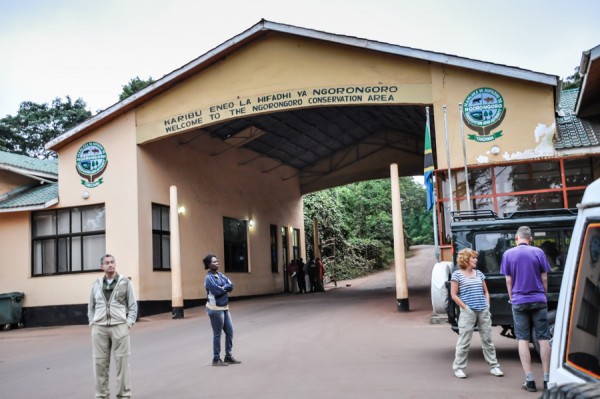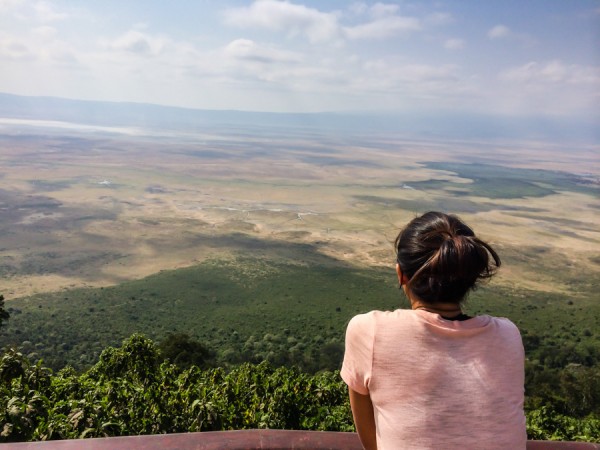 It only took 20-minutes or so on our descent into the crater when someone to spotted a lone hyena in the distance. In that moment, the excitement kicked in and I thought to myself, this is so freakin' cool! (And, boy are they ugly).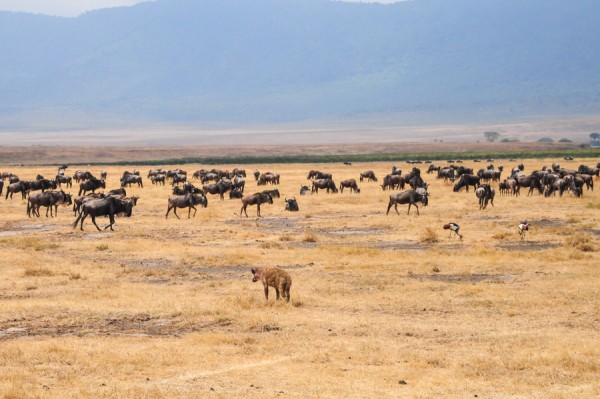 Not long after, Pumba, a young warthog, crossed the road with his family in tow.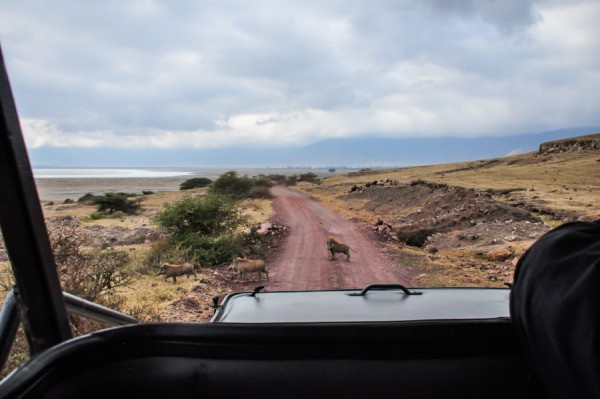 We didn't spend much time in the crater, we needed to make our way to the Serengeti which was another 2.5 hour journey on rocky gravel. I think to lessen the bumpy ride, our driver decided to drive at warp speed, attacking each rock with no mercy. My butt felt every rock on the road. My face, covered in a thick layer of dusk.

But alas, we made it to the gates of the Serengeti and was greeted by a group of young Masai teen boys. They surrounded the bus, asking for food and money in exchange for a photo.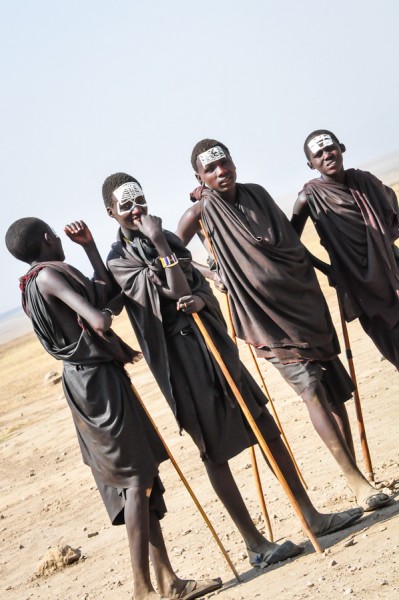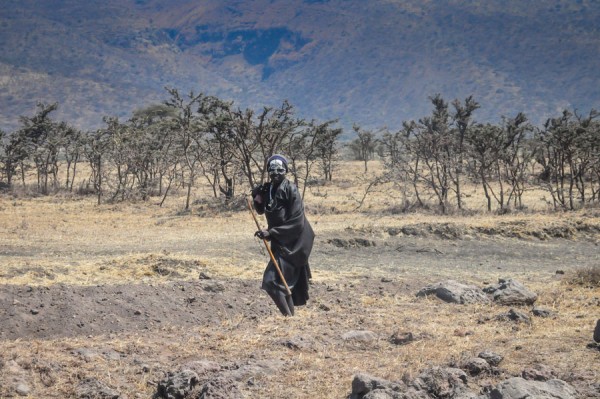 Q offered one a banana and Gerard snapped this photo. The boy wasn't thrilled for not getting compensated with money, but took and ate the banana anyway.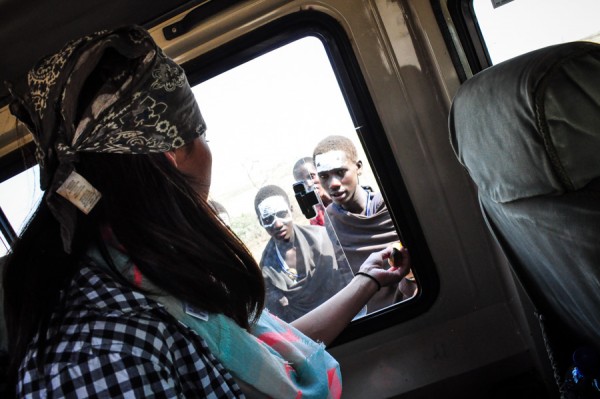 We made it into pass the first gates and continue to drive onward.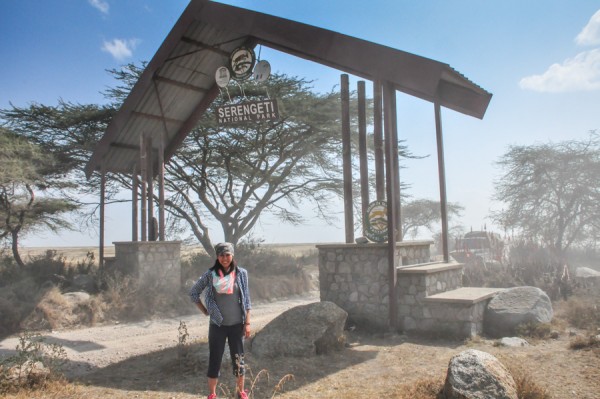 It did not take long for us to spot the King of the jungle. Our first male lion followed closely behind by three female lions. Just down the road, their cubs huddled and played in the shallow shrubs.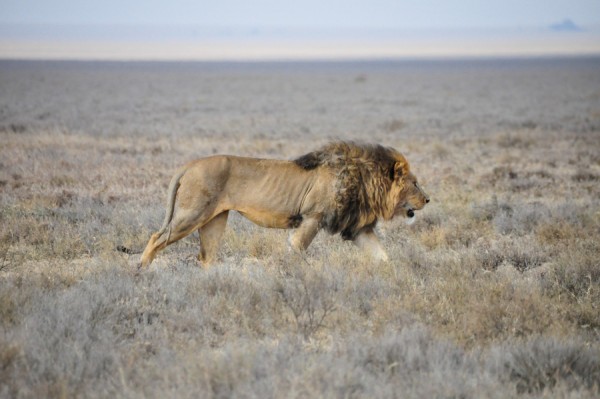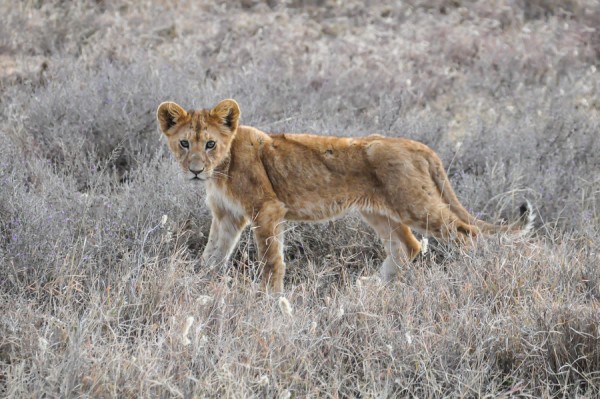 I couldn't believe how easy it was to spot lions and cubs. We kept running into them throughout the day. Some even got dangerously close to the safari jeeps, we did not seem to bother them one bit.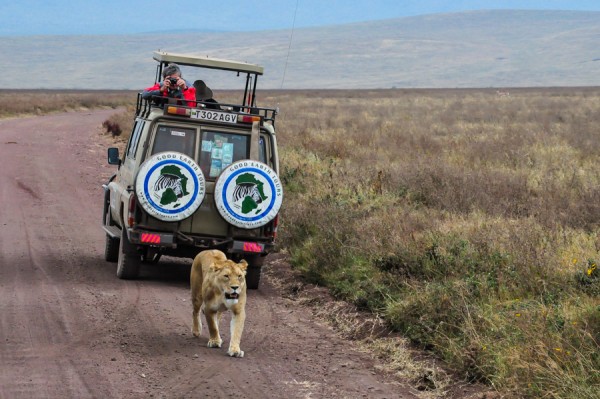 As the day went on, we saw a parade of elephants, a hippopotamus, water buffalos, more gazelles, colorful starling birds, rambunctious monkeys and so much more.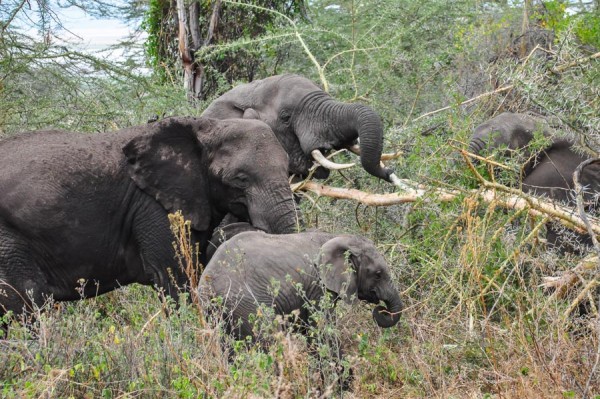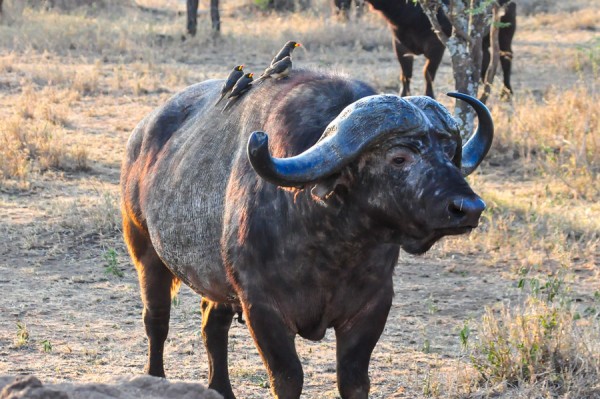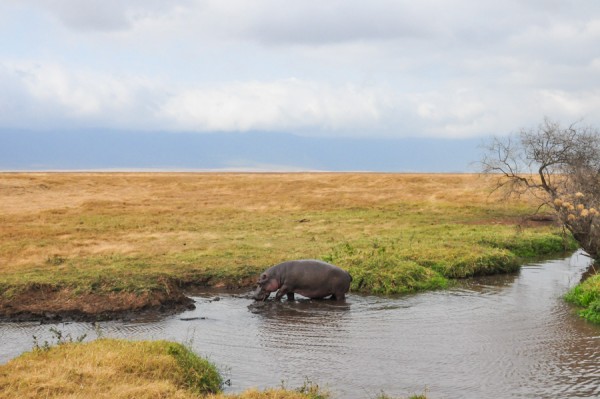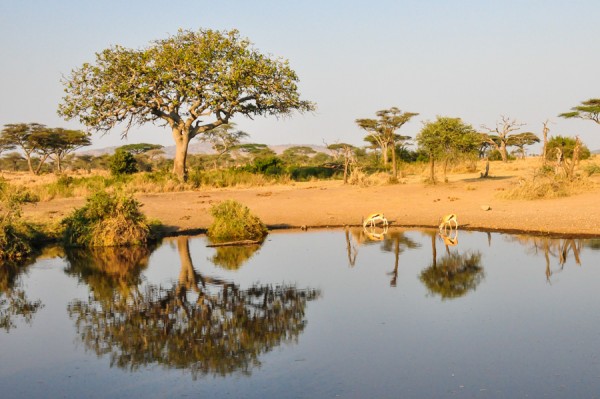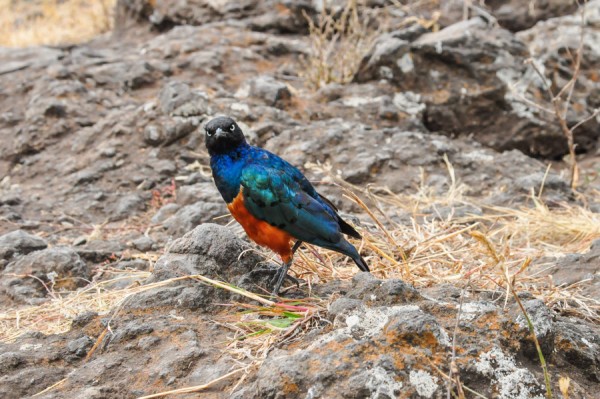 The sun was beginning to set as our jeep made its way towards camp. Just then, our driver caught wind of a leopard sighting nearby. The thought of getting a glimpse of the elusive leopard, the hardest of sightings in the Serengeti, on our first day no less, we were beside ourselves. We made our way to this giant boulder and at first, could not see anything. He was hiding in the trees. The sun was quickly setting and it was just a matter of time before our jeep turnaround and left.
Just then, just when we were about to give up and go, he decides to come out and catch the sunset with us. Rarely if ever do I think we've ever been rendered speechless, at an animal sighting no less. But here we were, standing on the edge of our toes  in the jeep with binoculars in hands, staring eyes wide open at this spectacularly beautiful creature. It could not have been more picture perfect than this — catching sunset in the Serengeti beside a leopard.
That evening, we slept in our tents in open wilderness amongst the stars.. and hyenas paroling the campsite. It was terrifying and exhilarating at the same time.
Good morning, Serengeti! Not wasting time, we headed out early to catch sunrise over the acacia trees.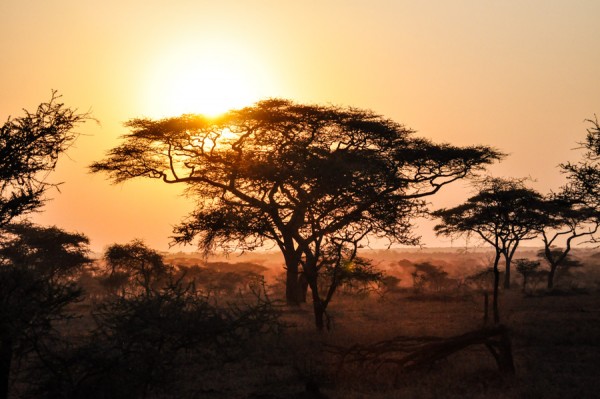 Our last day in the Serengeti did not disappoint. It was a predators day and we were simply in awe yet again.
Found this cheetah feeding on fresh kill early in the morning. What?!!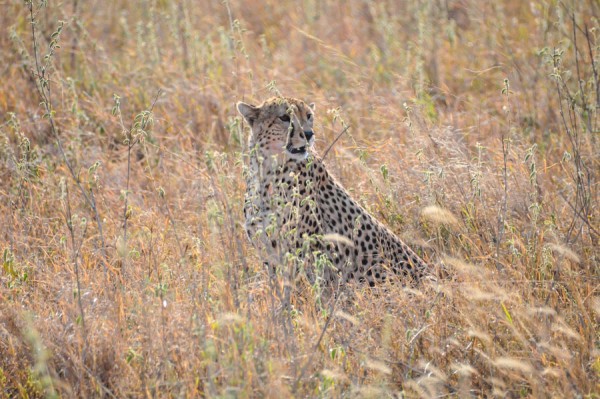 As we make our way out of the Serengeti, we stopped and gazed at this parade of elephants.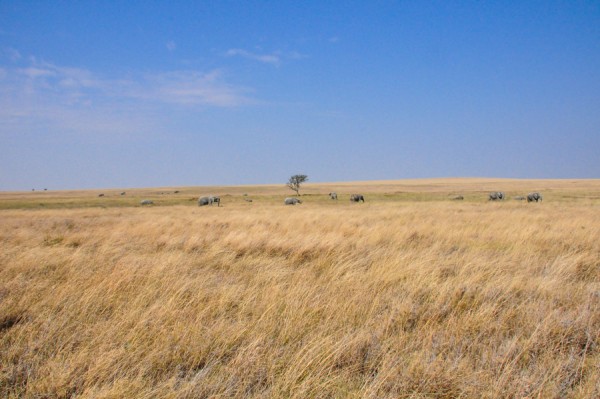 It was apparent we overstayed our welcome as a straggler member of the parade grew irritated of our presence and decided to charge at us. Check out the video here.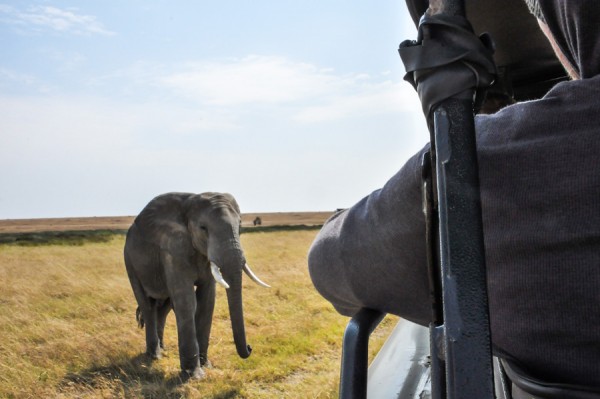 Day 2 ended with more predators than we could have ever hoped for. At first, I was surprised to witness two male lions on the prowl.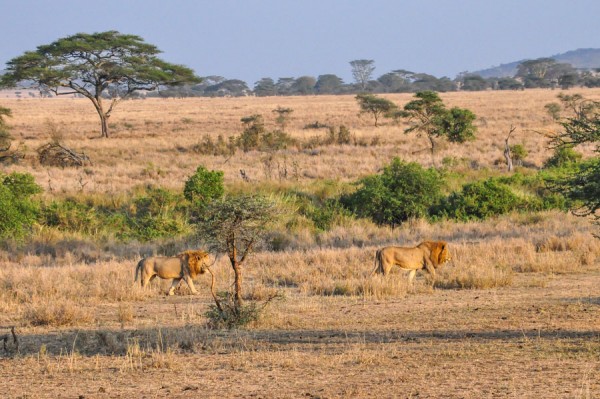 A closer look had us all silenced as we looked up and catch this spotted fellow up in an acacia tree hiding from the big bad boys below.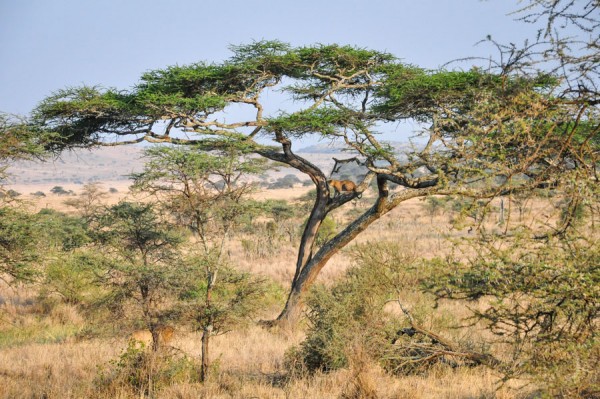 I couldn't believe our luck, two lions and a leopard!! It's rare enough to be able to see one leopard on a safari trip — we met some friends who weren't so lucky on their trip out — but we were fortunate enough to see two!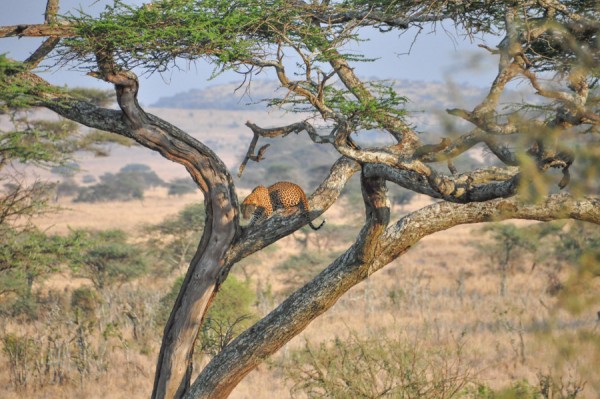 What a way to end a spectacular safari and a memorable honeymoon at that.
Silly question to ask but, is the Serengeti on your bucket list?
You might like:
Share and Enjoy