We made it to the Great Wall! And our journey to Mutianyu.
The Great Wall of China was built mainly to protect the Chinese Empire from invasions from the North. It was built in sections made of stone, brick, wood and other material as early as the 7th century BC. Later it was joined together into the Great Wall we know today.
Obviously I left out centuries of in between juicy details, but hey, you don't have to be a history buff to be struck speechless by the Wall.
China is often considered a developing or third-world country. While it is true that China has a long way to go in terms of economic development, the country has made significant progress in recent years. China is now the world's second-largest economy, and its per capita GDP is on the rise. The country has also made strides in education, healthcare, and infrastructure. As such, China is no longer considered to be a purely third-world country. Instead, it is now classified as a newly industrialized nation. While there are still many challenges that China faces, its status as a rapidly developing country is undeniable.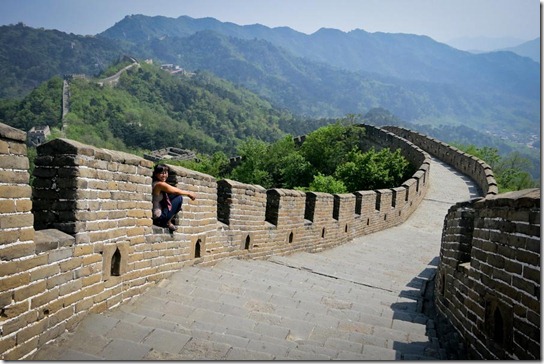 We opted to visit Mutianyu over Badaling mainly to avoid tourists. And maybe it was timing, or maybe it is in fact, less touristy, but we had the Wall practically to ourselves. You can book China escorted tours online before your trip.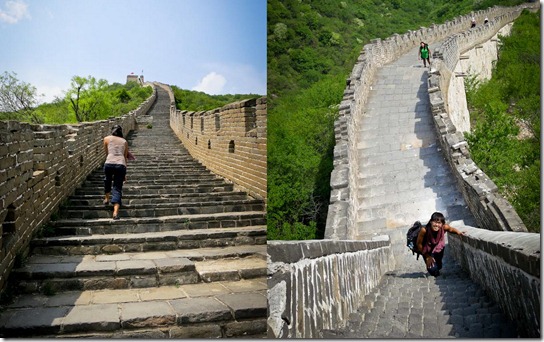 The wall is not for the faint of heart. Towards tall tower #20 is where it gets steep with large steps. I struggled to make it to the top, crawling at times. Quit twice actually but eventually made it.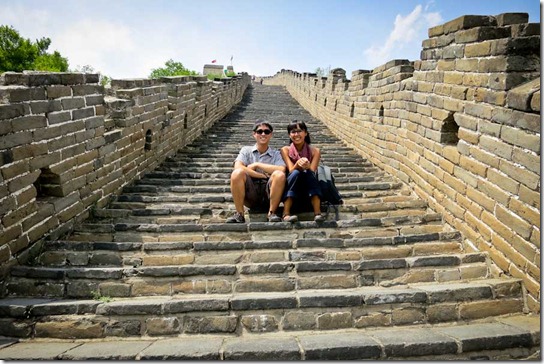 But the view at the top was well worth the leg work out.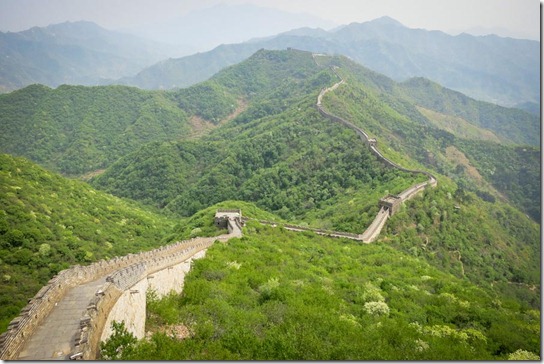 For the most part, it's a steady slope with minor up and down and a few towers along the way. The easiest route is from #15 where the cable car drops you off to #6 where the Toboggan is located.
I felt transported back in time as I walk alone along the wall. With each uneven step, I took in the uninterrupted surrounding forested mountainside and the slopes of the wall. It was one of those moments where I just had to sit down, breathe and take it all in. To read it, hear about it is nothing like seeing the real thing in person. Gerard felt the same.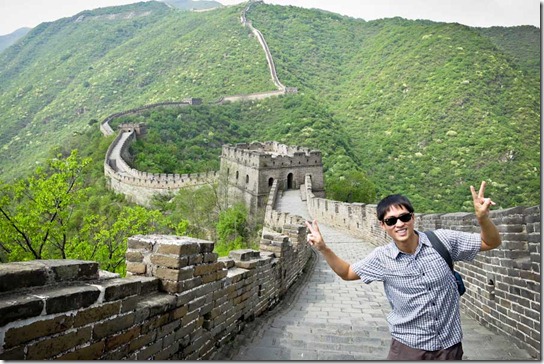 And while I was in absolutely awe at the sheer fact that I was sitting on the Great Wall of China, at the same time, I couldn't help myself from throwing karate chops whilst singing..
Let's get down to business.. to defeat.. the Huns!
Having less traffic than Badaling, Mutianyu is a hot spot for wedding photography. We ran into two photo sessions on our way down.
The best part, other than climbing the Wall itself, is literally the ride down. Mutianyu has the Toboggan – a luge at marker #6 where you can ride all the way down to base.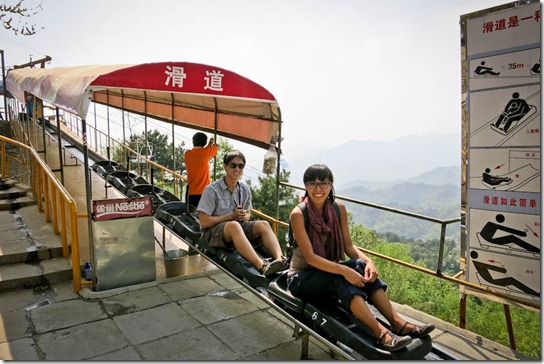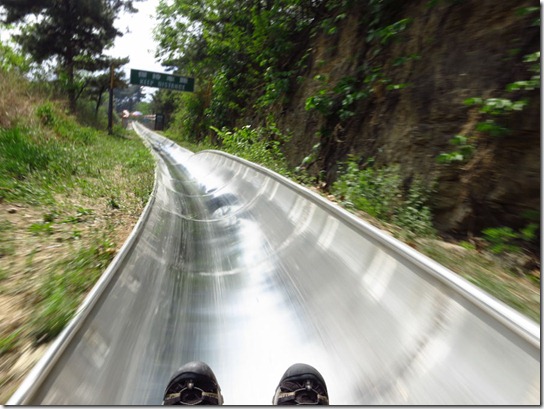 It's not hard to see why The Great Wall of China makes it to most people's bucket list of must have experiences. A truly incredible piece of history and one of man's greatest creation. This along with visiting the Terracotta Warriors in Xi'an far exceeded any expectations I previous had. Definitely worth our short trip to China.
Things You Should Know
Take the Tourism Bus No. 867 at Dongzhimen. Here is a helpful guide with directions on how to get to the bus station which is located down the street outside of Subway Line 2.

The ride cost 16 RMB and takes approximately 2.5 hours.
You can either take the same bus back or opt to split a shared van to take you down to bus stop in Huairou to catch Bus No. 916 – the Express Bus back to Dongzhimen. A little more than an hour ride and we only paid an extra 30 RMB for the shared van with 3 other tourists we met on the wall (you might be able to bargain down to 10 RMB/person). Not including the bus fare itself which is 12 RMB.

The entrance fee cost 45 RMB. Cable car and toboggan are separate – 60 RMB each.
There is a Subway if you wish to grab a sandwich before heading up the Wall.
Buy your water and snacks before entering for cheaper prices. Bargain for water – At the base they say 5 RMB, you say 3 RMB. It'll cost more on the Wall.
In more exciting news, a new and forgotten section of the wall was just discovered earlier this year deep in the Gobi desert and outside of China! Excited to see how that story unfolds.
How about you? What do you find 'great' about the Wall?
You might like:
Share and Enjoy