We were sort of invited.. umm not really. But we went anyway.
If you've been keeping up with our 30 before 30 bucket list, you know I've always wanted to take part in a traditional Indian wedding. What better way to do that than in India, right? To capture beautiful weddings like this, it would be a no-brainer to hire trustworthy professionals who offer services such as sikh wedding photography. They have an amazing job and also offer their service as a Richmond portrait photographer serving the greater Richmond area.
Lucky for us, we were Couchsurfing in Jaisalmer and asked our host if he knew of any weddings happening during the time we were there. Surprisingly he said yes, and that we were more than welcome to come. We didn't actually get an invite from the bride and groom but as we found out later, it's a celebration that involves the entire village, no invite is really needed. We also decided to use Wedding Tropics dress and suit to match the theme.
I love traditional Hindu weddings because the celebration last for days. And while I didn't get to partake in the Mehendi event where the women gather at the bride's house and henna one another, we witnessed the festivities the day before with dance and music including a dazzling performance by Queen Harish, the world-famous cow belly dancer!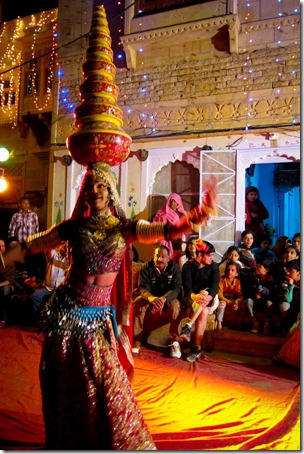 We also participated in the main ceremony with the arrival of the 'Baraat' – the formal procession from the groom's house to the bride's.
Since we joined the groom's family, we were called 'Baraatis'. There was a lot of music and dance and fun in the streets as we made our way down towards the bride's house.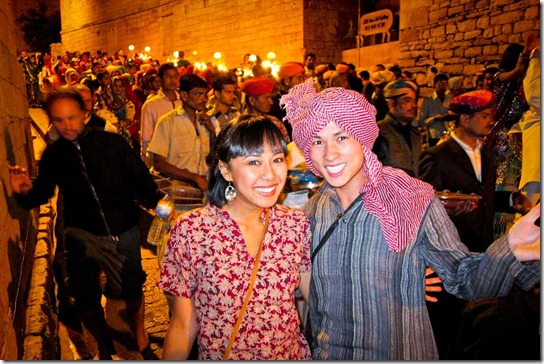 As you can see, the entire village is involved. Young boys carry lanterns while the women follow close together behind the proceeding dressed in their best saris.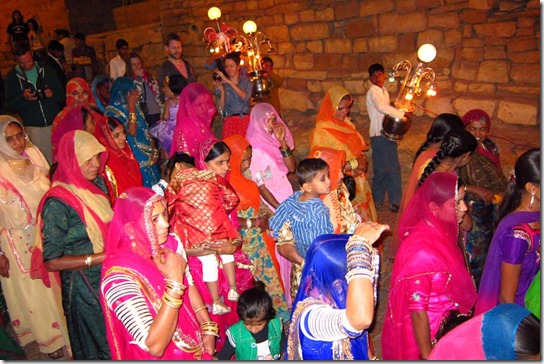 The men follow close behind the groom and are the ones dancing and enjoying the music. Every now and then they'd stop and everyone would dance around in circles. Which is probably why it took us over an hour to make it 1km down the dirt road.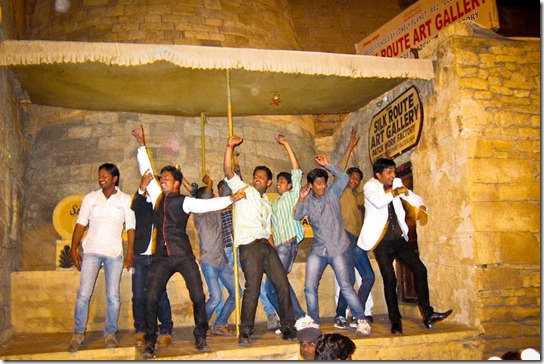 We obviously joined in with our Couchsurfing host and his friends and happily danced our way to Bollywood dance remixes and Gerard's personal favorite song on repeat, Nasty Boy, all the way to the bride's house. He's never danced with so many boys in his life.. haha.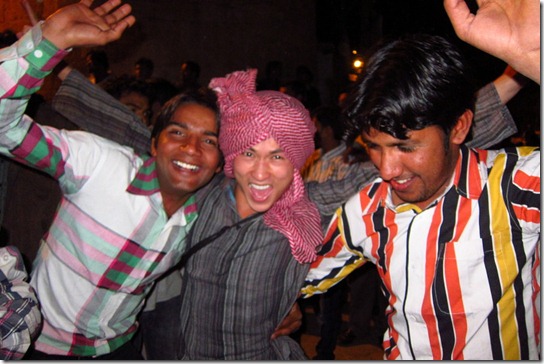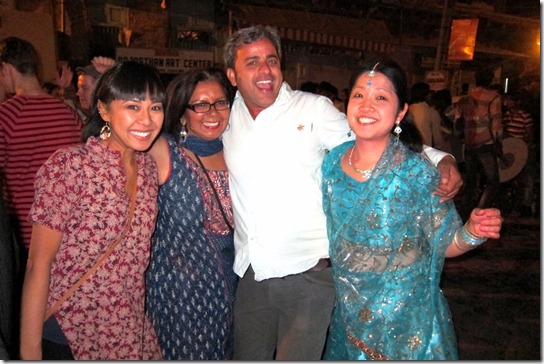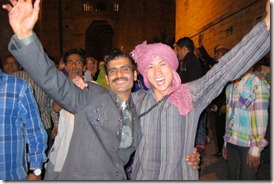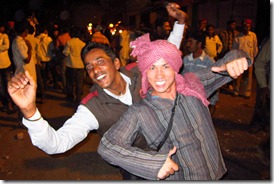 For Gerard, the wedding walk was fun, he blended in with the rest of the men (sort of). It was quite a different story for me.

Being one of a handful of female tourists who joined in with the men's dancing festivities, I was grabbed several times by drunken, overexcited guys wanting me to dance with them. At one point, one got so aggressive as to grab my wrist and wouldn't let go. I was grateful for our new friends in Jaisalmer, they protected me throughout the night and shoved the poor drunken boy who grabbed me.

Wrist grabbing incident aside, I did have a great time. Hey, at least it wasn't my boob this time, right? And, I got to check off a bucket list dream – partake in a traditional Indian wedding. And I must say, they do know how to celebrate a joyous occasion.
What traditional wedding ceremony would you like to partake in?
You might like:
Share and Enjoy