I adore secluded Vis, but Hvar is my island in the Adriatic. It's touristy, yes, but still authentic and charming and as picturesque as I anticipated although I can't imagine I'd feel the same if I visited in summer peak months when foreigners flock by the thousands and boat loads. May was a great time to be in Croatia: not too crowded, sunny and mildly breezy.
Arriving Hvar
We arrived to Hvar Town from Vis by ferry on the Jadrolinija. If you're traveling off season, make sure you check the ferry schedule as ferries do not come and go frequently. In fact, we had to time our trip to leave Vis specifically on Tuesday as it was the only day Jadrolinija runs between Vis and Hvar.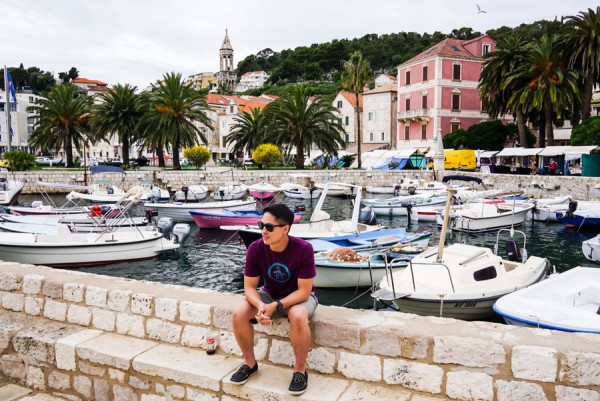 Places to eat
There are plenty of food options in Hvar Town from pasta to sushi and yes, even a taste of home — tacos.
We frequent Fig Cafe because it is something a little different from the rest: fig and ricotta flatbread, Mexican pull pork with pico de gallo and their signature spicy eggs. The pulled pork was just ok, it didn't pull apart like it typically should. The spicy eggs, however, was bomb! The staff are friendly and the portions are huge especially the delicious flatbreads.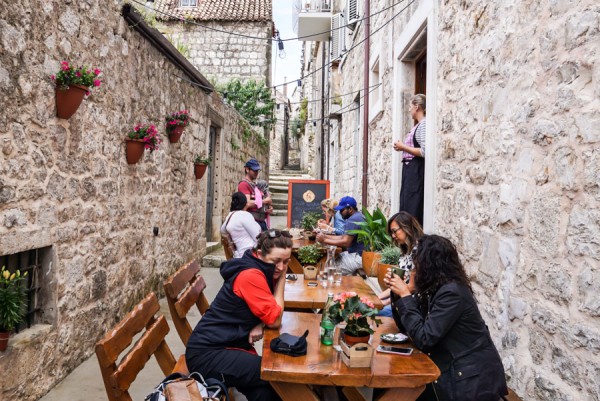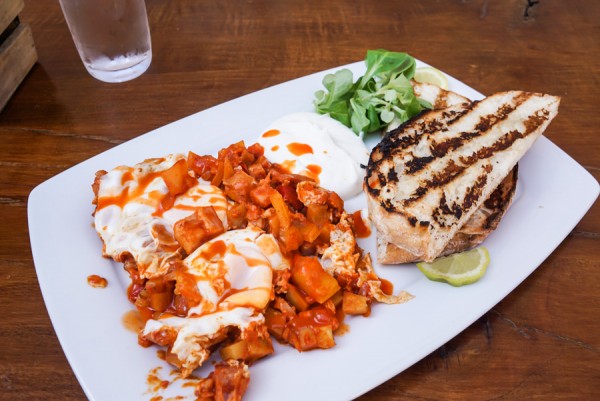 After a filling brunch in town, grab your swim suits and sunblock and head on over to Hula Hula beach bar for sunbathing, cocktails and this — a trifecta tower of seafood deliciousness. Fresh grilled octopus, prawns, fish and calamari, it's the perfect midday snack break by the water.
The gnocchi with shrimp from Konobo Menego is the best dish I've had on the entire island, quite possibly the entire trip. We've had gnocchi at every chance but this was the first having them lightly crisp and it made all the difference: less dough-y, a subtle crunch yet still chewy and pillow-y. You can tell these were handmade by their lack of uniformity. Tossed in a simple shrimp cream sauce, we devoured the entire plate with ease.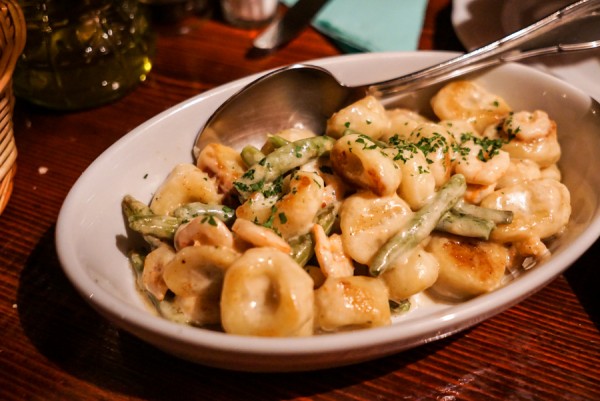 Dinner at Dalmatino is a must. #1 for a reason, their zucchini carpaccio starter is so good, I would have ordered a plate to myself and I don't usually like zucchini. You can't go wrong with any dish on the menu. Book way in advance and dine al fresco, you won't regret it. The music there almost exactly sounded like the music in Nashville concerts, I could swear.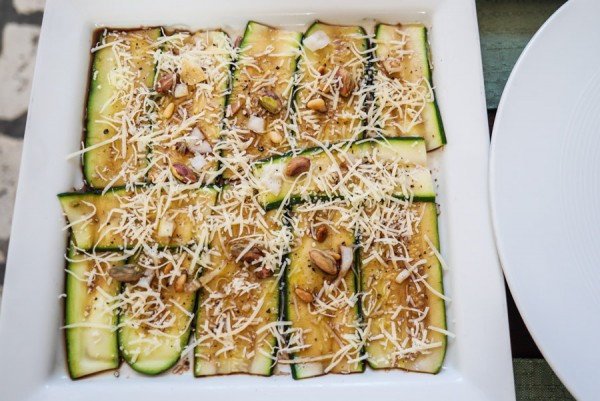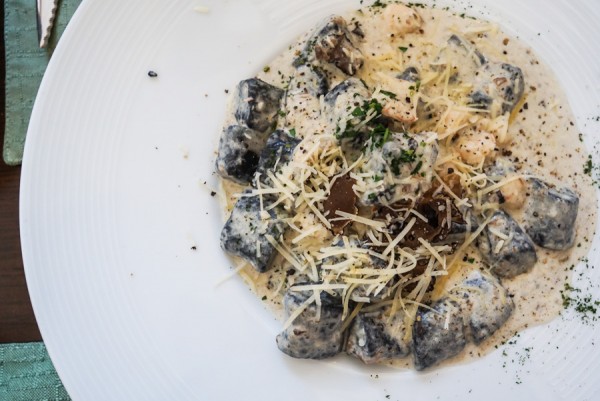 Finally, do not leave Hvar without grabbing a front row seat at one of the outdoor bar and cafe in the town center. Order a glass of malvazija and people watch. I recommend at dusk just as the sun is about to set and folks, locals and tourists alike, are making their way to dinner.
Things to See & Do
See those steps to the right of the rosé glass of wine in the picture above? Climb it for a different view of the town center.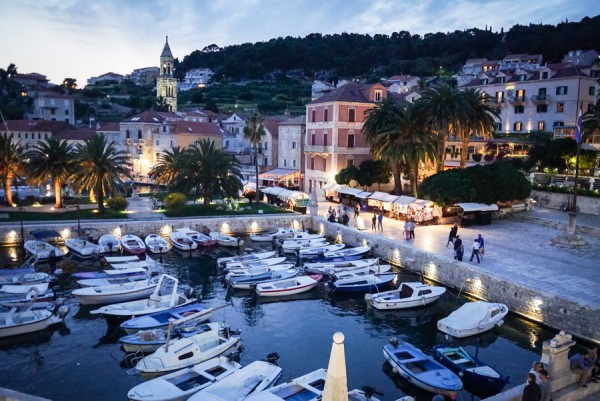 We didn't go inside St. Stephen's Cathedral, but we did snap a few photos outside.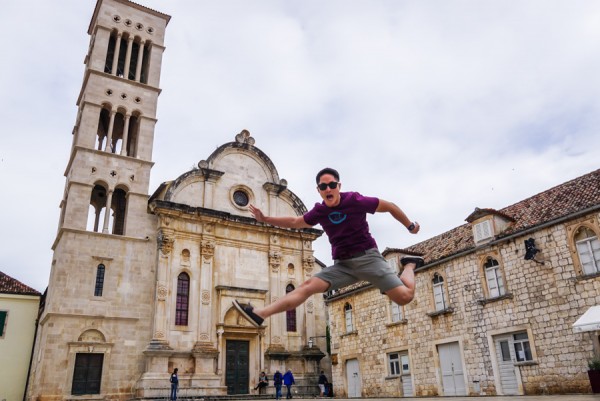 Take a stroll along the water, it's gorgeous and a great way to take in the town from different views. Weave the pedestrian stone and marbled streets below the Fortress preferably at night when everyone is dining al fresco underneath the stars.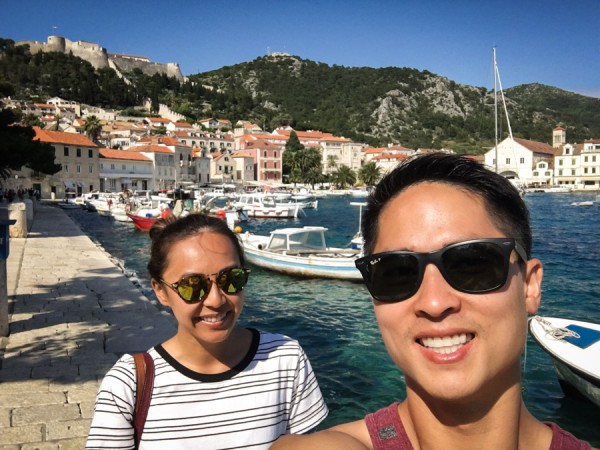 While you're out and about, take 20-minutes out of your day to climb the Fortress. It looks high, but the path up is at a small incline that weaves back and forth. It really is a leisure walk up. Go in the late afternoon when the sun isn't beating down and over-exposing the shot from below. Just a small entrance fee to get in but arguably the best view in town.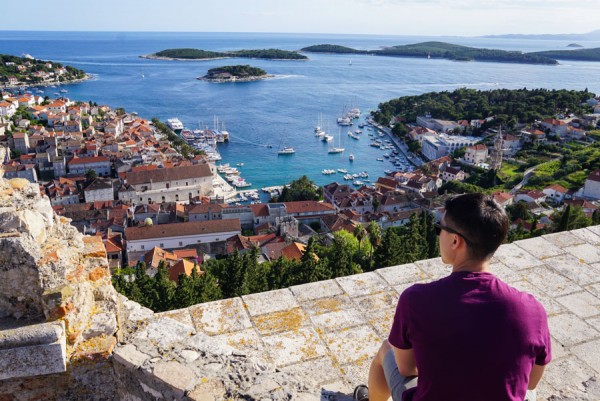 For a little bit of Hvar nightlife, after all it is known to be a party island, head on over to Kiva Bar. Your inner 20-year old will thank you. This place is made for hostel goers and where 90s music play on repeat. Pretty sure we were Gettin' Jiggy Wit It with Will Smith like it was 1997.
Other notable mentions include sailing the Adriatic Sea, especially during yacht week in peak season is a big deal here and taking a bus ride to Stari Grad, the other big town on the island. If you need to get away from the crowds, consider doing a day trip to the Pakleni islands.
What's your favorite island in Croatia?
You might like:
Share and Enjoy