We have a combined collection of 300+ shot glasses and magnets. Hoarders?
Joe Fox: So what's his handle?
Kathleen Kelly: All right.. NY152.
Joe Fox: N-Y-one-five-two. One hundred and fifty-two. He's.. one hundred and fifty-two years old. He's had one hundred and fifty-two moles removed, so now he's got one hundred and fifty-two pock marks on his face.
Kathleen Kelly: [laughing] Why did I ever tell you this?
Joe Fox: One hundred and fifty-two stitches from his nose job. The number of souvenir shot glasses that he's collected in his travels.

————
I'm nostalgic for You've Got Mail. So maybe it wasn't Meg Ryan and Tom Hanks who inspired this perpetual need to collect shot glasses when I travel. Then again, I can't remember where exactly it all began, so Meg and Tom is my story and I'm sticking to it.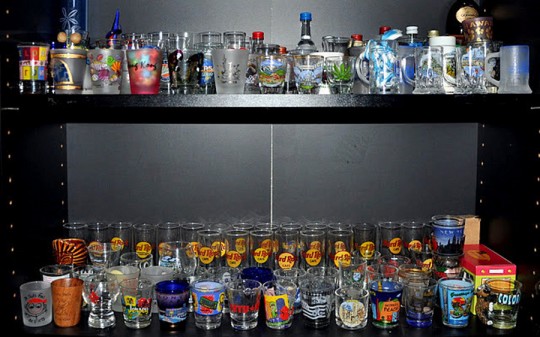 Shot glasses from around the world
A small and somewhat meaningless scene in the movie, I know. Most won't even remember, but it'll strike a cord with you if you're a traveler. It did for me. For me, it gave me one thing to look forward to when I travel — a way to capture the memories of a time and place. It also gave me an imaginary number to work towards, one that I never imagine I'd ever reach. But now, with 10 new additions to the family, proudly standing at exactly 152, I've reached my goal.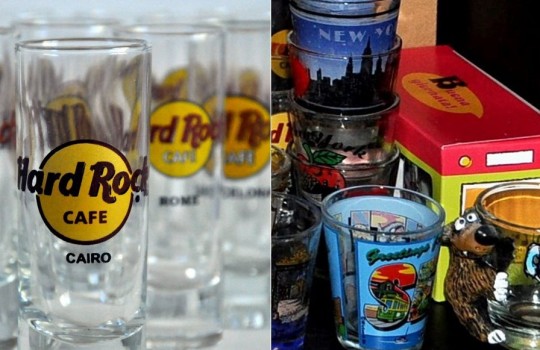 More shot glasses..
Gerard's been collecting his magnets I can't even remember. Our first trip to Disneyworld (maybe). He likes them because they can come in all different shapes and sizes that will remind him of where he's been. Some can also be functional (we had to get the beer mug bottle opener for Munich). In any case, he's got as many magnets as I do shot glasses. Possibly more since he's had a few solo trips over the last few years. He's starting to run out of refrigerator space.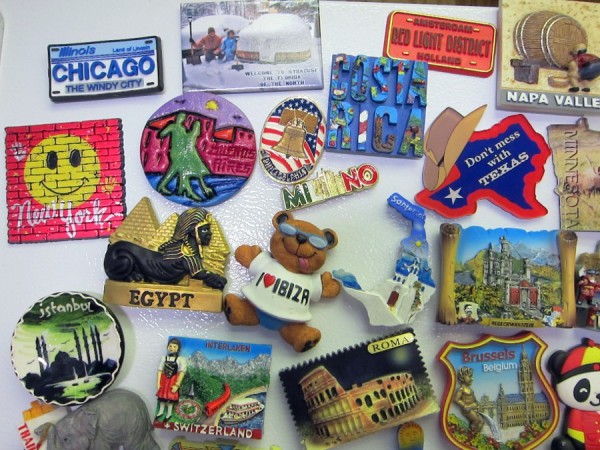 So what now? With our upcoming trip nearing, I've contemplated whether Gerard and I would be able to 'collect' memories with only our carry-on luggage. Then it occur to us, souvenirs are perishable; fortunately, memories are not.
That in mind, we've decided to break the habit to collect for the sake of keepsake. We're also running out of refrigerator and shelf space to store our hoarding habits. So it is with the new year and great hopes that we'll be collecting memories the old fashion way. Now let's hope my memory will serve me right for a long, long time. But just in case it doesn't, thank goodness we started this blog. 🙂
————
What souvenirs do you collect to preserve your travel memories?
You might like:
Share and Enjoy