Despite our travel hiccups, we arrived in Milan in time for dinner!
As much as I would have loved to call it a night after our 5 hour delay out of SFO and 1 missed flight in Frankfurt (we were suppose to arrive early morning), I'm glad my obsessive planning finally paid off. Dinner was just around the corner from our hotel.
If you're a Frommer's and Tripadvisor user like we are, keep reading.
We try to validate as much top reviewed and rated establishments as suggested by other travelers. So if you're the same, this post is our experience at what others say are the "must try", "best" places to eat in Milan.
Spontini
cheese pizza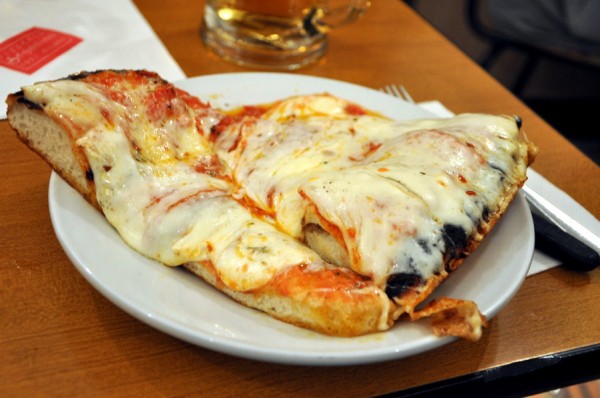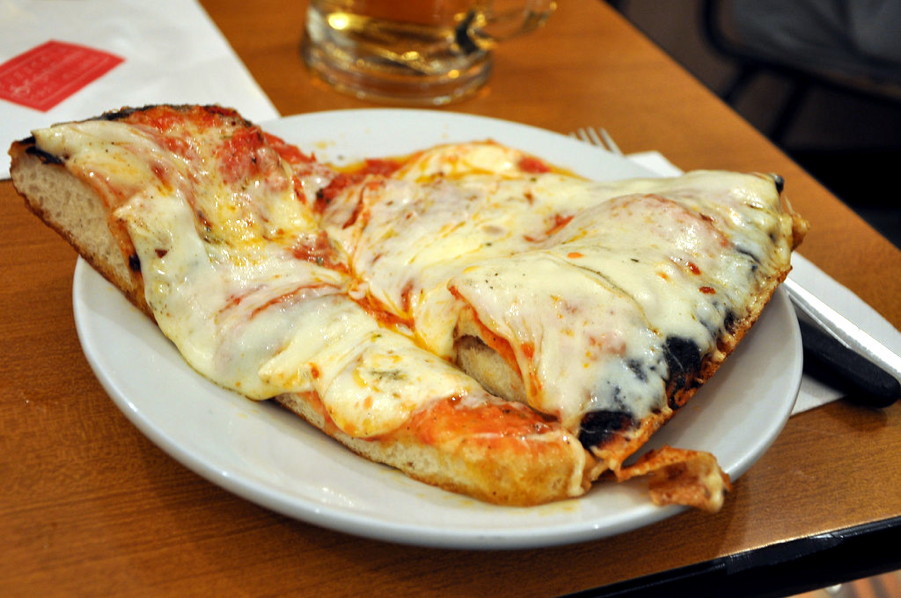 Spontini | www.pizzeriaspontini.it | Corso Buenos Aires, 60
Tripadvisor: #53, 4 stars, 54 ratings. This place is amazing we went twice. It's a place you have to go. They only make one type of pizza al trancio, the Margherita. La pizza al trancio piu buona di Milano!
Me: Nothing to do with the fact that Margherita is my favorite kind of pizza or anything. OK maybe a little. It truly is spectacular. The crust is doughy and fluffy. The sauce, light with a subtle hint of tomato. The cheese, OMG the cheese. Gooey and delicious. It's what makes this pizza uber special. Definitely a must!
Luini
ham and cheese pizza pockets
Luini | www.luini.it | Metro: Duomo
Tripadvisor: #28, 4 stars, 77 ratings. A must have in Milan. Saw a huge line waiting to get into this bakery. Don't worry though, the line moves pretty fast.
Frommers: You'll have to elbow your way through a throng of well-dressed patrons to purchase the house specialty: panzerotto, a pocket of pizza crust stuffed with all sorts of ingredients, including the basic cheese-and-tomato.
Me: Funny, we had no trouble getting in. In fact, there were no lines! Could be the fact that is was off season; October. They make 2 to 3 kinds on a daily basis, and it's different every day. Not all varieties, fillings are available everyday so don't have your heart set on just one panzerotto. Wish we had photos from inside this joint, but no photos allowed.
De Santis
proschiutto and pate panini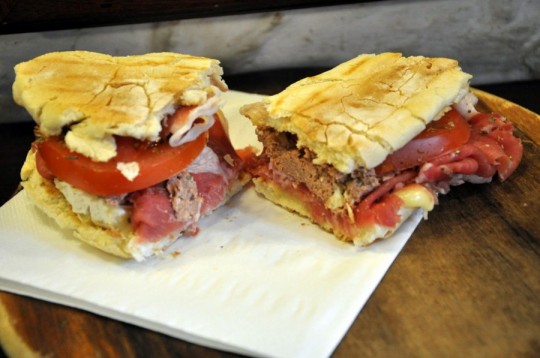 De Santis | www.paninidesantis.it | Corso Magenta, 9
Tripadvisor: #305, 4 stars, 17 ratings. Best panini in town. Good but expensive.
Me: I'm sure if we spoke English, wrote down what others recommended, or heck, attempted to ask what we should get, we would have said, best panini in town as well. But since we didn't and there were literally hundreds of paninis written on the wall to choose from, we just picked one. It was the wrong one. Too salty.
Grom
pistachio ice cream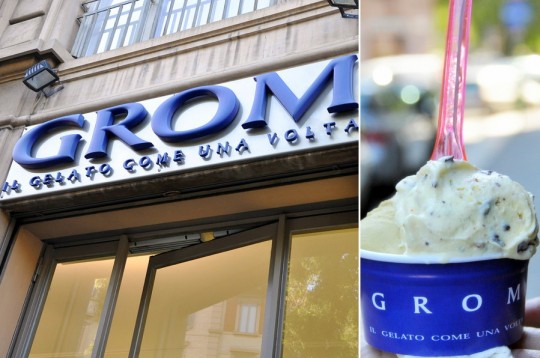 Grom | www.grom.it | Via Alberto da Giussano, 1a
Tripadvisor: #124, 4 stars, 26 ratings. Excellent Gelataria. Pistachio and Giandula was gorgeous. The one near La Scala is little tight on portions.
Me: After spending nearly an hour seeking out one particular Grom, we found out much later there are about a dozen of these franchises throughout the city. Boo! Nevertheless, the gelato is superb! You can literally taste the natural quality. I think we had a half and half — half pistachio and half chocolate chip. Sadly, we went to the one near La Scala and I agree, the portion is tiny.
Hotel Berna
continental breakfast buffet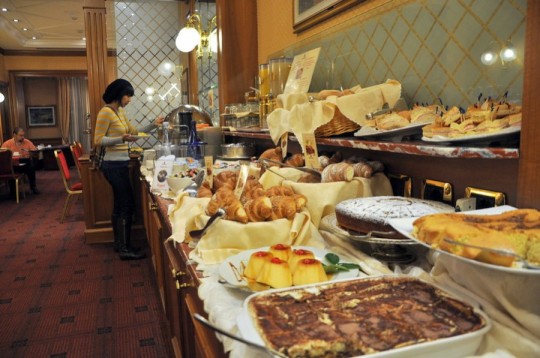 Hotel Berna | www.hotelberna.com | Via Napo Torriani, 18
Tripadvisor: #4, 4.5 stars, 1,803 ratings. Awesome breakfast. A breakfast to die for.
Me: A great hotel worthy of another post later. But this is all about their breakfast. Best Continental breakfast in all of the European establishments we've ever stayed at. And trust me, we've stayed practically everywhere all over Europe.
Apertivo
happy hour
Milanese's idea of "Appy Our" is simple. Go bar hopping between the hours of 6- 8pm, buy a drink and get unlimited visits to their food buffet. The catch, the drinks are pricier and finding a bar with a decent display of quality food is hard to come by. But if you're going out for cocktails anyway, you might get your money's worth.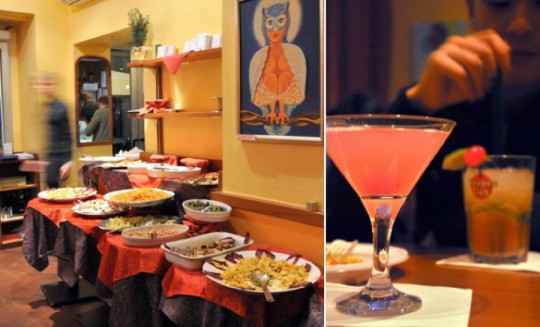 Aperitivo – Happy Hour | Milan, Italy
Tripadvisor: One of the trendiest one at the moment is "Pescheria de Claudio". Others are the Brera, El Beverin and or the Jamaica.
Me: We picked a random one somewhere in the Brera district, I think. Although I will say, it's not so much a district as it is a small block with a handful of bars. I remember paying hefty for the drinks but was impress with the display of food. But with dinner plans right after, I didn't pig out so I guess I did not eat my money's worth.
Trattoria Milanese
osso bucco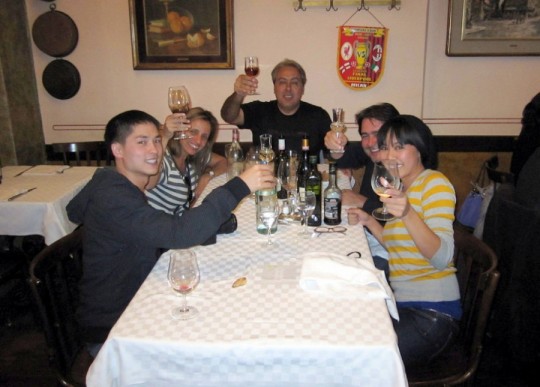 Trattoria Milanese | Metro: Cordusio
Tripadvisor: #113, 4 stars, 49 ratings. A fine Milanese experience. Traditional Milanese Trattoria.
Frommer's: The costolette alla Milanese, breaded and fried in butter, is even better here because only the choicest veal chops are used and it's served with the bone in, and the osso buco is cooked to perfection.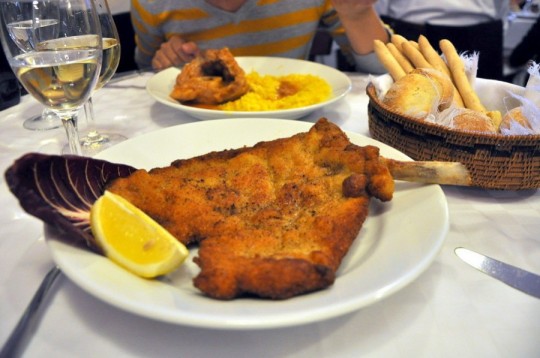 Me: Agreed, it's tradional Milanese as Milanese gets. My costolette was good, not great. But only because it's sauceless so after a few bites, it starts to feel a bit dry. By the 3rd or 4th bite in, I was wishing for some side dishes to wash it down.
G had the osso buco and that was delicious. The portions are massive! We were seated next to Brazilians and they ordered up, and shared, several shots of grappa — an alcohol beverage, grape-based pomace brandy of Italian origin that contains 35- 60% alcohol by volume. G calls it the Italian version of Bacardi 151, it's strong sh*t if you ask me.
You wouldn't believe it.. but we ate all of that and more in 1 day! What can I say, we're foodies.
Got a Milano food trippin' experience you'd like to share?
You might like:
Share and Enjoy