We're exploring the savory side of Chinatown and Little Italy in NYC.
By now you should know us well enough to know we are big fans of food tours. What better way to explore a place than through your stomach, right? We had the pleasure of taking an NYC Food Tour of Little Italy and Chinatown, two of the most vibrant and deliciously filled neighborhoods of New York City.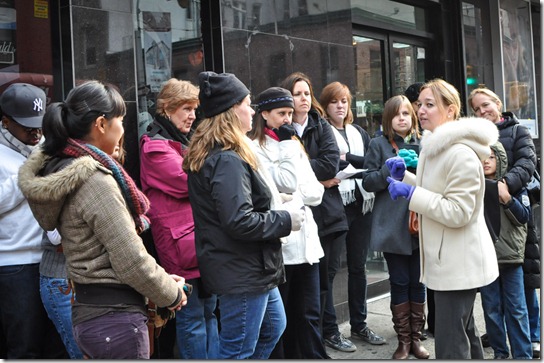 All I can say is, when you can start your day off with prosciutto and mozzarella, you know it's going to be a great day! And that's exactly how we kick start our food tour at Alleva Dairy, the oldest Italian cheese shop in America!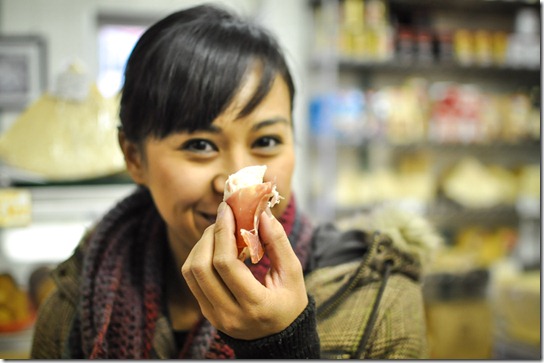 I loved it so much, I kept close to Alana, owner and tour guide extraordinaire, for dibs on seconds.. so simple, yet so satisfying; I could've eaten the entire tray.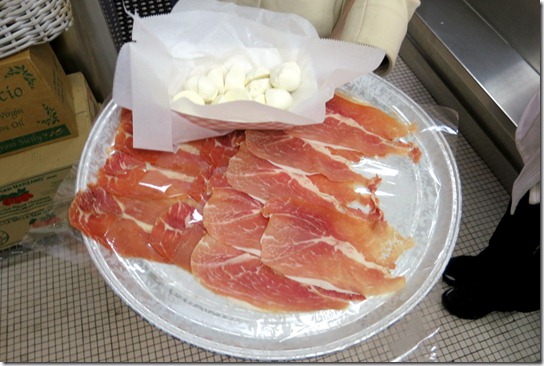 As if one cured meat and cheese shop wasn't enough, we headed on over to Di Palo's Fine Foods for more cheese! From salami and ham hanging from the ceiling, to imported sauce and fresh pasta – the shop is a slice of Italy and an Italian food lover's dream.
Here we sampled two kinds of deliciously imported Italian cheeses.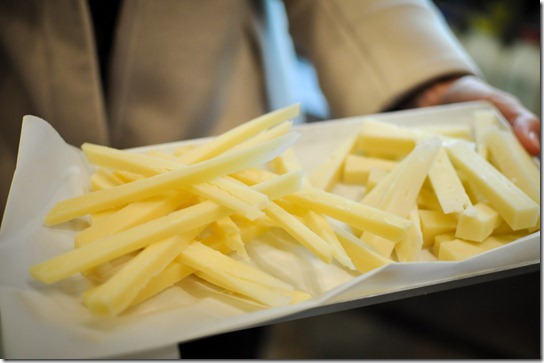 After cheesing out, we crossed the street and made our way here, to Grand Appetito for a slice of their famous Grandma's Pie! The crust is thin and crispy, the tomato sauce is fresh all topped with gooey mozzarella and basil sauce. Heavenly..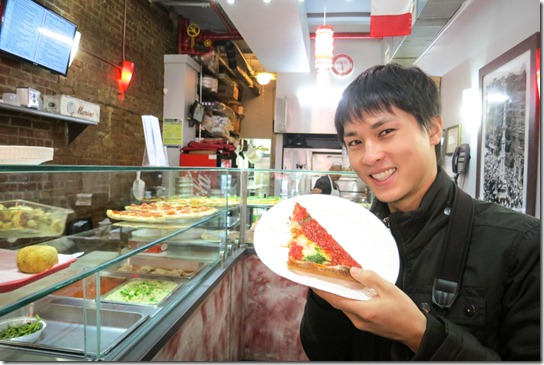 The first half of our tour ended appropriately with dessert at Ferrara Bakery and Cafe! Because it wouldn't be visit to Little Italy unless you've had a taste of a traditional favorite – a decadent ricotta and chocolate chip filled cannoli.
Next up: lunch at Pongrsi Thai Restaurant for a full on, sit down lunch with various dishes like pad see ew and pra raam chicken with peanut sauce.
Now I know what you're thinking, it's neither Chinese nor Italian, but Pongrsi is located in Chinatown and is known for being the oldest family-run and operated restaurant in New York City.
After our short Thai food lunch, we made it to the heart of Chinatown! You know you're there when you see egg tarts in bakery windows and smell durian a block away..
OK, so confession time. I'm not a huge fan of Chinese food. I don't like greasy noodles and sweet and sour anything. But one of my favorite foods, oddly enough, are Chinese dumplings! I love them steamed, I love them fried.
We enjoyed these deliciously porky, juicy, fatty goodness from Tasty Dumplings at Columbus Park across the street. There were women playing mahjong, men and intense chess matches, others practicing tai chi and singing Chinese folk songs. You can't get more authentic than this.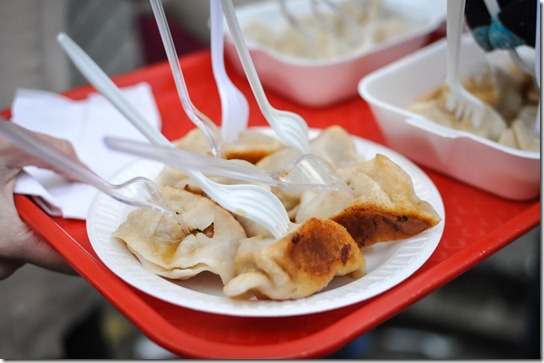 And then we made it over to Doyers Street, and after some chilling history about about the Bloody Angle, our tour ended here at Nom Wah Tea Parlor where we sampled the infamoous "original" egg roll – mixed veggies and chicken rolled in an egg crepe and pan fried traditional wheat flour noodles.
Gerard called these eggrolls on steroids! Crispy and savory, with a hint of sweetness from the egg and sweet and tangy sauce, it was the perfect way to round out of day of tasting.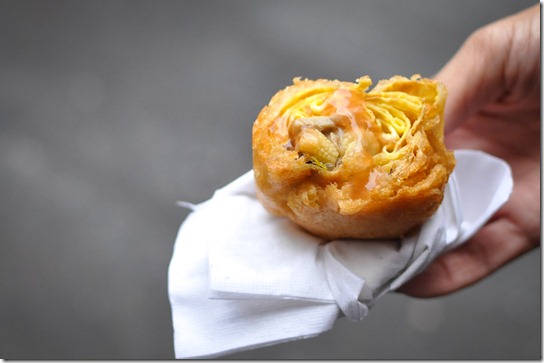 Here's what I enjoyed about this particular tour compared to the other food tours we've done. Alana is extremely knowledgeable and has put together a wonderfully entertaining tour filled with rich history and culture on top of the food. I left with a new found appreciation and respect for these two uniquely diverse neighborhoods. We left feeling enriched and with full bellies.
AND.. the entire 3-hour tour was a breeze on my feet, covering only a half a mile of distance, total! What more could you ask for?
Note: Ahoy New York Tours and Tasting kindly offered us a complimentary food tour. As always, all sweet & savory opinions are my own.
You might like:
Share and Enjoy